A Friendly Union With The Sons Peter Tosh And Bob Marley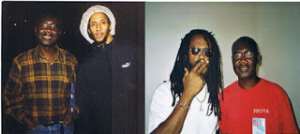 The writer, Joel Savage and Julian Marley and Andrew Tosh
I never had the opportunity to see Peter Tosh and Bob Marley performing live in concert, so when the sons of Bob Marley and Peter Tosh, came to Antwerp, I tried my best to see them.
Talking to Andrew Tosh and Julian Marley, over what their fathers achieved in the field of reggae was very interesting. Both Andrew and Julian bore striking features of their father. Below are part of the interviews I had with Andrew Tosh and Julian Marley.
Andrew, your father, everyone knows was one of the greatest reggae stars the world ever produced. What actually inspired you to music?
Definitely, my father was my biggest influence in music. He thought me how to play the piano when I was very young. He was like a teacher who guided me through my childhood to gain broader knowledge in music.
I listened to your 'Message from Jah' album; the track 'Come Together' is very touching. What inspired you to write that song?
I love people, so I interact with them. Singing is one of the ways to meet them.
What is your long-range objective in music?
Currently, I am working on my new album called 'Focus' and also working on one called 'Andrew sings Peter Tosh'. He never dies.
How has your father's experience influenced you as a reggae star?
My father's experience is both good and bad. He had a very bad experience with the Babylon system, but as I said before, the good part of it is inspiring me into music.
Many musicians sing about Africa and the love to visit or return to the continent, but they never keep their promise. Why is it so?
I have been to a lot of places over there, including South Africa and Angola. I think some of these artists don't recognise the true culture of the continent. Even though some may wish to be there, they don't know how to organise that.
A friendly interaction with Julian Marley
You are one of the sons of the great Bob Marley. How possible all your brothers are in music at the same time?
Well, we were young but as we grow we discovered what our father was doing or did. It's in the blood or probably could be hereditary. We were all inspired by our father's great musical talent as an international reggae star. That's the reason we are all in music.
How do you get on with other brothers from your father?
We see ourselves as Marley brothers and nothing more. We are happy together and our aim is to continue spreading the message or do what our father left undone. Thus; we are one big happy musical family.
Do your father had any idea that one day he is going to change the reggae world?
My father was a man who never gives up so easily in whatever he was doing. His heart couldn't take any defeat he, therefore, haven't any sense of failure in him. If someone has that heart, it means he wanted to achieve something positive as a musician. In this case, he had an idea to achieve something different.
xxxx
Reggae fans, the interviews are a lot, taking the availability of space into consideration I need to cut them shot but hopefully, this photo-coloured book will soon be published in Ghana.