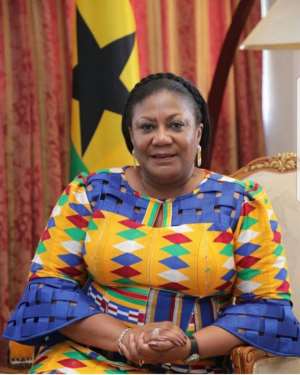 First Lady Mrs Rebecca Akufo-Addo says the West Africa sub-region must come together to fight malaria which has been wreaking havoc on the health of the people, to ensure faster economic transformation.
She said it was important that the private sector, donors, civil society and governments, work toward a common vision of a Malaria Free West Africa.
She said that was very necessary because of the movement of people across borders in the sub-region, emphasizing that 'We must create a malaria-free belt in West Africa.
Experts say Malaria has serious implications for human development, businesses and the economy, especially on the African continent, while in Ghana and in the sub-region, available evidence strongly suggests that malaria impedes the overall economic development.
Speaking at the West Africa 'Zero Malaria Now' Corporate Award Ceremony held in Accra last night, Mrs Akufo-Addo said Malaria prevention programmes, needed to be integrated to efforts to industrialize, and improve economies.
'When we eliminate malaria, Ghana would reap enormous benefits. We would quicken our pace of development and become more self-reliant. This applies to all countries within the sub-region too,' she noted.
The ceremony recognized private sector organizations and media entities that have made significant contributions to the fight against malaria in West Africa.
These companies work with governments and other partners to reduce the burden of malaria by increasing health system capacity, distributing bed nets, diagnostics and antimalarial treatments, and supporting research into new malaria innovations.
The companies' malaria programmes also provide malaria services and other health care to company employees and their communities.
The GBCHealth's Corporate Alliance on Malaria in Africa (CAMA), in collaboration with the Private Sector Malaria Prevention Project (PSMP) at John Hopkins Centre for Communication, UK Aid and the National Malaria Control Programme of the Ghana Health Services, organised and conferred the awards on organizations for their leadership in fighting to end malaria for good.
The First Lady said she was happy that within the sub region, some private sector organizations had taken steps to help control the disease, by protecting their employees and communities from malaria that was both a disease of poverty and a cause of poverty in the West Africa.
She said when stakeholders work toward a common vision of a Malaria Free West Africa, malaria deaths and the economic burden from malaria would end.
She admitted that Malaria had serious implications for human development, business and economic growth, particularly in West Africa.
Organizations awarded included ExxonMobil, Aliko Dangote Foundation, TANA Netting, Access Bank and Hippo Valley Estates Ltd.
Others were RMG Ghana Ltd, SUNDIAL Brand, The Savanna Fruits Company, AngloGold Ashanti, Ecobank, Nigeria Breweries, ASANKO Gold, and Zeal Environmental Technology.
The Special Media Recognition Awards, called, the Media Malaria Programming Awards, was presented to the Daily Graphic, GTV and Joy news for their reportage of malaria control activities.
Special Life time Achievers Award was presented to Dr Constance Bart-Plange, a former National Malaria Control Programme Manager, Dr George Amofa, a former Deputy Director General of Ghana Health Service and Mr Steve Knowles, formerly of AngloGold Ashanti.
The organisations were commended for taken significant steps to protect their employees and communities; and contributing to sustainable progress on national and global malaria eradication goals.
Mrs Akufo-Addo was awarded for her commitment towards ensuring the health of women and children.
The Corporate Alliance on Malaria in Africa (CAMA) is a GBCHealth-led initiative to drive partnerships for malaria control and elimination.
The Private Sector Malaria Prevention (PSMP) Project and GBCHealth Corporate Alliance on Malaria Africa (CAMA)'s West Africa' Zero Malaria Now' Corporate Award Ceremony
In attendance were business leaders, donors and civil servants, who are working toward the economic and public health transformation of Ghana and the sub- region.
Other dignitaries, who addressed the gathering, included Dr Anthony Nsiah-Asare, Director General of Ghana Health Service, Dr Keziah Malm, Programme Manager, National Malaria Control Programme, and Mrs Zouera Youssoufou, CEO of Dangote Foundation.
They all called for greater commitments towards the eradication of the disease in West Africa to ensure good health and higher productivity.