March 2, 2018
|
Opinions Opinion/Feature
Akufo Addo's Bloated Security Team Presides Over Insecurity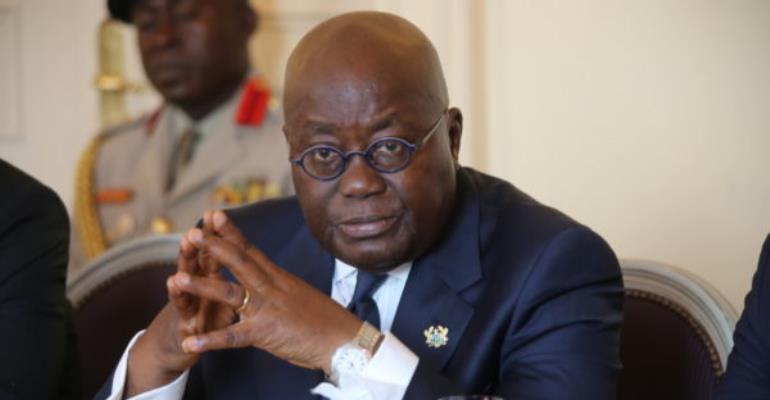 Ghana has been gripped by a spate of very violent crimes especially armed robbery. In the last few days, daring robbery raids have been staged by armed gangs who have shown unbelievable levels of bravado.
Just yesterday, reports filted in about the snatching of GHS 9,000 from a man at North Industrial Area, here in Accra. The day before, a Lebanese employee of a Tema-based, industrial concern, was gunned down in broad day light by four gunmen who bolted with GHS 200,000 the deceased had cashed for some payments.
A day earlier, ten armed men stormed an automobile dealership at the North Industrial Area and carried out a Rambo-style robbery amidst heavy shooting.
In the run up to these incidents, residents of Oyibi had reported close to two-dozen robberies that have made life a fearsome activity in the community.
In January alone, over 89 robberies were reported across the country. The serene township of Koforidua which doubles as the capital of the Eastern Region has suffered increasing incidents of armed robbery.
The deteriorating security situation has called into question the competence of the President and his security team.
The security team put up Akufo Addo, is by far the largest in the country's history. Akufo Addo himself chairs the Armed Forces Council and doubles as head of the National Security Council while loquacious Vice President, Muhamadu Bawumia, helms the Police Council.
Albert Kan Dapaah is Minister for National Security with Bryan Acheampong duplicating his functions in an unusual role as Minister of State in Charge of National Security. In addition to this is National Security Advisor, Brigadier General Emmanuel Okyere.
Ex-BNI capo, Joshua Kyeremeh, now serves as National Security Coordinator. He is deputized by Hopeson Adorye who is said to be in charge of Airports.
Akufo Addo has also carved out a Director of Presidential Security position for former PNDC jail-breaker Captian Edmund Koda.
Koda was responsible for the formation of the now notorious NPP militant groups such as "Invincible Forces" and "Delta Forces", who have been a constant security threat to Ghanaians and state institutions.
Adding unto these security appointees are the Ministers of the Interior and Defense in the shapes of soft-spoken Ambrose Derry and rambunctious Dominic Nitiwul. These two men have between them two Deputies, Henry Quartey for Interior and Derrick Oduro for Defense.
Under these men operate the Inspector General of Police, David Asante Apeatu and Chief of Defense Staff, Major General Obed Akwa.
All these appointees have a supporting cast in the form of the Director of BNI and his deputy, the head of Defence Intelligence as well as the Director of Ghana's external spy agency, the Research Department.
The 15 man security set up has been a cataclysmic failure.They failed at the very onset of the Akufo Addo Presidency, to curtail the bloody attacks of NPP terrorists. Crime has risen steadily under their watch and has reached a dizzying crescendo with an upsurge in very violent crimes and robberies.
These robberies are unprecedented in the brazen manner in which they have been carried out and the death toll and suffering they have left in their wake.
This has brought the heavily-populated security apparatus of Akufo Addo under intense fire and a hailstorm of criticism for the multiple failures.
Coming in for special mention has been National Security Minister,Kan Dapaah and IGP Asante Apeatu, who have been lampooned as incompetent by vast sections of the Ghanaian public. The clamour for their immediate dismissal from office has grown louder than ever in the wake of the latest violent crimes.
Many have also called for the immediate appointment of strongman COP Nathan Kofi Boakye as Inspector General of Police. Many have recalled his no-nonsense, all-action displays against criminals who he subdued in the Greater Accra, Western and Ashanti Regions where he has previously served as Regional Police Commander.
President Akufo Addo meanwhile is yet to utter a word on the current frightening security situation.
He has been seen hobnobbing with world leaders compelling many to liken him to the fabled Roman Emperor Nero who fiddled as Rome burned.
The dark pall of insecurity engulfing the nation has led Ghanaians to question the wisdom in Akufo Addo's appointment of so many people to security positions when they have proven to be hopelessly incompetent at addressing the most distressing security crisis the country has faced in recent times.