The Presbyterian Boys' Secondary School (PRESEC) has earmarked a year-long activities to celebrate the 80th anniversary celebration of the school.
Founded in 1938, Presec, is a prestigious all-male academic institution which was started as a secondary school for boys by the Presbyterian Church of Ghana.
The 80th anniversary celebration is under theme; "Powerful Past, Prosperous Present, Prominent Future".
Speaking at the launch in Accra, Thursday February 1, 2018, Headmistress of Presec, Lady Queene Aseidu-Akrofi revealed activities to mark the anniversary including a speech and prize giving day event.
"Every month there's a program. But the climax will be a speech and prize giving day come 24th November 2018. Then in December there will be a dinner night to raise funds", she outlined.
She also added that, there will be a church service to cup it all "because we were founded by a church so we begin with God and end with God".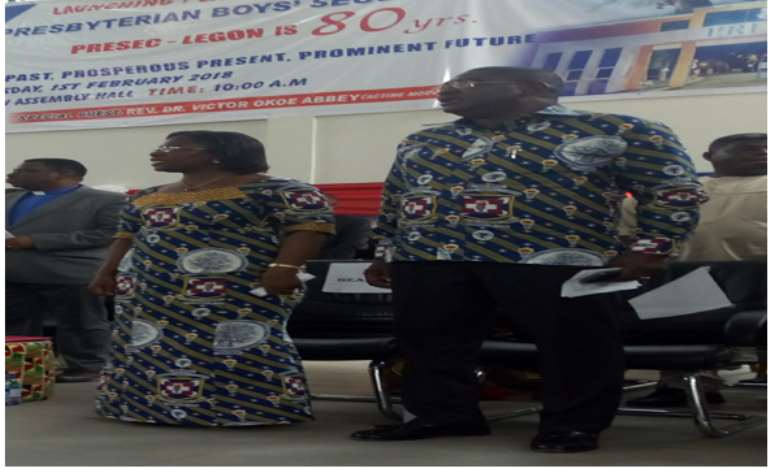 Headmistress, Lady Quenne (left) & Presec Board Chair Rev. Dr. Markwei (right)
The headmistress also touted some achievements of the school, its contribution in nation building.
According to her, Presec has produced many professionals in the field of academia, the clergy, legal luminaries, medical practitioners', governance, sports, creative arts among others, who are serving the nation in diverse ways and as wells as contributing to the development of Ghana.
Presec produced the current Speaker of Parliament, Rt. Hon. Prof. Aaron Mike Oquaye, Ghana's longest serving Minister of Finance, Dr. Kwesi Botchwey, Prof. Ernest Aryeetey former vice chancellor of the university of Ghana, Okudjeto Ablakwa former deputy education minister and MP for North Tongu, Kwaku Sintim-Misa host of The KSM Show, Bright Simons of Imani Ghana and a host of others.
Presec had already won five times in the National Science and Math Quiz by 2009. In 2010, two students represented Ghana and won a bronze medal in the International Junior Science Olympiad, out of 35 countries across the world, while a student was honoured at the WASSCE 2009 Excellence Awards Ceremony, as Best Candidate in the General Science Program in the same here
Presec also won the National Best Candidate and then the Overall Best Candidate in West Africa; and a student was Overall Best in the Business Program.
Presbyterian Boys' Secondary School is a secondary boarding school for boys. It was founded on 1st February1938, under the auspices of the Presbyterian Church of the Gold Coast.
It was originally located at Odumase – Krobo in the Eastern Region of Ghana, and has now relocated to Legon, Accra. It was started as a secondary school for boys by the Presbyterian Church of Ghana and has ties with its sister school, Aburi Girls' Senior High School.
Presec have produced numerous alumni (Ɔdadeɛ) of international repute. Below are a few of the roots at the base of the great Baobab tree they proudly refer to as Ɔdadeɛ.
The Ɔdadeɛ tree is a symbol of resilience and endurance and it became a platform for many students to carve out their names.