An Owl Hooted At Donald Trump's "Shithole" Comment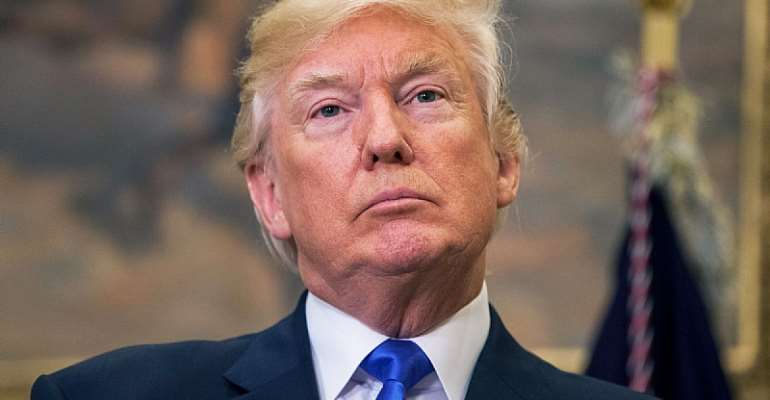 Preamble poem:
"Nebuchadnezzar ensconced on the hanging gardens of Babylon nearer to the stars, saw the panoramic beauty of the world. He saw it as his own creation and that he was the author of the creation. There was no world beyond his and he was the author of that world.
Belshazzar surrounded by cohorts, women and wine saw a world created by sensualism; a world of his own created by himself. Inebriated with pride and arrogance he saw no other power or force. He went overboard and desecrated the sacred and drank a toast to his girlfriends in God's sacred cups until strange finger sealed his doom in writing.
Herod overcame by power, arrogance and sensualism desecrated the sacred base of life. He committed incest and found ally in his co-sinner. The pleasurable dancing steps and the sensual shake of a woman's body suspended his humanity. The head of John the Baptist on a plate is a testimony of how mortal man completely overcome by senses, thought he was beyond mortality.
Donald Trump living in 'God's own country' surrounded with the most powerful and riches of the entire world arrogated to himself the power to pontificate on the Negro. He reduced him to an animal: food, pleasure, sex and laziness, and the latest one, "shithole".
An owl hiding in the tree nearby hooted at Donald: "There is a fat thick tick stuck beneath the lower eyelids of the lion, mortally sucking its blood but who will dare go near the lion to warn it?"
Perhaps, this poem answers the problem about the burst of American global leadership problem in the engagement of world affairs – retreating into a self-gratifying combination of its imperialism and its hubris hegemony in the latter days.
The statement by the President of the United States, Donald Trump, which has been reported by the Washington Post as saying "Why are we having all these people from s**thole countries come here?" in describing immigrants from Africa, Haiti and El Salvador, is a mark of sincere ignorance and incurable racism. Verily, ignorance breeds racism and racism is a function of ignorance.
An African proverb says that you do not insult a crocodile while your foot is still in the water. Inasmuch as Africa remains in the strategic interest position as the vassal bread-basket for the United States and its imperial European allies, it is just a matter of time that the "s**tholes" will become full to manure its own environment to grow.
Moreover, it is evidenced from antiquity, that at the empires apexes like the Roman legion who derived a conceited psychological reality as Americans. Civis Romanus sum – "I am a Roman citizen" – was a source of superiority, taken for granted by the rulers who conceded that to reinforce their uncontested imperial power which only lasted for three hundred years until the African-Arab force invaded their North African territory (Roman empire bread-basket) in circa 624 A.D.
In ending, the mistake and the pain of Africa which has become the subject of our ridicule are like hills under our feet. We stand on them and see better and further; and it is this "s**thole" which will convert into organic compost to be used to grow a better and healthier Africa.
By: Michael Sumaila Nlasia
Research Fellow
Centre for Data Processing and Geo-Spatial Analysis
Email: [email protected]
Poem Courtesy: Kwabena Anane Adjei