Various Tributes Extol KABA In His Last Day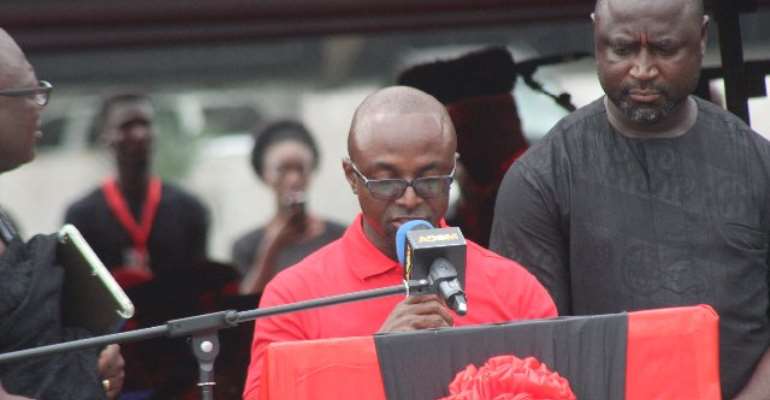 Heartfelt, deep, thought-provoking, memorable and sad is an apt description of the many tributes written in remembrance of the late Kwadwo Asare Baffour Acheampong (KABA).
It is evident the 37-year-old who impacted the lives of many through his broadcasting was very much appreciated as many from different walks of life penned their thoughts in his honour.
They wrote about their broken hearted they have felt and the pain they have had endure since the announcement of the passing.of the iconic host of Asempa FM's 'Ekosii Sen' late afternoon political talk show.
This is the end for KABA, but for the thousand he served over the years, he will remain in their hearts for a long time.
Yes! KABA made a difference in the lives of many people, his humility and professionalism will always be with his listeners, colleagues and many in the inky fraternity.
Read some of the tributes below:
Dr Mahamudu Bawumia, Vice President of the Republic of Ghana
It is truly unbelievable to learn of your passing. It is so sad. We will truly miss you. May your soul rest in perfect peace.
Addo Kuffour Kwame, Former Minister of State
Kojo, your death has evoked great sorrow and a deep sense of loss in your many friends and admirers. You will be remembered for your great intelligence, modesty, objectivity and respect for others. Rest In perfect peace.
Alan Kyerematen, Minister of Trade and Industry
KABA, your sudden demise has come as a great shock to me personally and I believe to many Ghanaians. You were an excellent broadcaster, intelligent, engaging and constructive in your interviews. You have fought a good fight and you will be dearly missed on the airwaves in Ghana. May the good Lord keep you safe in His bosom.
Kofi Akpaloo-LPG, Leader/Founder of Liberal Party of Ghana
KABA was such a perfect gentleman. He gave some of us the opportunity to air our views on National Issues. He wasn't biased at all. KABA, may your gentle soul Rest In Perfect Peace. Da Yie KABA.
Kojo Oppong Nkrumah, Deputy Minister of Communication
We didn't finish our conversation KABA. But your worth in itself is a testimony of professionalism and humility that we can still teach the younger ones with. Sleep well Bro.
Otiko Afisah Djaba, Min of Gender, Children and Social Protection.
Ghana has lost a national treasure; death has stolen a jewel of our land. I will remember KABA for his laughter, wisdom and depth of knowledge. ''KABA mba Kaba''- Rest in Peace. Nante Yie, Damirifa Due!!
Hon. Catherine Afeku, Ministry of Tourism, Arts and Culture
My friend, my brother, it's too sudden to say good-bye. Your laughter, sense of humour and kindheartedness will be missed sorely. I am sure the Lord knows best but it is still hard to accept you are gone. We shall surely struggle to forget. You are simply an angel who came to live with us mere mortals for a short while. Damirifa Due, Forever in our hearts brother KABA.
Hon. Dr Yaw Osei Adutwum, Deputy Minister for Education
My brother, you are gone but surely not forgotten. I will always remember my first interview with you. My condolences to the family.
Ekow Spio-Garbrah, Former Minister of Communication and Former Chairman, NCA
Ghana has lost a strong, fair and trusted voice in the public media space. All of us who over the years have the privilege of being interviewed by KABA have come away, impressed by the depth of his thinking, his patriotism and his sense of fair play. May his tragic and premature death inspire the current and next generation of journalists to be true to their professional ethics. May KABA Rest in Eternal Peace.
Kwasi Twum, CEO, Multimedia Ltd
We are heartbroken!! is is a sudden, shocking and painful loss to the Multimedia Community. We shall, however, remain strong and encouraged in the Lord. We shall not be shaken!! Our thoughts and prayers go to his wife, Valentina, his sweet daughter Nana Yaa and parents. Rest in Peace KABA. We love you.
Affail Monne, GJA President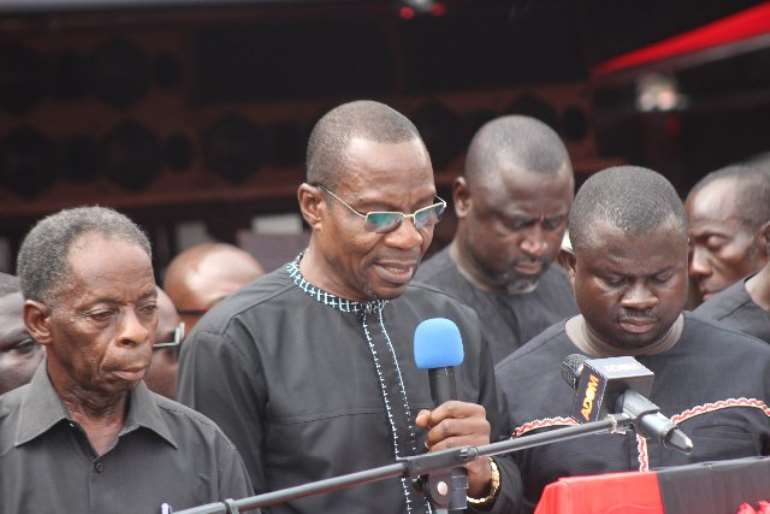 A tragedy of earth-shattering magnitude to the media fraternity and devastating consequences to the family. KABA established himself within a very short time of practice as one of the best political talk show host in Ghana. Rest in Peace- my son and reverse role model.
Supt. Paul Mensah Bampo, Ghana Police Service, Nima District
On behalf of the Nima District Police Command, we are deeply touched by this sudden event. May the good Lord keep his soul. Our condolence to the family and Multimedia Group.
Apostle Alex Kumi Larbi Address: Gen. Sec. The Church of Pentecost
KABA, you led a life that impacted many lives. You have served your generation according to God's purpose. It is a ministry well fulfilled.
Sheikh Armiyawo Shaibu, Spokesperson Of National Chief Imam
Remarks: At these trying moments we of the Muslim fraternity in Ghana join multimedia in mourning the death of the hardworking journalist popularly known as KABA. On behalf of the Eminent Chief Imam and the entire Muslim leadership, we express our deepest condolences and sympathies.
Abdul Malik Kweku Baako, Editor-In-Chief, New Crusading Guide
My brother KABA, humanity will miss your humility and sense of humour. R.I.P
Kwesi Pratt Jnr, Pan African Television and the Insight
We will miss this fine practitioner. Condolences to Family.
Rev. Hon. John Ntim Fordjour, Member of Parliament, Assin South
Ghana and The Multimedia Group have indeed lost an irreplaceable and distinguished legend. KABA made a tremendous contribution and impact. Your dedication and consistency in delivery had been unmatched. You have served Ghana well. Damirifa Due!!!
Kwabena Mintah Akandoh, MP for Juaboso
We shall continue to remember your contributions towards good governance of mother Ghana. May you rest in perfect peace. Amen
Dr. Kwame Ampofo, Former Chairman Energy Commission
Sincere Condolences.I wish I had met you in your lifetime. But from what I have heard of you, you are a very good person and God need such people with him in heaven. May you Rest in Perfect Peace. Damarifa Due.
Emmanuel Agyarko, MP Ayawaso West Wogon
I can't believe what I am hearing that KABA has passed away. You were an honest/decent lad. God is our interpreter. Rest well my brother. May your young dear wife and daughter be consoled.
Nii Lantey Vanderpuye, MP Odododiodioo
KABA, you represent the example of humility in fame. Your level of respect for everybody was remarkable. Your appreciation of what a good journalist and broadcaster is was excellent. I have grown to admire your desire for excellence and perfection. I was flattered whenever you call to ask, '' Senior Bro, how am I doing?'' is made you exceptional. I am distraught by your passing. Fare thee well. God will give you rest
Collins Owusu Amankwah, MP Manhyia North
I am speechless; indeed the late KABA was a good person. On behalf of the good people of Manhyia North Constituency. I wish him well and may God protect his gentle soul.
Daniel Nii Kwartei Titus-Glover, MP Tema East
Your death was a big shock to me on Saturday. I never believed it. KABA you were my brother and friend. I recall our early days at Pyramid House where Asempa originally started. Your love for the job, humility and compassion was outstanding. We have lost a gem both Multimedia Group, Media landscape and the political front. On behalf of the people of Tema East and the Ministry of Transport, I wish you a safe journey to your new world. We love you bro.
Samuel Okudzeto Ablakwa, MP North Tongu
An exceptionally talented journalist, brother and friend taken away in his prime by the icy hand of death. Too painful to hear but I'm comforted that the Lord will prepare a special place for him in Heaven.
Condolences to his wife Valentina and daughter- May the Lord strengthen and comfort them. Commiserations to Multimedia and the entire media fraternity of Ghana.
Alhassan. S. Suhuyini, Parliament of Ghana
KABA indeed will be irreplaceable not only to his family at Multimedia but the entire broadcasting family. His hearty laugh and broad handshakes he freely dished to all he met left an indelible print on minds. My condolences to my friend turned sister Valentina Ofori Afriyie and their lovely daughter.
Theophilus Tetteh Chai, Former MP, Ablekuma Central
KABA, rest in the bosom of the Almighty God. You stood for the voiceless in society. You opened the frontiers of participatory democracy. You ensured that transparency, probity and accountability in governance were upheld. Your contribution was excellent and you will forever remain in our heart. God be with you till we meet again.
Rachel Nana Adowa Appoh, Parliament House
Big bro, I didn't know last Tuesday would be our last day of seeing each other on earth. Your words were encouraging and full of hope. It is not easy for some of us. Your smiles are something else. Seeing you promising God at church last Tuesday made me believe that you are resting in our maker's bosom.
May you Rest in Peace my big bro!!
Isaac Adjei-Mensah, MP Wassa East
KABA, you have lived a worthy life and many including myself attest to that but you have left so soon. You were such a nice person and you did your work well. May you Rest in perfect peace.
Dr. Oko Boye, MP Ledzokuku
My Brother, My Friend. It is well.
Mohammed Abdul- Aziz, MP Mion Constituency-N/R
No one expected your demise this early in life. Your passing is not just a lost of life but a lost of a hero, lost of a life well lived. We share in the pain and grief of Multimedia, the media fraternity and your family. Until we meet again, rest well.
Andrew Mercer, MP Sekondi
You were such a great man and companion. Your fairness, objectivity and balanced handling of issues were unmatched. Always looked forward to appearing on your show on Mondays with Hon. Adu-Asare. You will be missed dearly!!!! Rest well my friend, till we meet again in Glory.
Kofi Amoakohene, MP Atebubu-Amantin Constituency
KABA, you have made the mark. Safe Journey
John Boadu, Gen. Sec (Ag.), New Patriotic Party
With deep sorrows from the entire New Patriotic Party, may God and a lasting and peaceful rest for you till we all meet again. DUE! DUE!! DUE!!!
Sammy Awuku, NPP National Youth Organiser
A brother, A friend, A confidant. You will be dearly missed by me. May you and eternal rest with your maker. Keep your smile as you journey along. Love you loads. From me and the NPP Youth Wing.
Kofi Portuphy, National Chairman/Leader, National Democratic Congress
Sad to say that the nation lost KABA to eternity. May he rest in perfect peace.
Johnson Asiedu Nketiah, Gen. Sec. NDC
Farewell KABA. You gave voice to the voiceless Ghanaians.
Bernard Mornah, PNC National Chairman
A gem in media has gone. Our nation has lost an unassuming but assertive Journalist of conscience. KABA, until we meet again. Rest in Peace.
Atik Mohammed, Gen. Secretary, PNC
KABA was more of a brother than a friend. He was one of the pillows of the young generation in whom I had the absolute hope that we could one day change the prospects of our good country. His desire for transparent and accountable governance made appearing and listening to his show a delight. KABA is my fellow Vandal who invented the title Vandal General. Rest in peace. Your memory will inspire us to work harder for a greater Accra. Rest well fellow Vandal and Brother.
Nat Kwabena Adisi (Bola Ray), CEO of EIB NETWORK.
A life well lived. You. Always went the extra mile. You had humanity at heart. Gone but not forgotten. Rest in perfect peace, my dear brother KABA.
Randy Abbey, Journalist
Your Humility and warmth was always obvious. You were always ready to listen, learn and avail yourself. You took ' Ekosii Sen' a lot of notches higher. You have paid your dues, God knows best. Rest in Perfect Peace my brother.
Kojo Yankson, Joy FM, Super Morning Show host
This hurts. Not many people remain on earth who genuinely care about others, and put others before themselves. When one of such people leaves us, the gap is too big to fill. Our hearts are broken. KABA, rest well. Know that you left us all better than you met us. We continue to pray for and watch over your young family until we meet again.
Jerry Tsatro Mordy, MyJoyonline.com
We first met 10 years ago at the Great Hall of the University of Ghana. Since then we have moved on and become good friends. I'm fulfilled I played a role in your rise into stardom but this story should have been told by yourself, not me. My prayers and thoughts are with your wife and daughter. Rest in Perfect Peace Kwadwo.
Tony Bebli, Journalist with Starr FM
When we both started this journey at GIJ, we made you the class prefect and finally met at Multimedia. I decided to move on but for me to be told you are no more on Saturday, God should place you in His humble arms.
Akwasi Agyeman, GIBA
Big KABA- you played your part for Mother Ghana. May your memory live forever and guide the next generation in helping shape a better country for us all. Our hearts are truly broken. REST WELL SOLDIER!
Samuel Douglas Quansah, Lecturer, Accra College of Education and the University of Cape Coast
Your sudden departure from the world of the living is a big blow to us, staff and students of Accra College of Education and the University of Cape Coast. You made us proud when you came into the limelight as one of the outstanding radio presenters. May your soul rest in peace, Baffour.
Story by Ghana|Myjoyonline.com | Abubakar Ibrahim| [email protected]