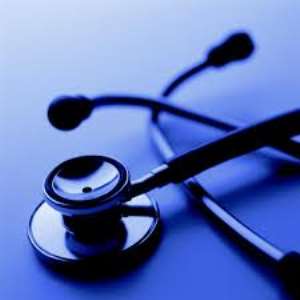 Yaa Serwaa was 15 years old when she had an unsafe abortion. She became pregnant after two years in a relationship that she "did not take seriously".
Serwaa confides: "I relied on natural contraception, using the calendar method but it was ineffective".
With the help of a friend Serwaa said she prepared and applied some herbs to terminate the pregnancy. "I drank the concoction behind closed doors, in a small room that no one could see me, not even my biological mother", she said.
Within some few minutes of taking the herbs, Serwaa said she began to experience some pains in her lower abdomen. I could not withstand the pains and so I fell on the ground screaming. "I was wailing on the floor in pains and when I opened my eyes I was lying on a hospital bed.
"In fact I went through an excruciating pain I cannot forget".
Serwaa said she is now 50 years old and she got married 20 years ago. "My brother I am going serious psychological trauma as I speak with you now. I have not been able to make children and marriage is collapsing".
"Going round prayer camps for spiritual healing is what I do every day because I have tried several herbs but it's not working for me", she said flimsy in a voice.
For Abenaa Anima, unsafe abortion remains a personal tragedy and indelible in her memory. "On one hand, I knew what I had to do and for this reason, I have no regrets.
On the other hand, It was the silence especially that weighed on me, because unsafe abortion is absolutely prohibited and I could simply not talk about it to anyone".
Anima said she had had to keep it all inside herself. "Yet, if I had been able to talk to others about it, to explain some of this to girls, to boys, to couples, maybe it would reduce the need for unsafe abortion."
The year 1976, Anima who is now 62 years old decided an unsafe abortion. "At that time, there was no talk of sexuality with anyone and especially not with our parents, or any adult in fact".
Family planning was virtually unknown. Realizing that she was pregnant, she confided in her mother, who insisted that she have an abortion.
"In the 1970s, a young pregnant girl who had all the chances in life would see her future sink. Being single and pregnant was synonymous with shame. It was an unbearable paradox: I had an unsafe abortion to avoid the condemnation of my community, but the act itself of having an unsafe abortion was also considered to be despicable in my community", she said.
"And this same community finds it despicable or dangerous to teach sex education to young people."
"Sex education, 40 years later, still remained in its infancy. For Anima, this is a great loss for the society".
"People still consider it wrong to educate young people about sexuality, contraception, the functioning of their bodies. It is thought this will encourage them to have early sexual activity. But I find, based on my own experience, that the reverse is true".
"We do not recognise the cost, the tragedy and the consequences of an unwanted pregnancy. To devote time to teach and share the good practices should really not be too much to ask, she said.
Despite the fairly liberal abortion law, unsafe abortion remains common in the country. It is the second most common cause of maternal mortality, accounting for 13 percent of all maternal deaths.
Safe abortions are those which are provided by a trained doctor, nurse or midwife using manual vacuum aspiration, dilation and curettage, or misoprostol (Cytotec), and which are performed in a government or private hospital, health center or clinic.
There are significant differences in abortion safety according to women's social and economic status.
Women who are poor or young, who have multiple children or who do not have financial support from a partner are the most likely to have an unsafe abortion.
Compared with poorer women, who have less access to financial resources and health care facilities, wealthier women have three times the odds of having a safe abortion.
As of 1985, the country's law permits abortion in cases of rape, incest or the "defilement of a female idiot;" if the life or health of the girl in danger; or if there is risk of fetal abnormality.
To ensure that legal abortions are provided safely, the Ghana Health Service and the Ministry of Health established protocols for the provision of safe abortion services.
These guidelines, adopted in 2006, outline the components of comprehensive abortion care and call for expanding the base of health providers to perform first-trimester procedures.
The country's liberal law notwithstanding, as of 2007 a mere three percent pregnant women and only six percent of those seeking an abortion were aware of the legal status of abortion.
Almost 45 percent of abortions in Ghana remain unsafe.
According to the Ghana Health Service report, Brong-Ahafo region alone recorded 1,224 cases of unsafe abortion among teenagers in 2016.
The report said the figure represented 12.7 percent of 9,612 cases of unsafe abortion recorded in the country within the period.
Regrettably, there is an increasing trend of teenage pregnancy and unsafe abortion in the country.
According to the report 110,000 adolescent girls in 352 basic schools across the country got pregnant in 2016, and out of the Brong-Ahafo Region alone recorded 12,112 cases in 38 basic schools.
This reporter believed there is the need for adolescent people to easily access safe abortion services at public health facilities to lower the high unsafe abortion rates which contributes to maternal deaths in the country.
There is also an urgent need for a national policy guideline to facilitate the distribution of condoms in all public places and gatherings to ensure easy access.
Also, when the when the stigma attached to the use of condoms and other family planning methods such as pills, are addressed, teenagers who could not control their sexual desires would feel at ease and demand for the services.
In Brong-Ahafo, for instance, availability, accessibility and acceptability are the key obstacles that adolescent people face in accessing contraceptives as alcoholism and drug abuse remains major driving force which pushed teenagers into promiscuous lives.
According to a 2007 survey of women, there were at least 15 induced abortions for every 1,000 women of reproductive age (15–44).
However, since abortion is heavily stigmatized in Ghana, actual incidence of the procedure is very likely underreported.
While recent, reliable national abortion figures for Ghana are not available, the World Health Organization estimates that there are 28 procedures per 1,000 women each year in Western Africa.
The true incidence in Ghana likely approaches this rate.