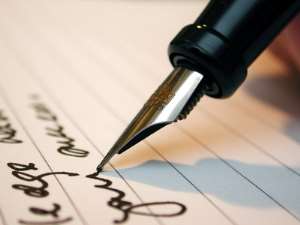 Dear good friend M. A. L Jara,
I hope you are enjoying your position /status as SRC President whiles preparing for exams: that's not bad.......
"Nearly all men can stand adversity, but if you want to test a man's character give him power" [ABRAHAM LINCOLN].
I might not be seen as a recognized student activist on campus, not even a writer (but a 'growing writer').
Well, these factors would not shut me up on issues I think you should address as SRC President.
My good friend, as I write, some 'unfortunate' students are suffering from mental coma and psychological trauma for being attacked and robbed.
Most of this incidents are believed to have occurred on their way to campus for studies on foot, which you promised to curb by providing transport services, and improving the lighting system.
God knows how *these students even paid transport dues which is not worth the benefit..... as our school bus is now scarce like the pope, only seen when you the executives are attending a program outside campus....Hmmm*
I know issues of insecurity is not strange in your ears, but what have you done? Sleeping on the job? I don't think! You have not even issued a solidarity message or anything of a sort to solace the numerous victims, through my good friend; Gbanja (SRC P. R. O) who was a social media 'ant' communicating for you always in your campaign days.Is it that the ink of Mr. Gbanja's pen is finished?
I don't know when it will be my turn to be attacked (God forbid) because I also ply the same shortcut root(incident zone) to campus on foot, that's why I'm worried and writing to you.
Though insults will be rained on me, and I will be tagged with all sort of names(including being a pagan) by people who are naive and luck understanding but not from your self.
My inner man bears me witness that I bear no parochial interest in this my write up, let alone putting the pen to paper to create your Indulgence of matters at hand, and I would have done same to any of your contenders like AB or TUGA et al if they were in your shoes as SRC president.
Imagine your newly 2017 registered motorbike that you ride all over campus in glasses and waving everybody to see the *'all of a sudden dump SRC President'* is snatched away from you uncontrollably at a gunpoint or a two sharp-edged machete in the hands of able build macho guys, how will you feel? Well, it might be normal, because your social status have changed and you can always get one at ease....
When will you act?
Or you are waiting for it to be the turn of your darling vice president when his 2009 registered motorbike is snatched away?
Or you want your name to be added to the Guineas book of somnambulist SRC presidents of our campus? You should be different!
Mr. 'all of a sudden dump SRC President', tell us something if you can't do something.
I have received calls from outside and inside campus after I circulated my intention to write to you. Some asked me 'seize my pen'.... am sorry I couldn't. interestingly, others tipped me to ask you of your 'flavoured' promise: Data sims, and issues surrounding Ultimate radio which are not my interest for now.
Because the most pressing need now is security, as lives are in danger.
I hope it's not my alert that probed to organize an open forum so fast? Because your circular came shortly after mine. Sorry to say is a lazy man's approach in solving an urgent issue of this caliber, the result and impact of the open forum will end right in front of the auditorium when you step out.
I hope this letter will reach you!
Kindly send my regards to Kross my good friend cum boss at G. A, Atuguba(judicial head) Gbanja and my little beautiful wife: Rubaba (dept. Sports Chair). All of your sleeping administration.
I will write to you again hopefully.
Good luck in the exams
Beyom Sulley
B. N. S
Level 400
Bachelor of Commerce
Human Resources Option