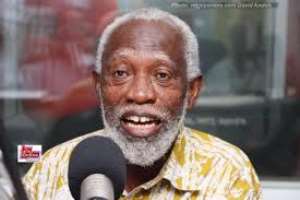 Prof. Stephen Adei
Oliver Wendell Holmes Jr was an erstwhile Supreme Court Judge of United States of America. He was reported to have asserted that "certitude is not the test of certainty. We have been cocksure of many things that were not so." Professoriate is an academic accomplishment of no mean repute. Students who pursue baccalaureate are considered as beginners in research. Masters holders are considered to be intermediate researchers. PhD holders are perceived to be advanced researchers while professors are considered as experienced researchers.
Based on research expertise, a Masters holder can become a professor without a PhD. Per their research skills and educational status, professors do not make claims without the needed facts. Their statements are based on facts and conclusions usually drawn from scholarly research. "A former Rector of the Ghana Institute of Management and Public Administration (GIMPA) says he will protest over the fleet of vehicles that accompany Vice President Dr Mahamudu Bawumia on his trips" (Source: myjoyonline.com, October 13, 2017). The aforesaid claim attributed to Professor Stephen Addai is a far cry from his lofty professorial laurels.
Professor Addai's integrity in management cannot be doubted. During his time as the Rector of GIMPA, he could have conducted a job analysis and a job evaluation for the office of vice president before subjecting the current Vice President of Ghana into public ridicule over his alleged convoy. A thorough work analysis of Dr. Bawumia's office would have provided the needed information that details a job description, examine performance, number of employees, work culture and work climate of the vice president of Ghana. Similarly, a job evaluation would have let Ghanaians know the worth of work of Vice President Bawumia including remuneration and benefits such as the number of convoys he must travel with.
Job evaluation could have helped professor Addai to know external and internal pay/benefit equity of the Vice president of the Republic of Ghana. Dr. Bawumia's convey is long but compared to which? Job analysis and a job evaluation outcome could have been given the necessary legal framework by Ghana's legislature. Failure in his capacity as a former GIMPA boss to conduct an evidence-based job analysis and job evaluations for the public office holders in Ghana means Professor Addai is a complicit in what he is accusing Dr. Bawumia of doing.
How many cars can professor Addai count on weekend funeral grounds in Ghana? What criteria did professor Addai use to determine that all the 16 cars in the said convoy belong to the vice president of Ghana? Professor Addai cannot tell us that during his leadership at GIMPA his staff members did not attend meetings in their individual cars? If they were to drive in a convoy, I believe it would have been longer than 16 cars. Dr. Bawumia could be travelling with foreign nationals or some public office holders and they are not obliged to use one vehicle. A car is somewhat not a luxury but a necessity.
However, I can relate to the source of Professor Addai's emotional disquietude. Politicians are paradoxical and enigmatic group of individuals. Only politicians and the dead must enjoy luxurious cars in Ghana. The dead travels to necropolis [cemetery] with a Mercedes-Benz ambulance while the sick goes to the hospital with the moving coffins (trotro) like those operating Odorkor –Kaneshie road. Ghanaians living abroad are de-motivated by governments from shipping fuel guzzling cars into the country by imposing high import tariffs on those cars. For example, a ship taking a car from USA to Ghana charges about $1500.00.
Taking the car from Tema Harbor to Tema land could cost about $20000.00 depending on its value. Shockingly government officials are not only allowed to use fuel guzzling cars but do not buy fuel from their own resources. What is more nauseating, the impounded fuel guzzling cars are cheaply sold to political cronies through an institutionalized thievery known as auction sales! Thus, the use of a long fuel guzzling vehicular convoy by politicians does not reflect the reasons why Ghanaians in diaspora are deprived of their luxury cars at the port. Moving forward, politicians must be allowed to fuel their own cars.
Recently, in Finland, plans are underway to combine public and private transportation services that will completely deprived citizens to own private cars in the capital, Helsinki. The above policy which is expected to be implemented by 2025 aims at boosting the public transportation system. It will equally go a long way to enhance the economic fortunes of Finland. How many hours do individuals drive their $50000.00 cars in a day? They drive for 20 minutes to work and park for about 8 or more hours in a day and then drive in about 20 minutes back home.
Always there are queues of individuals waiting for "trotro" in Accra and Kumasi but traffic jams on the roads of the aforementioned cities are not uncommon. Could it mean that private cars are more than commercial ones in our big cities? When it comes to owing fleet of cars, almost every Ghanaian including professor Addai is a complicit. Although driving long conveys could have negative effects on our economy, we must gather the needed facts before accusing anyone of wrongdoing. Serving a country does not mean that Dr. Bawumia must compromise his comfort and leisure. Professor Steven Addai, we are told by Henry Ford that we must not always find fault, we must find remedy. We have every right to be patriotic but not at the expense of others integrity. Dr. Bawumia was driving a car before he became a Vice President of Ghana. God bless Our Home Land Ghana!
By Nana Yaw Osei, Minnesota, USA. [email protected] .