Appiah Stadium Runs For Cover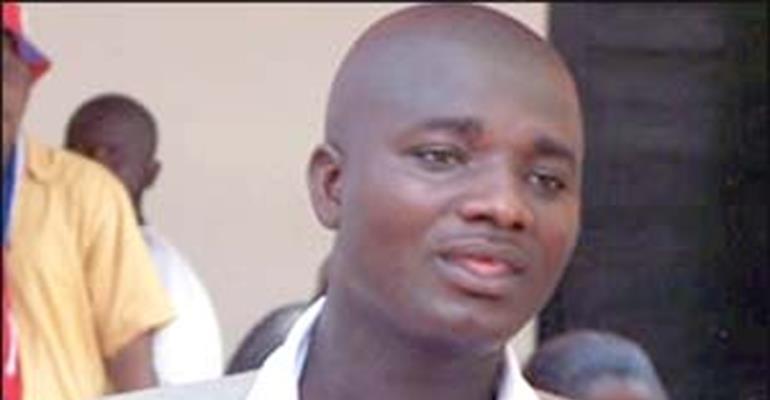 Appiah Stadium, an ardent supporter of ex-President John Dramani Mahama, has eaten a humble pie, a few days after he had hurled unprintable insults at President Nana Addo Dankwa Akufo-Addo.
The foul-mouthed National Democratic Congress (NDC) serial caller, who has a track record of insulting several high-profile people in the country, has rendered an unqualified apology to Nana Akufo-Addo.
"From the president to the last man in the country, I wholeheartedly render unqualified apology for infamously raining insults on President Akufo-Addo without any justification," he begged.
Interestingly, it was Nana Akufo-Addo who first took Appiah Stadium to Europe when he sponsored him for the World Cup hosted in Germany in 2006, with Ghana participating for the first time.
Hot Insults
Mr Appiah Stadium, a former security man at the Baba Yara Sports Stadium in Kumasi, shocked the entire nation as he recorded a two-minute audio in which he rained unprintable insults on President Akufo-Addo last week.
As if not enough, the known NDC serial caller went ahead to post the abusive audio on several social media platforms which had since gone viral.
Bows To Pressure
Appiah Stadium has the penchant for insulting top politicians, and escapes without punishment, but this time round, he seems to have met his challenger in the person of Richard Adjei Mensah Ofori-Atta aka Tomtom.
Tomtom, who is a member of the New Patriotic Party (NPP) and currently in the United States of America (USA), threatened to ensure that the National Security and the Bureau of National Investigations (BNI) deal with Appiah Stadium for insulting the president.
The NPP man, who sounded very angry over Appiah's uncultured behaviour, also threatened to sue him in court.
Mr Ofori-Atta disclosed that he had handed Appiah Stadium's audio recording to the security agencies – the National Security and the BNI – stressing that the matter would not be swept under the carpet.
Eats Humble Pie
Appiah Stadium, who seemed to be afraid of what might happen to him – should Tomtom indeed carry out his intention – quickly rendered the apology to the entire citizenry during an interview with Neat FM in Accra yesterday.
"I am apologizing to every Ghanaian, even you Tomtom, you are included. I acted childishly by insulting the president of the land and I promise that I will never repeat this weird behaviour again in future," he said in a quiet tone.
Ofori-Atta's Threat
At that juncture, Mr Ofori-Atta, who was also speaking on the same network on phone from his US base, threatened that Kojo Bonsu, the ex-Kumasi mayor, who influenced Appiah Stadium to insult the president, would also be arrested.
"I am going to make sure that both Appiah Stadium and Kojo Bonsu are arrested with immediate effect and face the law for insulting the president. This insulting behaviour has to stop and it starts from now.
"I know Kojo Bonsu wants to win the love of NDC members so that in case he is arrested for possible corruption charges during his reign at the KMA, the NDC members will fight for him.
"Kojo Bonsu and other NDC past government officials should know that if they are found culpable for any corruption charges during their time in political office, nothing can save them from the clutches of the law," he warned.
Appiah Dumps Kojo Bonsu
Appiah Stadium reacted, "If you will arrest Kojo Bonsu today I care less about it. I am only begging for insulting the president.
"When Kojo Bonsu was riding in government cars in Kumasi as the mayor of the city, I did not enjoy with him so if you arrest him for any corruption charge, I don't care. I am even praying the special prosecutor will start his work today.
"I am clean since I was not appointed to any public position during the NDC regime. Everybody knows that I beg people to get money so I will never be arrested for any corruption charge."
He noted that his loose talks had put himself and his family in a tight corner, adding that it is his wish that Ghanaians, notably President Akufo-Addo, will find a place in his heart to forgive him.
Appiah Quits Politics
Meanwhile, another fresh audio of Appiah Stadium started spreading on social media platforms on Monday evening. On the audio, the NDC man stated that he had quit politics, stressing that he had regretted insulting the president.
Unconfirmed reports also indicated that Appiah Stadium was arrested by some stoutly-built NPP supporters in Kumasi over the insult.
The report said Appiah was taken to Accra to face the law.
FROM I.F. Joe Awuah Jnr., Kumasi