11 August 2017
|
Politics
Government urged to revamp sub-district structures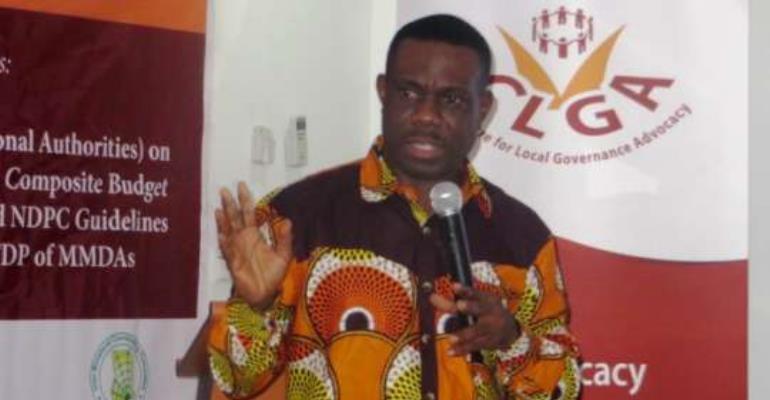 Accra, Aug. 11, GNA - Dr Eric Oduro Osae, a local governance expert, has urged the government to revamp the sub-district structures in the various metropolitan, municipal and district assemblies (MMDAs).
He said strengthening sub-district structures such as Urban/Town/Zonal Councils and the Unit Committees would enhance the performance of the various MMDAs at the community level, which would further deepen Ghana's democratic governance.
He said currently the non-functioning of the sub-district structures; especially the Unit Committees was hampering the socioeconomic development of the country.
Dr Osae made the appeal in an interview with the Ghana News Agency on Friday, on the sideline of a day's sensitisation workshop on the new Local Governance Act (Act 936).
The workshop, organised by the Centre for Local Governance Advocacy (CLGA) was on the theme, 'Sensitisation of Non-State Actors: Civil Society Organisations (CSOs) and Traditional Authorities on the Local Governance Act (Act 936) and the Revised Planning and Budgeting Guidelines for MMDAs'.
It was attended by traditional rulers, assembly members, representatives of CSOs and the media.
The purpose for the workshop was to sensitise traditional authorities and CSOs on the content of the new law and how they could be involved in the local governance process.
Act 936, which was passed by Parliament in December 2016, provides for local governance in accordance with the 1992 Constitution; to establish a Local Governance Service, provide for the establishment and administration of the District Assemblies Common Fund.
It seeks to provide for a National Development Planning System; to define and regulate planning procedures of District Assemblies, to coordinate, facilitate, monitor and supervise internal audit activities within District Assemblies and related matters.
Dr Osae urged the various MMDAs to ensure the operationalisation of the sub-district structures to ensure the smooth implementation of the decentralisation programme.
He also urged traditional rulers to develop keen interest in the administration of MMDAs in their jurisdiction; stating that, 'They should ensure that whatever happens in the assembly, they are in the know'.
'The reason is that, their citizens will never forgive them if they allow the assembly not to develop the area,' he added.
He said aside the District Assemblies Common Fund; the MMDAs were capable of generating revenues from the market and from companies operating in their domain.
Madam Gladys Gillian Naadu Tetteh, the Deputy Executive Director of CLGA, cautioned Ghanaians that under Act 936, an individual would be jailed for up to three years for littering the city.
She said the workshop, which was the seventh of regional series would be replicated in the Northern, Upper East and West Regions.
Tsitsi-Tse Nii Okang Nmashie IV, Teshie Mankralo, who is also an Assembly Member of the Ledzokuku Krowor Municipal Assembly (LEKMA), expressed gratitude to CLGA for enlightening them on the Act 936. GNA
By Iddi Yire/Ernestina Asante, GNA