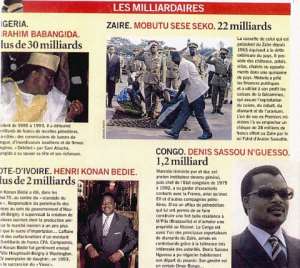 Accra, April 27, GNA - About 400 African Leaders including Nigerians and Ghanaians have stacked up huge sums of stolen money in Swiss Banks, five Journalists, who have just returned home after an extensive tour of Switzerland, have said.
They said the Leaders used the names of their children, friends, relatives and even bodyguards to open such accounts, a statement issued by the Private Newspaper Publishers Association of Ghana (PRINPAG) on Wednesday said.
The statement, which Nii Laryea Sowah, Executive Secretary of PRINPAG signed, said this came to light when the Journalists held discussions with the Executive Board of the Swiss Bankers Association. It said the Journalists appealed to the Swiss authorities to facilitate the return of the funds to Africa to develop the Continent.
The Swiss, however, blamed African Leaders and other high-ranking personalities, whom they referred to as "politically exposed persons", who had stashed away monies in Swiss banks over the years.
They appealed to the Journalists to focus on other countries since such stolen monies could also be traced to various banks in countries like the United Kingdom, United States of America, Germany, France, Japan, Luxembourg, Austria, Belgium and the Scandinavia countries. The statement expressed gratitude to the Swiss Government for sponsoring the five Journalists to undertake the nation-wide working tour of Switzerland.
The Journalists, who have since returned home, visited Zurich, Basel, Berne and Geneva and met Ghana's Ambassador to Switzerland, Mr Kwame Bawuah-Edusei.