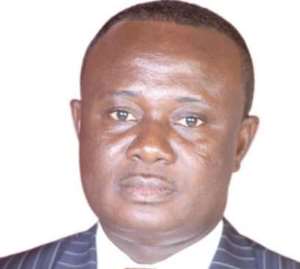 Hon. Joseph Osei-Owusu, Chairman of the Appointments Committee, and First Deputy Speaker of Parliament
Food Sovereignty Ghana (FSG) totally rejects the false impression that the chairman of the Parliamentary Appointments Committee (PAC) Hon. Joseph Osei-Owusu, sought to create during the vetting of Hon. Owusu Afriyie Akoto, that FSG is "misleading various agencies for them to issue statements which are totally out of place".
Indeed, FSG considers this as a clear insult to the respectable organisations that have so far petitioned Parliament over the Plant Breeders' Bill.
There are several groups that took the initiative to petition Parliament without any prompting from FSG. We can mention the Peasant Farmers' Association of Ghana, the General Agricultural Workers' Union (GAWU) of the Trade Union Congress (TUC), The Convention People's Party (CPP), the Rastafari Council, Center for Indigenous Knowledge and Organisational Development (CIKOD) and Food Span, and respectable faith-based organisations such as the National Catholic Secretariat of Ghana Catholic Bishops' Conference (NCS/GCBC), Ghana Pentecostal and Charismatic Council (GPCC), Marshallan Relief and Development Services (MAREDES), Federation of Muslim Women of Ghana (FOMWAG), Ghana Muslim Mission (GMM), Ahmadiyya Muslim Mission of Ghana (AMM-G), Religious Bodies Network for Climate Change (RELBONET), Ahlussuna Wal Jama'a (ASWAJ), Office of the National Chief Imam (ONCI), to name but few.
The false impression that FSG is the main body that stands in opposition to the UPOV model for the Plant Breeders' Bill and is misleading all others to oppose the Bill is mischievous and serves no other purpose than an attempt to diminish the obvious groundswell of opposition, in order to ignore it.
We find it unacceptable that after so many years of consultations, there is still no official report on the outcome of these consultations. All that we have heard so far are utterances from individual MPs that the consultations are over, without any formal response to the various petitions to Parliament over the issue.
What is "completely out of place" are the remarks that "the Plant Breeders' Bill has nothing to do with GMOs", without any attempt to address the pertinent issues that have been raised against the the Bill.
"Sui Generis" Plant Variety Protection…
Food Sovereignty Ghana, together with various groups have called for a "sui generis plant variety protection system, in accordance with the WTO rules, rather than the UPOV 91 convention. See: Replace Plant Breeders' Bill With A "Sui Generis" PVP System. | Food Sovereignty Ghana, April 27, 2016 https://foodsovereigntyghana.org/replace-plant-breeders-bill-with-a-sui-generis-pvp-system/
It is also instructive to note that the Petition to Parliament signed by over 50 organisations from Africa and around the world concerned with the conservation of agricultural biodiversity for livelihood security and food sovereignty, promoting farmers' rights and self-determination and citizen involvement in the decision-making process, never mentions GMOs even once in their objections to the Plant Breeders' Bill! The list of signatories include organisations as far and near as the Alliance For Food Sovereignty (AFSA), African Biodiversity Network, Actions pour le Développement Durable/ Actions for sustainable Development NGO (Benin), African Centre for Biosafety (South Africa), Alternative Agriculture Network (Thailand), Berne Declaration (Switzerland), Bia´lii, Asesoría e Investigación, A.C.(Mexico), Environmental Rights Action/Friends of the Earth Nigeria, GRAIN International, Tanzania Alliance for Biodiversity (TABIO), Terra Nuova (Italy), Third World Network (Malaysia), Verein zur Erhaltung der Nutzpflanzenvielfalt-(Seed Savers'Association, Germany), South Asia Watch on Trade, Economics and Environment (Nepal), National Farmers Union (Canada) See: Ghana's Plant Breeders Bill Lacks Legitimacy! It Must Be Revised! | http://foodsovereigntyghana.org/ghanas-plant-breeders-bill-lacks-legitimacy-it-must-be-revised/
So what explains this one size fits-all responses we are getting from our MPs? How about coming out with a report on Parliament's official response to these petitions and their "consultations"? Is that also too much to ask? For the avoidance of any doubts, Food Sovereignty Ghana calls on Parliament to completely withdraw the UPOV-compliant Plant Breeders' Bill and replace it with a "sui generis" plant variety protection (PVP) system suitable to our conditions. See: Replace Plant Breeders' Bill With A "Sui Generis" PVP System. | Food Sovereignty Ghana http://foodsovereigntyghana.org/replace-plant-breeders-bill-with-a-sui-generis-pvp-system/
We demand a report from Parliament that explains the option to be UPOV 91 compliant when all the experts are saying this serves corporate interests rather than Ghana's own interests? See: UPOV Convention, Farmers' Rights and Human Rights – An integrated assessment of potentially conflicting legal frameworks" GIZ: http://www.giz.de/…/downloads/giz2015-en-upov-convention.pdf :
For Life, the Environment, and Social Justice! Edwin Kweku Andoh Baffour Communications Directorate, FSG