13 February 2017
|
Opinion/Feature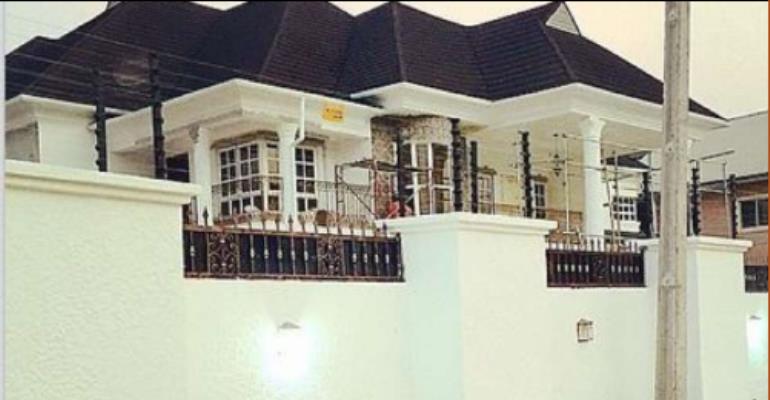 Kwabena Boadu, May His Soul Rest in Perfect Peace. Hajia Samira Bawumia, She's a Revelation. Alhaji Dr. Mahamadu Bawumia; He's a STAR, GHANA-BLACK STAR! "John 3:16, For God So Loved The World That He Gave His Only Begotten Son That Whosoever Believes In Him Should Not Perish But Have Everlasting Life." John Dramani Mahama aka Onaapo Mahama is a greedy man therefore perished by losing election 2016 by 10 points and currently confined to his homeless shelter since he claimed not have a place of abode; and hiding his eyes behind his sunglasses even in this Harmattan Weather. Shame on him; 'W)n Huro No.'
I wrote Mahama's Hope City in 2013 with lots of hope for the then Mahama Administration and our beloved country of Ghana. I guess it was false hope and Mr. Mahama was a false prophet because what followed was SADAA, SUBA, RUN-AWAY FOWLS, BUS BRANDING, COLLAPSE OF MERCHANT BANK and many other ills. As Ghanaians cried and wailed John Dramani Mahama rather than hear the sobbing of a nation was dancing to Lumba's 'Yen Tie Obia'. Rather than listen to the plea of a people, Mr. Mahama was scheming to connivingly and deceptively annex Bungalow No. 3 Prestige Link and Bungalow No. 6 Third Ave Ridge. Bungalow No. 3 Prestige Link is currently the official designated vice-presidential residence for whoever is so honored to rise to the position. Onaapo Mahama, however, couldn't care less. He had schemed a long time ago to grab this place in the name of Ex-Gratia Pension Home; his reason for staying put even when he rose from the Veep's position to become President of the Republic of Ghana.
The man is just too greedy especially when rumor has it that he owns at least two gigantic mansions just in Accra alone. Mr. Mahama is one of the reasons why it is incumbent on our legislators to amend our constitution to include that 'A Person or Individual Seeking the Highest Office in the Land MUST Own a Home.' Not just any building or house but a place said individual could call HOME after his or her term of office. We as Ghanaians could help by renovating and furnishing this residence for our ex-presidents but we can't be going about dashing every former president a house. An office for their post-presidential work is necessary for these men and hopefully in the future women, do not cease working just because they are no more the Commander-In-Chief of the Ghana Armed Offices.
John Dramani Mahama, though, is just so greedy he had to sacrifice the exceptional Ghana peace and security for a bunch of hardened Al-Qaeda warriors from Guantanamo Bay all for some few dollar bills he and his corrupt associates stood to gain, akin to Judas Iscariot selling Jesus Christ for 30 pieces of silver. Whatever the cost this unwise decision would be to Ghana couldn't bother Mr. Mahama. If these folks albeit two, were not as dangerous as he was claiming at the time why did countries with far more advance security apparatus like the UK and USA themselves not host them. Even the mention of harboring these hardened warriors in American jails was rejected outright for fear of attracting unscrupulous characters who may want to cause harm but Onaapo Mahama saw no reason to reject this offer.
Ghana, a country where the 'Christmas-Day Bomber', from our sister-country Nigeria, schooling in UK and radicalized in Yemen could spend a whole week in the country without detection before embarking on his trip to the US in hopes of blowing up the plane on which he travelled. This is the country which John Dramani Mahama claimed had an A+ security rating that of all things in this world, he had to import Ex-Guantanamo Alums. Ghanaians are very hospitable and I would be first to advocate for hosting refugees who may be fleeing wars and other intolerable situations.
The man is also just so shameless that he was bold enough to send his army of corrupt officials to attack Hajia Samira after the Bus-Branding speech. We thank God for disgraceful loss. ALHAMDULILLAH! Somebody please tell Ex-President John Dramani Mahama that his first-born is on the streets of Hartford, Connecticut in need of serious help. Unless, of course, like Ghana, he would allow Aunty-Lordina to mistreat him like they did our-beloved-country. After all, her kids are all set for life given their loads of cash and acquisitions during his presidency. For What Shall It Benefit A Man To Gain The Entire World But Lose His First Born.
Again, Hajia Samira Ramadan Bawumia, She's A Revelation. His Excellency Alhaji Dr. Mahamadu Bawumia, Vice-President and Future President of Our-Beloved Nation; In Sha Allah. Nana Addo Dankwa Akufo-Addo! President, The Republic of Ghana. Even as I type Shatta Wale's tune 'Don't Go There,' is jamming in the background. KUKRUDU! The Boys Are Good. KUKRUDU! The Gals Are Even Better.NPP, NO ABAABAS3; ONAAPO; ESHI RADO RADO RADO. OMAN-GHANA! Truth Is Our Light; Happy Valentines…GYE NYAME!
Fiifi Ofori aka Sowee