Ghana Post Diversifies Operations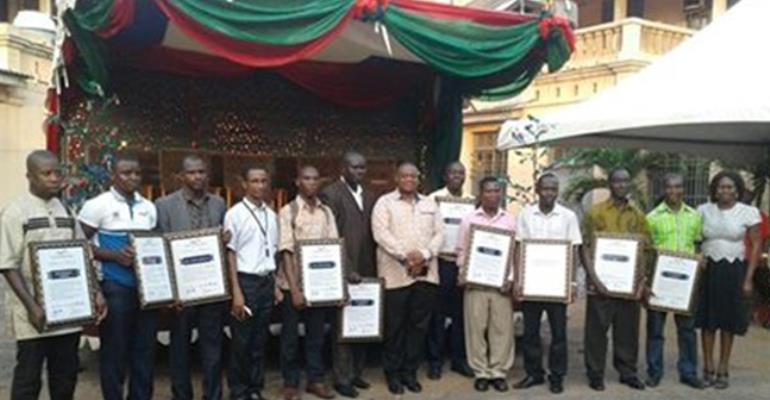 Eric Yao (seventh right) in a photograph with the awardees from the 10 regional branches of Ghana Post Company
Ghana Post Company Limited says it's in the process of diversifying its operations in order to survive in the industry.
Managing Director of the company, Eric Yao, who disclosed this to BUSINESS GUIDE in an interview on the sidelines of carols service and awards ceremony organized on Friday in Accra as part of activities to mark this year's Christmas, said Ghana Post, this year, entered into a different phase of reorganization.
He said the company was considering venturing into e-commerce, banking, haulage and logistics, as well as real estate business in 2017.
The move, he said, had become necessary due to the continuous fall in the sale of postage stamps across the world and Ghana.
He said the low stamp sales were badly affecting the revenue of Ghana Post Company.
"Ghana Post does not survive on government's subventions. We have to make our own money to pay our staff.  We have a staff strength of about 1,650 and that's a lot so to pay them you are looking at getting GH¢2 million every month."
"So in diversifying we are looking at ICT and e-Commerce. We have a platform already available. And so we are just waiting to get some money to bring in some vehicles and motorbikes to start it so people can buy online and then we bring the things and distribute."
The MD added that "the company is also considering venturing into haulage and logistics, banking and real estate, because we want to leverage our lands and properties and we are also bringing in new innovative measures with the hope of raising our revenue."
By Melvin Tarlue