Osu Mantse Leads Accra House Of Chiefs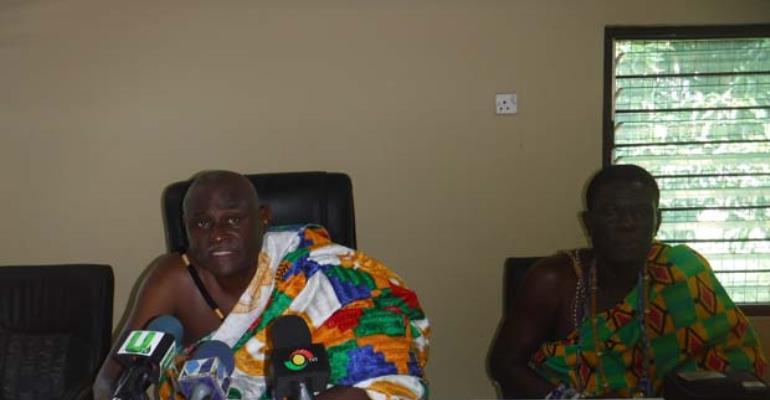 The new President of the Greater Accra Regional House of Chiefs addressing the House
THE PARAMOUNT chief of the Osu Traditional Area, Nii Okwei Kinka Dowuona VI, has been elected President of the Greater Accra Regional House of Chiefs, polling 6 votes out of the 7 votes cast.
He defeated his contender, King Odaifio Welentsi III, Nungua Mantse, to clinch the seat.
Nii Dowuona VI, a former banker, replaces Nene Abram Kabu Akuaku III, Paramount Chief of the Ada Traditional Area, whose term of office came to an end this year.
Nene Kano Atiapa III, Mankralo of the Ningo Traditional Area, has also been elected Vice President of the House.
In a brief inaugural speech, Nii Dowuona VI called on members of the house to eschew their differences and unite to form a formidable team to ensure that the Greater Accra Region is properly developed.
He further urged the government to recognise the significant role of the chieftaincy institution in the country.
Touching on the December 7 elections, the newly elected president called for credible polls, noting that it is only when the exercise is credible, free and fair that peace will prevail in the country.
He admonished the political parties to run clean campaigns and commit themselves to peaceful elections rather than engaging in campaign of insults, accusations and counter accusations.
Nii Dowuona VI pleaded with the electorate not to allow themselves to be used by politicians to perpetrate violence to serve their (politicians') own parochial interests.
He also advised the media to be circumspect in their reportage to ensure peace before, during and after the elections.
In a brief address, the vice president, Nene Atiapa III, called on all Ga-Dangme states to help raise the image of the region.
From Vincent Kubi, Dodowa