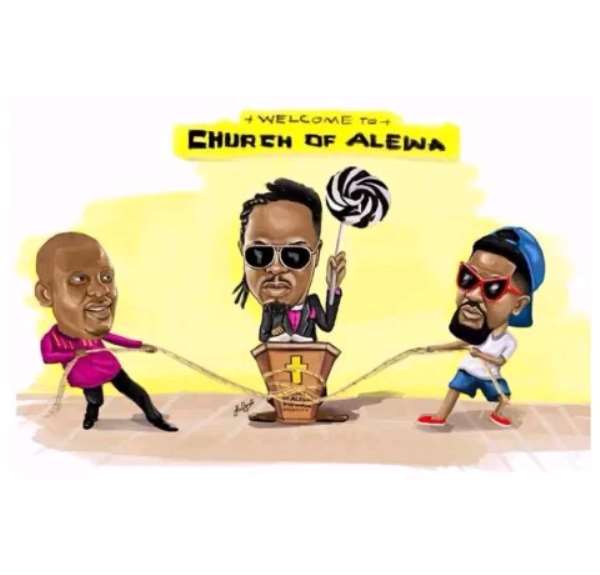 Indeed, this issue has made me suffer from insomnia for sometime now, however, I'm left with no choice than to express my worry about it through words. Religion defined from the psychological point of view by James L. Coz which was put into collection by Ferguson will clearly show that, "it's the result of seeking comfort in a world which, dispassionately considered, is a kind of terrifying wilderness". For the purpose of clarity and evidence, I'll limit my argument to the happenings in Christianity in reference to the Ghanaian entertainment setting.
From our basic schools, pupils were exposed to the need to look up to some people in the society whom he/she can be used as a roadmap to achieve greatness. Fast forward, the idea of role model was established at that tender age in the hearts of Ghanaian students. Role model are people who have excelled in the various fields and their lives basically serve as a motivation to the upcoming ones.
Ghanaians have witnessed an uncountable number of celebrities who have come to spice our television screens from the days of Dr. Kwame Nkrumah till now. However, the issue is that, after misleading the masses to emulate their lifestyle both the ugly and the good, religion becomes the medium where they finally seek refuge at a point when their career has died from the system.
Ghanaian entertainment industry particularly music has gone through series of revolutions starting from the time of Nana Kwame Ampadu and his African Brothers Band International who took the nation by surprise with the Hi-life genre. With time, a new dimension headed by Nana Acheampong, Lee Duodu, A. B Crentsil among others in the late 80's with their Borga Hi-life when the 83 hunger struck through the length and breadth of this nation. Charles Kwadwo Fosu, popularly know as Daddy Lumba also took the music baton and gave Ghanaians value for their money whenever he organize music show.
Time changes, a new generation of creative minds burst into the music scene and rebranded the genre with fast rhythmic flows and instrumentals which in any day sound good to every listening ears. Reggie Rockstone deserves to be applauded here for being the propagator of hip-life although Gyedu Blay Amboley use to challenge him in terms of the real inventor of this genre.
Nonetheless, some artiste like Obrafour, Obour, Okyeame Kwame, Okomfour Kwaadɛɛ, Lord Kenya, K. K Fosu, Ofori Amponsah among others have paid their dues well by blending sense with rhythm in the hip-life music genre. Nowadays, most of the contemporary music artiste in the system are pulling all the crowds and the cash without considering the content in their rap, therefore making less sense as compared to their predecessors.
As earlier said, the celebrities are to live a life worthy of emulation to be copied by the younger generation. But the story is different in this county. We've had so many celebrities who in their hay-days never thought of repenting. They spent all their time and energy organising music shows, clubbing and chasing different shades of women. For the purpose of clarity, I'll cite Lord Kenya who in the early 2000's lived a luxurious lifestyle and abused narcotic drugs like cocaine.
He tagged himself the rap heavyweight champion and produced hit songs after hit songs in those times. He ruled the rap scene until he decided to give his life to Christ at a point in time when his music career was fading! Why didn't he repented when he was acclaimed the rap heavyweight in Ghana? Likewise, Ofori Amponsah also burst into the music scene and was labeled the Highlife King who release hits after hits just like his predecessor. As my mum has always been telling me, "all days are not equal", a time came in the music career of Ofori Amponsah when he wasn't getting the needed attention as it used to be.
He was quick to employ a face saving mechanism by pronouncing his encounter with Jesus Christ. He went further to establish his own church. Sadly, because he wasn't making money as he used to get as compared to when he was in the "profane" world, he quickly renounced his faith and came back to release another Hi-life track titled alewa (sweet toffee) featuring Sarkodie.
This gave him the title "Pastor Alewa" as Ghanaians were trying to make fun of him. The list goes on to include Timothy Bentum, Papa Shee, Yaw Siki, Akoo Nana, Azigizar Jnr, Nii Soul and many others who all run into Christianity at a time when their impact in the Ghanaian Music Industry was of less significance.
Recently, a crop of music stars are into the system who're leading the youth into an undesirable path. Notable among them are Sarkodie, Shatta Wale, Stonebwoy, Pappy Kojo, Joey B, Criss Wadle, Opanka and most of the contemporary artistes. Nowadays, the fashion trend in the country is getting crazier each and every day as a result of the "misleading" impact of Pappy Kojo and Joey B in particular.
Pappy started to showcase different crazy and tight fitting (pencil-jeans) costumes in his music videos. However, because these people appear constantly on our screens, their impacts are high as most people are tempted to take them as their models. Likewise, Sarkodie and M.anifest also bearded themselves, and within a twinkle of an eye, Ghanaian youths are copying blindly. Dade Opanka on the other side left his hair untrimmed, and fast forward, the youths are initiating such acts.
Now the issue is, why won't they repent at this moment when their music career is strong but wait till their career is fading before they pronounce repentance on themselves? Recently, actor Majid Michel and music director/actor Pascal Amanfo, who's known for the popular music video titled "kaalu" by E.L are doing the work of God. I asked myself, why now? Why didn't Majid Michel repent at the time when he was caressing all the beautiful ladies in the movie? Why didn't he search for salvation at that time, but now that he's no longer active in the movie scene?
To pen down my thoughts, I've the conviction that the religious people who'll read this article will attributes everything to God's appointed time in the life of humanity. However, must it always be the case for people to live their lives anyhow, and when their relevance are no more important, then they try to seek refuge in Christ? I wonder the number of souls who will be lost by the time Sarkodie, Shatta Wale, Stonebwoy and the rest will finally decided to seek for salvation.
Most people have go in for tattoo in order to be like their favourite celebrities. Ask yourself, do you know the number of people who have died in their evil ways as a result of imitating Lord Kenya in his hay-days? Sadly, the enthusiasm and the zeal at which Lord Kenya used to do the rap music in the early 2000's is somehow low as compared to his gospel songs, but the worst of all the Christian converts is Ofori Amponsah affectionately called "Pastor Alewa".
Likewise, Daddy Lumba on his sick bed professed the name of the Lord and even composed a gospel song titled, "Mɛsom Jesus"( I'll worship Jesus), however, he quickly went back into his formal ways as Ofori Amponsah and Akoo Nana did. If this is the trend, whereby our celebrities decide to use temporal conversion into Christianity as a means of hiding from public disgrace, then there must be something wrong somewhere! It's my fervent hope that the majority of Ghanaians wish to see their celebrities living a life worthy of emulation devoid of evil.
Therefore, if they have it in mind to search for salvation, the time is now. They shouldn't wait until the time when their careers are fading before coming out publicly to tell us stories of no substance.
Adu Sarpeah
[email protected]
0241210870/0506140870
UCC