Lucy Quist Picks Up CSR CEO Of The Year In The Light Of The Company's Impactful CSR Programmes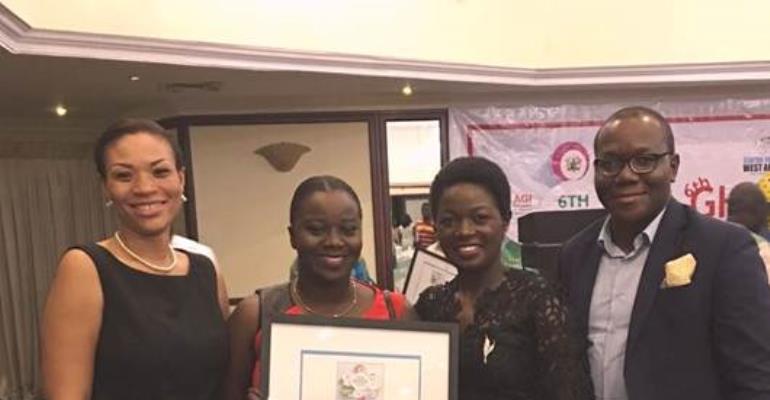 [26th September 2016] Airtel Ghana's Managing Director and current CIMG Marketing Woman of the year and Telecoms CEO of the year, Lucy Quist, has picked up yet another prestigious award as she emerged the CSR CEO of the year at the 2016 Ghana CSR Excellence Awards (GHACEA) in recognition of her dedication, commitment and leadership in driving an integrated and strategic CSR agenda for Airtel Ghana.
The Awards, organised by the Centre for CSR West Africa, recognises organisations and individuals who are driving strategic and impactful CSR interventions in the country. The Centre collates and evaluate CSR interventions, identify good practices and reward socially responsible entities and individuals as shining lights for others to emulate.
Airtel Ghana's CSR programmes in education, sports, health, empowerment and community development in addition to her own personal commitment to empowering young people powered Lucy Quist to pick up the ultimate award of the night – the CSR CEO of the year.
This recognition comes at the back of her recent award for Excellence in Corporate Responsibility at the maiden Ghana Women of the Year award organised by Glitz Africa ( http://www.myjoyonline.com/entertainment/2016/May-23rd/photos-lucy-quist-grace-nortey-others-celebrated-at-ghana-women-of-the-year-honours.php ) for being one of the few business leaders who passionately uses their position and experience to positively influence and mentor the next generation of leaders.
Lucy Quist leads Airtel Ghana's CSR agenda which covering over 55 initiatives in 4 thematic areas notably among them being Airtel Touching Lives, Airtel Rising Stars and Evolve with STEM – which she champions to inspire belief and empower young people to embrace Science, Technology, Engineering and Mathematics.
Since launch the Evolve with STEM initiative has impacted more than 2,000 pupils across 4 regions and inspired many Ghanaians and institutions to take action and launch similar initiatives targeted at promoting STEM.
Sharing her thoughts on this latest award, Mrs. Quist said "I am honoured to receive this award. This recognition is humbling and speaks to the impact we continue to make at Airtel Ghana. As an organisation, we believe in the power of potential and are committed to enriching lives and empowering communities through our CSR initiatives.
Airtel Touching Lives, our flagship, is the leading CSR initiative aimed at recognising individuals who are making an impact in their communities and supporting them to scale up their efforts.
Our award winning Schools Adoption Programme has invested heavily in infrastructure development such as the construction of classroom blocks, libraries and ICT centers in addition to providing teaching and learning materials to shape the minds of the next generation of leaders across the country".
She continued "Airtel Rising Stars remains the only grassroots football talent unearthing initiative that discovers, develops and showcases young and talented footballers in the country who move on to do exploits at the national and international level. And quite recently, our Evolve with STEM initiative is transforming the mindset of young people towards Science, Technology, Engineering and Mathematics.
I dedicate this award to the amazing team at Airtel who have embraced CSR as part of our culture as a business. This will inspire us on to do more".

Lucy mentors pupils at Mataheko Cluster of Schools under the Evolve with STEM initiative.
Airtel Ghana has received several accolades for its CSR programmes including as Best CSR organisation in Education and Community Relations.