29 August 2016
|
Tributes & Condolences
Tributes eulogize Togbi Kporku III, Dufia of Alakple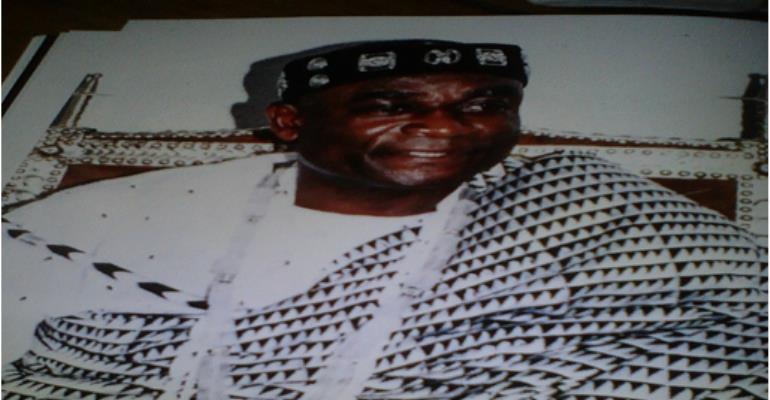 The Royal funeral of Togbi Kporku III, Dufia (Chief) of Alakple in the Anlo State, was marked with the inundation of tributes which eulogized him as a dedicated Catholic, progressive Traditional Ruler, enterprising Engineer and a distinguished Diplomat.
Several tributes published in the 80-page funeral brochure extolled the great virtues of Togbi as a staunch Catholic, a fine Traditional Leader, and Diplomat who was down to earth and warmly welcomed everyone he encountered in life.
Among the dignitaries who praised the late Chief in their tributes were Most Rev. Anthony Adanuty, Bishop Emeritus of Keta-Akatsi, former President Jerry John Rawlings and the Awoemefia of the Anlo, Togbi Sri III.
The unanimity and sincerity discernible in the various tributes outpoured on Togbi Kporku, who died on November 6, 2015, were clear testimonies of a life well-lived by the late Chief.
There were tributes from the Widow, Mrs. Monica Kporku (Nee Naa Lamiley Ernest-Bruce); children, family, St. Joseph Catholic Church, Alakple; Awoamefia and Anlo Traditional Council, National management Council of Alakple Development Association, Alakple Youth Club, Ministry of foreign Affairs and Regional Integration, Ghana Embassy in Japan, Ghana Institution of Engineers.
Others were from the Board of Governors, Headmaster, Staff and Students of Anlo Senior High School, Ghana Secondary Technical School (GSTS), Rotary club of Ho, Governing council of Volta Heroes Foundation, West African Primate Conservation Action, Conterra limited, Amey Clan of Anlo and the EDCIII (Civil)Class of 1974, KNUST.
Individual tributes included Rev. Fr. Mark Etse, Priest -in -Charge of St. Joseph Catholic Church, Alakple; Mr. Clement Humado, Member of Parliament for Anlo; Major Henry Anyidoho (Rtd), Dumega Francis Fiakpornu, Head of the Ahafia Royal family of Alakple; Togbi Agbesi Awusu II, Awadada of Anlo State; and Mama Medoafe II of Anyako.
Bishop Adanuty in his tribute said Togbi Kporku "endeavoured to live his catholic faith in the traditional setting of a Chief," noting that "he saw the need of leading his people, by personal example, in accordance with the light of faith that he was convinced he had found in the Catholic Church"
Togbi Kporku, he said, "tried to serve the good Lord by serving his brothers and sisters to the best of his ability, be it within his social environment as a Chief, be it within his religious community as a leading Catholic, be it as a representative of his country or as an Ambassador in a foreign country."
The Bishop described Togbi as a generous person who extended financial support to individuals, institutions and communities, noting that "that was the way he transformed his earthly treasures into heavenly ones and kept them in heaven where neither moth nor dust consumes and thieves do not break in and steal." (Mt.6, 19).
Bishop Adanuty reminisced how Togbi Kporku at a very function in the Diocese, kept eulogizing and glorifying the Catholic Church and made no mystery about his being a Catholic, recalling Togbi's statement during the Plenary Assembly of the Ghana catholic Bishops' Conference in the Diocese in 2002 that "I am an Engineer for income and a Chief for expenditure."
In his tribute, former President Rawlings said Togbi Kporku lived a life of frankness, self-denial, generosity and commitment, saying that were very few men in society today with demonstrated passion for candor, selflessness and dedication to public service.
"I have known, admired and respected the personality and worth of Togbi Kporku for his total disposition to serve his community, his nation and the wider world. These indeed, were the attributes that informed my decision to appoint him Ambassador Extraordinary and Plenipotentiary to the Kingdom of Japan with concurrent accreditation to other South East Asian countries including Australia, New Zealand and Singapore from 1998 to 2001."
The former President prayed that his exemplary and well-lived life would inspire many, hoping that a larger number of people in society would live for the principles and convictions for which Togbi lived.
In his Tribute, Togbi Sri III, Awoamefia of Anlo described the late Alakple Chief as "soft spoken, unassuming and a man of few words but his ideas were full of potent wisdom laced with intellectual and practical common sense."
Togbi Kporku, said spoke a simple language that was the hallmark of a simple, humble, caring, loving but deeply reflective man.
The Awoamefia added that "His insistence on the right being done at all times coupled with his tenacity of purpose endeared him to those who had great affinity for truth."
Togbi Kporku was installed as Chief of Alakple on April 5, 1979 at the age of 28 when the Ahafia Stoll became vacant after the home call of Togbi Avudzega III of Alakple in 1977.
As a Chief, he had played important roles in the development process of Anlo and was a member of several delegations to Government for important discussions on development of Anlo, engaged in radio and television programmes to outdoor the Hogbetsotso festival of Anlos as well as being a much sought-after guest speaker at several public functions.
In an effort to contribute his professional expertise to the development of the Volt\ Region, he became the Chairman of the regional tender Review Board for the Volta Regional Coordinating Council (VRCC) in 2009. In this capacity, Togbi Kporku supervised the award of contracts for roads and other civil works for the Region.
Togbi Kporku was a torchbearer for the upliftment, peace and unity of his people. Since his installation, he devoted a significant portion of his time to the service of his people and Anlo community.
As a staunch Catholic, he had a special place in his heart for the Church in the Region and Alakple. He attended most Catholic events and whenever there was Priestly or a Church event in Alakple, he would support it.
As an astute Engineer, he was the Project Director of the US$84 million Keta Sea Defence Project sponsored by the US EXIM Bank and from 1993 to 1996, he was the local Project Manager for the engineering design, construction and supervision of the new Tema Harbour dual-carriage Access Road.
From 1992 to 1994, he was the engineer in charge of the design, construction and supervision of dam, water pipelines as well as the treatment ponds for the Ghana rubber Estates Limited (GREL), Takoradi.
He was the resident engineer of Tahal consulting engineers Limited for the rehabilitation and emergency repairs of Kpong-Tema-Accra Pipelines from 1984 to 1987.
In 1978, Togbi Kporku was the Project Manager for Msessrs Asakum Engineering and Construction Limited and responsible for the construction of the 20 million gallons per day Weija Water Treatment.
From 1975 to 1978, he was the Deputy Site Agent for Salini Construttori (SALCOSt Ghana) for the construction of the Weija Dam Project.
As a Diplomat, he brought greater honour and dignity to the people of Alakple when in 1998, he was appointed by then President Rawlings as Ghana's Ambassador Extraordinaire and Plenipotentiary to the Empire of japan and with concurrent accreditation as high commission to Singapore, Australia, New Zealand and Papua New Guinea.
Requiem Mass
The funeral Mass at the St. Joseph Catholic Church at Alakple in the Keta-Akatsi Diocese, was presided over by Most Rev. Emmanuel Kofi Fianu, SVD, Bishop of Ho and Apostolic Administrator of the Keta-Akatsi Diocese and was concelebrated by about 20 Priests including Rev. Msgr. Peter Huletey, who performed the final commendation rites.
The Mass on Saturday August 27 was attended by over 3,000 mourners cladded in red and black specially designed cloth embossed with the picture of Togbi Kporku as well as many Chiefs from the Anlo Traditional Area and other Traditional Areas includingTogbi Afede XIV, Agbogbomefia of the Asogli State; Togbe Tepre Hodo, Fiaga of Anfoega; Togbi Agbesi Awusu II, Awadada of Anlo State.
Present at the Mass were Former President Rawlings, Mr. Julius Debrah, Chief of Staff, who represented President John Mahama; Mr. Prosper Bani, Minister for Interior; Mrs. Helen Notso, Volta Regional Minister; Mr. Clement Kofi Humado, Member of Parliament (MP) for Anlo who hails from Alakple and Mr. Richard Quashigah, MP for Keta
There many other Ministers of State and representatives of the New Patriotic Party (NPP), Metropolitan, Municipal and District chief Executives
The funeral itself was marked with traditional and cultural performances as befitted a Chief, started with a series of activities from August 1 to 31, 2016.
Togbi Kporku is one of the great Chiefs of Anlo, a strong voice for development of Anlo and the Volta Region, an astute Civil Engineer with national and international repute and distinction, who was involved in the planning, design and front-line management of several high profile highway projects, dams, water treatment plants as well as other industrial structures and buildings throughout the country.
In a homily, Bishop Fianu, said people who believed in the Lord were always welcome to the heavenly Kingdom, noting that the death of a Christian like Togbi Kporku, was a reminder that we need to make good use of the present to achieve a better future.
He stated that funerals should be a time or occasion for the living to reflect their ways of life and where they would if life should end at an unexpected time, reminding the mourners that we were pilgrims on this earth and in death, there was resurrection.
He said as Christians, material things and wealth should never draw us away from serving and focusing on God, asking the mourners to live selfless lives as Togbi Kporku to serve than to be served.