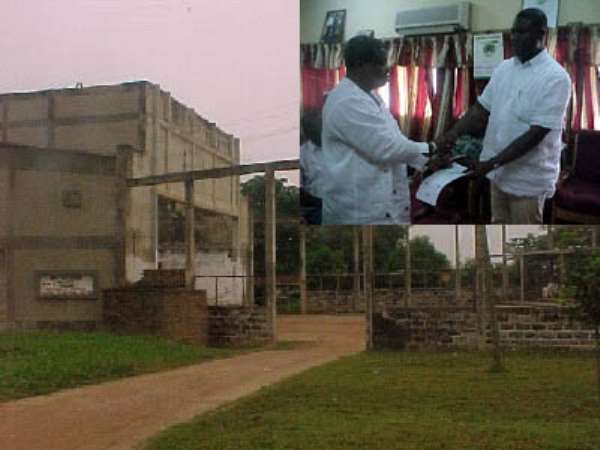 The Ministry of Local Government and Rural Development has through the Sunyani Municipal Assembly released a cheque for twenty million cedis to complete work on the Sunyani Center for National Culture which has been abandoned for years.
This followed an appeal made by Space FM for assistance to put the center into good shape to promote cultural activities in the Brong Ahafo Region.
Presenting the cheque, the sector minister, Mr Kwadwo Adjei Darko, commended the management of Space FM for initiating the move to see to the completion of the center which is intended to serve as a platform to highlight our traditions and culture.
Mr Adjei Darko said his ministry will continue to support the center to perform its functions effectively.
He also announced that his ministry is putting up a 750 million cedis Community Center at Fiapre near Sunyani.
Receiving the cheque, the General Manager of Space FM, Mr Ransford Antwi, thanked the Local Government Ministry for responding promptly to his appeal and called on the government to put in place mechanisms to maintain the various culture centres to promote and preserve our rich cultural heritage. He also called on sons and daughters of the Brong Ahafo Region, both home and abroad to join Space Fm, to bring the centre to at least a functional level.
The Regional Director for the Center for National Culture, Mr Kwasi Owusu Bediako, also thanked the government for the assistance, and gave the assurance that the amount will be put to good use. He also commended Mr. Antwi for his high sense of ingenuity and wished the Region had more of such youngmen.
Mr.Bediako commended President Kuffour for selecting Brong Ahafo, as one of the three regions who would have their cultural centers revived soon.
He pointed out that if he is given such assistance continuously, the centre will perform creditably in promoting traditions and culture in the region.
Mr Bediako said the centre will soon initiate programmes to bring the people of the region together on culture lines.