Three persons have been arrested by the police in Accra for being in possession of 205 fake passports and falsified visas of various countries.
Moses Lamptey,69, alias OBK, a trader, William Kofi Mensah,45, alias Gayo, businessman and Eric Nyamekye,35 alias Rasta, an artist, were arrested with passports bearing visas of countries such as Britain, South Africa, Netherlands, Nigeria and United States.
According to the police the suspects were members of a syndicate which had operated for the past 13 years.
Their modus operandi is that they have agents who went to various embassies in the capital, and approached people who had been refused visas.
The agents later linked them to the suspects who charged their clients 1,200 dollars for visas across the country, and 800 dollars to pass through Immigration formalities at the Airport.
Items retrieved from the suspects were over 190 passports, three printers, one camera, 75 different rubber visa stamps, two lamination machine and a laptop.
The Greater Accra Regional public Relations Officer, Assistant Superintendent of Police (ASP) Effia Tenge said the police embarked on an operation based on information they received that some people were engaged in falsifying of fake passports and visa documents.
She said the police arrested the three at Kokomlemle, Bubuashie, and Anyaa all suburbs of Accra.
ASP Tenge said during interrogation they admitted falsifying documents for their clients and stated that they make the visas for their clients to outwit the embassies by creating the impression that they have experience in travelling which becomes a basis for securing future visas.
She said the suspects were currently in the custody of the police assisting in investigation.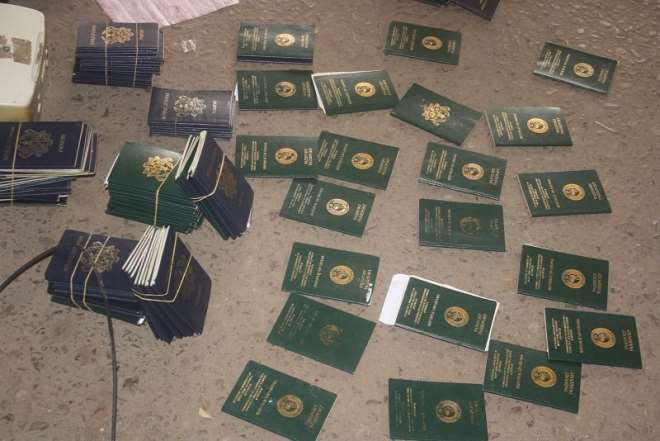 1.8598372