New Navy Chief Takes Office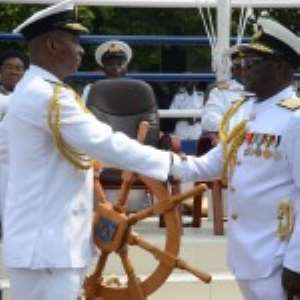 The Ghana Navy held a pulling out ceremony for Real Admiral Geoffrey Mawuli Biekro, the outgoing Chief of Naval Staff (CNS) at the Naval headquarters, Burma Camp, Accra yesterday.
Commodore Peter Faidoo takes over from R/ADM Biekro, who proceeds on retirement after 40 years service to the Ghana Armed Forces.
In his acceptance speech, Commodore Peter Faidoo, who has served for close to 36 years in the Navy, gave assurance that he will initiate programmes which will consolidate the gains of his predecessor to ensure a vibrant Naval Force.
R/ADM Biekro was appointed the Chief of Naval Staff in March 2013.
During his tenure, the Ghana Navy has witnessed significant development in infrastructure, among others.
The event was attended by several guests, including the top brass of the Ghana Armed Forces, Retired Navy Officers and Navy Officers Wives Association.
R/ADM Biekro was honoured with a citation, art works (Blue Storm) and a 78-inches curved screen Samsung television, among others.
The Naval Command has subsequently named the National Training Command at Sogakofe in the Volta region and the auditorium at the Naval headquarters complex in Burma Camp, Accra after him.
In his farewell speech, R/ADM Geoffrey Biekro thanked the command for their support which made his nearly three-year tenure as Chief of Naval Staff very eventful.
R/ADM Biekro was also happy that the Ghana Navy was adjudged 'Best Navy in West Africa' by the coveted security Watch Africa Magazine during his tenure, adding that this has made the Navy one of the most prestigious, professional and enviable institutions in the sub-region.
By Solomon Ofori