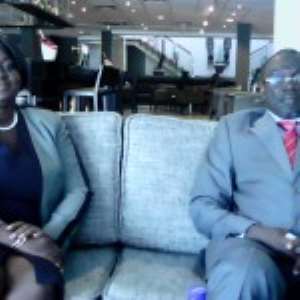 Prof. Douglas Boateng and Madam Aku Addo  seated during the interview
A renowned Ghanaian procurement specialist and Chief Executive Officer (CEO) of PANAVEST International &Partners, Professor Douglas Boateng, has asked African leaders to pay critical attention to procurement regimes in their respective countries.
Prof. Boateng, who would take part in the 2016 Chartered Institute of Procurement and Supply – Ghana (CIPS) Awards Night to be held at the Golden Tulip Hotel, Accra under the theme: 'Rise Your Voice, Rise Your Game for National Development and Industrialization,' made the call in an exclusive interview with BUSINESS GUIDE yesterday in Accra.
Some institutions and individuals, who have excelled in the areas of procurement and supply over the years in Ghana and on the international scene, are expected to be honoured during the event, BUSINESS GUIDE gathered.
According to him, the procurement regime on the African continent, particularly Ghana, has been generally weak for a long period and that has led countries in the sub-region to lose revenue.
Prof. Boateng, who has been touring Africa as an icon pushing for procurement to be professionalized, expressed the belief that the dream of industrializing the continent cannot be achieved if the issue of procurement was not taken seriously.
"Unless the continent and Ghana for that matter takes procurement seriously this dream of industrializing the continent will be pale dream because whatever we buy has an impact on local industry," Prof. Boateng, who has been a procurement specialist for about 25 years, said.
He urged African leaders to find a suitable way of upholding professionalism so that the procurement practitioners can better understand the impact of their job on the development and growth of the continent.
According to him, a sound procurement and supply regime operated by professionals has been partly responsible for development of the Western world, stressing the need for a paradigm shift in the 'crude' way procurement and supply are being carried out in Africa.
Reduce Importation
He complained about the high importation of goods into the continent, adding that some of these products could be produced or sourced locally in order to save the sub-region some foreign exchange.
"There are certain basic things which I believe should really not be imported – toothpick, orange juice, underwear, slippers, tomatoes – I believe all these things government should find a way of producing them locally."
Meanwhile, President of CIPS-Ghana, Stella Aku Addo told BUSINESS GUIDE that the theme for this year's award was chosen specifically to impress procurement and supply professionals to help promote profession through the creation of awareness.
[email protected]
BY Melvin Tarlue