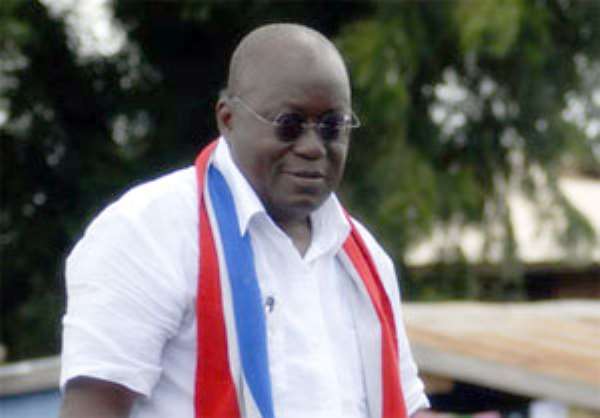 Nana Akufo-Addo of the New Patriotic Party got 47.74% votes in 2012 during the Presidential elections. Do we sincerely know why? This same person got 49.53% votes in 2008. Has anybody in the NPP done any proper analysis to know why the votes went down from 49.53% to 47.74% between 2008 and 2012? Or do we still blame Dr. Afari-Gyan and the biometric voters register?
Nana Akufo Addo in the same characteristics of going on the road to losing elections has embarked on a "Rise and Build" tour. A leading member of the party, Dr. Nyaho Tamakloe, has described the tour as useless and the whole NPP machinery is on him. Dr. Tamakloe explained himself by saying "what my party needs at the moment is a very strong, united front and not Rise and Build whatever tour" Is what Dr. Tamakloe said wrong? What is wrong with it? Again Dr. Nyaho Tamakloe said "Rise and Build" tour is not what will get the party united. If you start such a tour without principal players in the NPP, then where are you heading towards? Is this statement also wrong? If it is wrong, what is wrong with it?
Now let's look at what Mr. S. K. Boafo, the former Ashanti Regional Minister also said when he addressed party members in Kumasi. "I observed a worrying development in Kumasi when we got there. The reception of the people towards us was worrying. I saw it and I was disturbed." He continued to say "these days people don't care even if they see the NPP flag; there is something wrong and we need to fix it" The folks in the NPP are rather calling Mr. S.K. Boafo, a hero. Do they see anything right with Mr. Boafo's statement? If it is right, what is it?
Let us compare the statements by Dr. Tamakloe and Mr. Boafo and see which of them caused Nana Addo to get 47.74% votes in 2012. When you look at them holistically, both statements are the same. They both point out the fact that all is not well with both the NPP and Nana Akufo Addo. But one person is told that he is not qualified to be a leading NPP member but the other is called a hero in the same party. Is it because one's last name is Tamakloe and the other is Boafo? I am just asking ooo. There should be no cause for alarm. I have kept saying that those non-Akans in the NPP should get out, but they always say I am insulting them. I still can't understand what they are waiting for. This is why I pity Dr. Bawumia and all the Northerners in the party. Do you remember Aliu Mahama and Adams Mahama?
Right now as you read this article, if you ask an NPP member why Nana lost the 2012 elections, he/she will tell you it was Dr. Afari-Gyan's fault because he brought a biometric voter register. If you are lucky, you will hear an answer which says, Justice Atuguba and the Supreme Court caused Nana's defeat. It looks like up until now, they don't have the common sense to put the two statements by Dr. Tamakloe and Mr. Boafo together to find the solutions. This is where Dr. Bawumia should be wasting his resources on. Instead, he is wasting them on finding why a Ghanaian cannot vote in a Ghana elections.
The NPP is running away from Dr. Nyaho Tamakloe's statement but embracing the one by Mr. S.K Boafo's because finding solutions to Dr. Tamakloe's statement is difficult. The reason being that the problem would be put right on Nana Addo's feet to fix. On the other hand, finding solutions to Mr. Boafo's statement is easy because it puts the problem right on Chairman Wontumi's feet to fix. This has been the problem of the NPP since day one. Anything or any statement that is going to expose Nana Akufo-Addo as a corrupt and incompetent leader would be met with all the heavy opposite force that it deserves. This is why the NPP has problems with Dr. Arthur Kennedy and the rest. An argument has started going around in the NPP circles that Dr. Tamakloe is President John Mahama's nephew, so he is doing the NDC job for them. You see where some buffoons are taking the debate to. These same buffoons are now saying that Mrs. Charlotte Osei is a Nigerian and so not qualified to head the Electoral Commission. All these are frustrated attempts towards their defeat in 2016.
Let us assume Dr. Nyaho Tamakloe has a wrong last name in the NPP and so he has no right to point the wrongs of Nana Addo to him, what about the statement by Mr. S.K. Boafo? Is the NPP happy with the observation by Mr. Boafo, that the reception of the people in their stronghold was worrying? If the NPP would do a deeper analysis and soul searching of their party's electoral defeat, they would know that electing Nana Akufo-Addo as their flag bearer for the 2012 elections was their biggest mistake. I am not talking of 2016, so don't get confused. Nana Akufo-Addo took the party from governance and sent it straight to opposition and nobody sees nothing wrong with that. Is this statement also wrong? What is wrong with it? Nana Addo, in a civilized party should have resigned in 2009. That was 6 years ago but he is still leading the party and messing things up. When you say it, they tell you that you don't even qualify to be a member of the party. What kind of party is that? And they want power. Tweaaaaaaaa.
When Nana Akufo-Addo got 47.74% votes in 2012, the NPP was peaceful and more united than today. Today's problem is that people are bitter about Nana Akufo-Addo because he seems to be telling the NPP fraternity that he is the wisest person amongst them all. Without him, nobody in the NPP can run the party. But the bottom line is, Nana Akufo-Addo can never become President of Ghana. He can continue to lead the NPP into the 2070 elections, no problem but he is equally not qualified to be the President of Ghana. He is not a good leader, he is too old and therefore not appealing. He is corrupt. He has no message than to say he is too old to steal. Nana Addo should know that he is also too old to be President. He is not a problem solver and therefore incompetent to even manage a small party. President Kuffour left 6 winnable regions for him. Now he is struggling to win 2 of the 6 regions.
He keeps promising things that have already been delivered by President John Mahama. He is on the Arise and build tour talking of things he will not do as President. He is not talking about things he will do as President. The fact is that he doesn't have any. All his followers are following him and making noise. There is no substance in what they are doing or saying. Anybody with all these qualities is definitely not qualified to hold the highest office of the land. Period/Full stop.
Lawrence Appiah-Osei (Protocol)
Chairman
Friends of John Dramani Mahama (USA Chapter)
703-400-1621