Tema NGOs Plant Peace Tree With Miss Tourism Ghana Princess To Mark UN Peace Day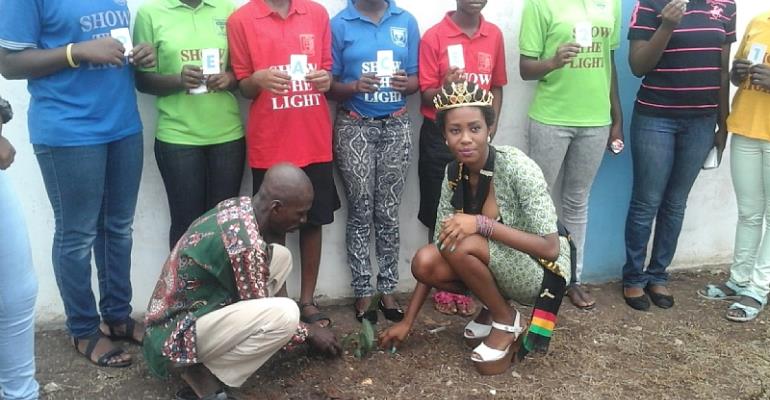 The Coalition of Non-Governmental Organizations in Tema, (CONGOT) has marked the International Day of Peace with a special tree planting exercise at the premises of the Ghana News Agency branch office in Community 1 (One), Tema.
The observation of the International Day of Peace falls on the 21st September of every year. The Coalition of NGOs in Tema in a bid to promoting sustainable peace for national development has formed partnership with the Miss Tourism Ghana Organization to initiate a set of programmes to engage other sessions of society such as faith based bodies, state departments and educational institutions to advance the values of peace call by the United Nations.
Cindy Kofie, the 2nd Princess of the Miss Tourism Ghana Organization at the gathering with the coalition members, students, teachers of the Deks Educational Institute and representatives from other schools planted five trees for the symbolic five letter word, (PEACE) to mark the beginning of it planned programmes to foster partnerships with other bodies in a bid to achieving peace in the 2016 elections and beyond. In a brief message, she articulated that the Miss Tourism Ghana Organization will be playing key role in the campaign and awareness for peace building initiatives. The beauty of promoting tourism in Ghana requires a peaceful environment, she added.
Speaking on the theme: "Partnerships for Peace – Dignity for All" which aims to highlight the importance of all segments of society to work together to strive for peace, Mr Robert Amiteye, Organizer of CONGOT, indicated that the call for peace ought to be beyond the absence of wars or having peaceful coexistence. He shared the need for all in society to be good stewards of the environment for a healthy life. He said, Climate Change and it related effects among others pose a serious threat to peace and security in Ghana and the world. He urged participants to lead by examples, hoping that building partnerships with other institutions will strengthen the call for peace.
Mr Kenneth Amoateng, of the Abibiman Foundation who heads the Coalition, together with Mr Frank Kumi, Micheal Awuni and Pastor Micheal Assiamah-Appah, of the Prevailing Ministries engaged the gathering in a participatory manner during the tree planting. Mr Amoateng expressed hope for the Media to continue and improve on its role as a powerful force to inform and educate the citizenry towards a sustainable society.