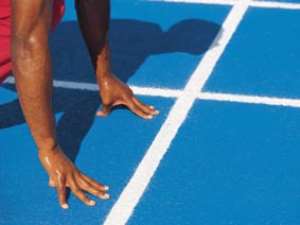 Ghana's athletics officials face a probe into administrative lapses which ensured that the nation's contingent to the Athens Olympic Games excluded sprinter Ernest Osei, as the dust begins to settle on the nation's performace in Athens .
Ghana Athletics Association (GAA) Chairman, George Lutterodt, has asked for a full probe into the circumstances that led to the non-accreditation of the athlete although he was sent to Athens.
"The Ernest Osei issue was a real tragedy and I will like to see a full enquiry into this saga to find out the truth about the whole thing," Mr Lutterodt told the Graphic Sports last Friday.
"Of course, something did go wrong, something went wrong somewhere and we have to find out what went wrong. There should be no compromises on that.
"Osei was among the original set of six sprinters forming Ghana's relay team for the 100m x4, but was replaced at the Games under strange circumstances by Samuel Adade, the only home-based athlete among Ghana's competing contingent.
"We have to find out why we took an athlete to the Olympic Games and when that athlete got there was told he was not accredited. We have to find out who made that mistake.
At the Abuja All Africa Games last October, the Germany-based Osei started the semi-final in the stead of injured Leo Myles-Mills in the shorter relay. He was a certainty for Athens although he was unlikely to assume a starting role when everyone was fit.
Although Osei received full benefits as his colleagues at the competition, Mr Lutterodt said the embarrassment the athlete suffered was traumatising.
"No athlete should go through what he went through. I had a difficult time consoling that boy."
Adade did not compete at all, while Tanko Braimah stepped in for injured Eric Nkansah in Ghana's seventh placing in the semi-final race in Athens.
Speaking on Vida's threatened switch of nationality, the GAA Chairman said he had been informed that the athlete has regretted her pronouncements. He said in a telephone conversation with Ghana Olympic Committee President, B. T. Baba, Vida contended that she was pushed by the interviewer to make those comments, even though she did not intend to.
In a BBC interview, the Ghanaian athlete threatened to quit running for the country of origin following what she considered apathy by officialdom to the development of athletes.