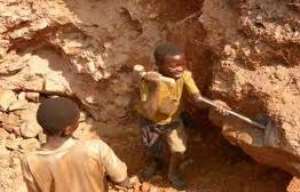 Child labour is an abuse of the fundamental human rights of the child. According to the Constitution of Ghana, "Every child has the right to be protected from work that constitutes a threat to his health education and development" (Article 28:2 of the 1992 Constitution). In June 2000, Ghana ratified the ILO Convention on the Worst Forms of Child Labour. After a decade and a half of action against the menace, what progress has been made? Are we still in a state of denial, refusing to accept that child labour exist in Ghana and that the issue is not an imported foreign concept designed to make our children irresponsible and unresourceful in the name of so-called children's rights? Have the causes of child labour been well diagnosed to expose the root sources? Are the interventions effective in addressing the problem? Are the scarce resources spent efficiently? These are questions we need to dispassionate address as we progress in this battle against child labour. Sometimes it is sad to realise that many people, including policy makers do not appreciate the concept of child labour. they make remarks that expose a very high level of ignorance of what is or is not child labour. if the very people expected to lead in the fight agaist the canker do not understand it, how much progress can we make?
Understanding the Concept of Child Labour Not every work done by a child is child labour. Children can be engaged in economic activities as part of their development and integration into the society. Such activities also helps them to acquire useful life skills and practical orientation to complement their academic knowledge. But the activity must be appropriate for their age and consistent with their capacity. In defining what child labour is and what it is not, it is important to keep to both international labour standards and national laws. We should not leave the definition of child labour to subjective views of individuals and the mere perceptions of opinion leaders. International Instruments that define child labour include, ILO Convention 138 on Minimum Age (ILO C138), ILO Convention 182 on the Worst Forms of Child Labour (ILO C 182), United Nations Convention on the Rights of the Child (UNCRC) and the African Charter on the Rights and Welfare of the Child (ACRWC). National Laws relating to child labour are found in part five of the Children's Act, Human Trafficking Act, the Criminal Code and the Domestic iolence Act among others.
Light Work Light work refers to activities undertaken by children which are appropriate for their age and circumstances. These include ordinary household chores, not hazardous to the child. For example, dish washing, sweeping and house cleaning (not dusty areas for asthmatic children) not for excessive hours or the expense of quality school work. According part five and sectionto the Children's Act children are allowed to do light
General Child Labour According to ILO C 138, child labour refers to the employment of children who are below the minimum age for admission to work, as stipulated by the laws of their respective countries. So for example, the minimum age for employment in Ghana is 15 years. This means that no child below 15 years should be admitted to work. A child thus employed is in child labour. Normally, the minimum age is set to be consistent with the age at which the child completes basic school. Thus the idea is that before any child is employed he/she should have at least completed basic school having acquired basic education, minimum knowledge and skills required for a decent life. This should be applicable both for the formal and informal sectors of the economy. Therefore, any child below 15 years who has not completed basic education and is engaged in work that interferes with his education health and development is a child labourer. Think about about all the "pure" water sellers, mobile phone credit sellers and the other vendors and hawkers in our market places and city streets. How many child labourers do you think are in Ghana?
Worst Forms of Child labour (WFCL) ILO C 182 focuses on certain kinds of child labour, technically called Worst Forms of Child Labour (WFCL). According to this Convention, the following four are worst forms of child labour: 1. All forms of slavery or practices similar to slavery, such as the sale and trafficking of children, debt bondage and serfdom and forced or compulsory labour, including forced or compulsory recruitment of children for use in armed conflict. 2. The use, procuring or offering of a child for prostitution, for the production of pornography or for pornographic performances; 3. The use, procuring or offering of a child for illicit activities, in particular for the production and trafficking of drugs as defined in the relevant international treaties 4. Work which, by its nature or the circumstances in which it is carried out, is likely to harm the health, safety or morals of children. Categories one. Two and three above used to be called unconditional worst forms of child labour because they are akin to criminal offences and no country under any circumstances should tolerate them.
Hazardous Work The types of work in category four, above, are referred to as "Hazardous Work". In determining what constitutes hazardous work and in identifying where they exist, consideration should be given to the following: work which exposes children to physical, psychological or sexual abuse; work underground, under water, at dangerous heights or in confined places; work with dangerous machinery equipment and tools, or which involves the manual handling or transport of heavy loads; work in an unhealthy environment which may, for example, expose children to hazardous substances, agents or processes, or to temperatures, noise levels or vibrations damaging to their health; work under particularly difficult conditions such as work for long hours or during the night or work where the child is unreasonably confined to the premises of the employer.
In Ghana, nine worst forms of child labour (WFCL) have been identified for elimination under National Plan of Action developed and implemented by the Ministry of Employment and Labour Relations (MELR) and Partners. These are children in fishing, mining (galamsey), domestic servitude, kayaye, street begging, hazardous work in agriculture, commercial sex (including transactional sex), ritual servitude (e.g. trokosi) and cattle herding.
Incidence of child labour in Ghana According to the Ghana Statistical Service (GSS), with reference to figures from the component of the Labour Force Survey undertaken as part of the sixth round Ghana Living Standards Survey (GLSS, 2013/2014), there are more than one million eight-hundred child labourers in Ghana. This constitutes over 20% of our children; meaning one out of every five children you meet is a child labour. what this means in terms of Constitutional breach is that the fundamental human rights of almost two million children in Ghana is being violated and no one seems to care enough to address this adequately. Is it acceptable? According to the statistics, the majority of child labourers (37.2%) are 8-11 years, followed by 12-14 years (29.8%) before the 15-17 year olds. This means that the younger and more vulnerable child are exploited most. It also means that most child labourers are below 14 years and should be in school under the Free Compulsory Basic Educaion (FCUBE) policy. For those of them in school, the data implies that they are combining school and child labour. is it a wonder then that our children, especially those in deprived communities perform so poorly in the Basic Education Certificate Examination (BECE). What crime have these children committed to be consigned to such a fate? Is this acceptable? The statistics further indicate that Ashanti, Brong-Ahafo, Eastern, Volta and Northern regions, in that order, have the highest incidence of child labour. Overall, 52.7% of child labourers are boys and 47.3 % are girls.
Causes and Consequences of Child Labour The causes of child labour may be categorized variously: economic, social-cultural and inadequate educational and social service system.
Poverty Many families in Ghana are poor. In manay households, unemployment or underemployment and insufficient incomes have forced children to engage in child labour to support family income and in some case their own survival. As child labour prevails in such households, an inter-generational cycle of poverty is perpetuated. But what causes poverty? Unemployment or underemployment is cause by lack of employable skills and knowledge resulting from poor quality of both the supply and demand of education. Another cause of child labour is rural-urban migration of young people for economic reasons. The phenomenon of kayaye is a sordid manifestation of this. Poor labour market is another economic cause of child labour. Due to weak enforcement of labour laws and regulations, employers prefer to exploit children rather than hire adults. Many of these children are unpaid or underpaid and have no collective bargaining rights. Because of their difficult economic circumstance, these children accept any offer for their labour. thus, the harsh economic realities increases the supply of children's labour as well as the demand of it by scrupulous employers. The unregulated labour market seems to have been entrenched and acceptably nick-named "the informal sector". Today more than 80% of Ghana's economy is in the informal sector. Is this acceptable?
Socio-Cultural Causes There is a pervasive disrespect for the rights of children. Both at the family and State levels, the needs of children are the first to be sacrificed in the face of resource challenges. Is there any lawyer who would stand up and petition the Supreme Court to compel the State to practically guarantee the constitutional rights of children to be protected from all child labour? Breakdown of extended family care, atomization of local communities, single-parenting, negative cultural and traditional practices, gender discrimination, poor family management and child training are other social cultural causes of child labour.
Inadequate Access to Education In many rural communities were child labour is endemic, there are no good schools. Where there is a form of school. The building are death traps. There are virtually no teachers, no teaching and learning materials and no motivation for parents to take their children to school.
Mortgaging our Economic Future Today's youth unemployment is a result of yesterday's child labour. the continuum between child labour, youth unemployment and adult poverty will prevail until it grinds our national economy to a halt if we refuse to deal effectively with it now. Accommodating child labour is the reason for the accommodated economic mediocrity we suffer as a nation. Our children are dying under the collapse of galamsey pits and under the Volta Lake. Our girls are abused in homes and in the streets and markets. Deprivation, exploitation abuse, threat and harm are visited upon thousands of children every day. Why? Why are we allowing this? Our international image is poor because of child labour. Our economy is crippled because of child labour. Our communities are deprived, families impoverished and children left with little hope of a future they can be proud of. Why are we allowing this?
By Emmanuel Kwame Mensah, Independent Development Consultant.