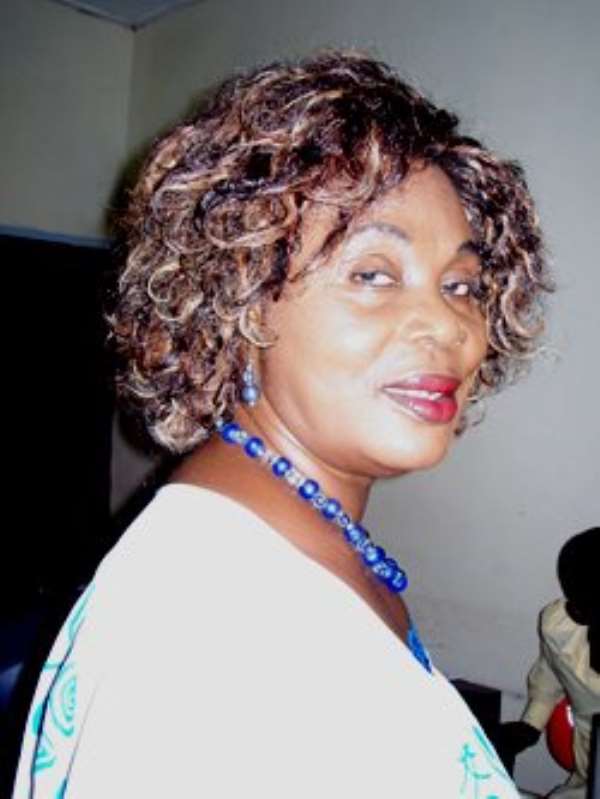 Grace Omaboe
Thirty years ago, when I was leaving the shores of the country, the two names that dominated the Ghanaian drama scene, performance-wise, were Grace Omaboe and David Dontoh. I would also learn that the pair were passionately and romantically involved with each other, but that they were being callously and tragically torn apart by two quite equally prominent relatives in their lives whose sole motive for doing so appeared to be purely political and ideological in orientation. It was this aspect and period in their lives that flashed through my mind, when I read that terse news item captioned "Politics Destroyed My Career - Maame Dokono" (Modernghana.com 3/13/15).
I would briefly get to know David at the so-called Holy Gardens, located northwest of the Kwame Nkrumah Circle, where a rambunctious Cpl. or Sgt., his military rank/title was never clear to me... or maybe St.-Sgt., Salifu Amankwaa imperiously presided over the "revolutionary" aspect of Ghanaian culture. Those were the hey- and heady days of the Rawlings-led Provisional National Defense Council (PNDC). Today, the name of Salifu Amankwaa appears to have literally gone with the winds of that faux-revolutionary era that produced the politically carcinogenic likes of Chairman Jeremiah John Rawlings, President John Evans Atta-Mills, of Aveyime Rice Plantation Scandal notoriety, as well as the late Vice-President Ekwow Nkensen-Arkaah, a consummate and classical opportunist in Machiavellian mold, and now the bumbling political wrecking-ball that is President John Dramani Mahama.
Of course, the strategically selected Vice-President Kwesi Bekoe Amissah-Arthur, his purportedly Midas economic touch at the Bank of Ghana notwithstanding, the Mahama/Amissah-Arthur-led government of the so-called National Democratic Congress (NDC) would be better off sporting a cabinet entirely composed of second graders from the country's public school system. Ms. Omaboe, by the way, is reported to be lamenting that until she formally entered the mainstream of Ghanaian politics in 2008, her career was in ship-shape form. The fact of the matter, though, is that long before 2008, Maame Dokono, as Ms. Omaboe is popularly known, was neck-deep immersed in politics. For instance, she was widely known to be the bosom buddy of the better-half of Chairman Rawlings, Nana Konadu Agyeman-Rawlings. And very likely, such fast friendship had been hatched and forged on the bloody altar of NDC political culture.
And then in or about 2008 (it really could have been a little earlier), we all witnessed the media banner headlines announcing the defection of Maame Dokono from the Rawlingses' skybox into that of Nana Addo Dankwa Akufo-Addo. One is aptly inclined to believe that Ms. Omaboe had had ample time to carefully and seriously count the proverbial cost of her sea-change decision to hop onto the Akufo-Addo Electioneering Campaign Wagon in 2008. Of course, we have all been witnesses to the quaintly and largely suicidal fortunes of the Akufo-Addo-led main opposition New Patriotic Party (NPP). And so I am not quite certain whether Maama Dokono is in any way laying the blame for her flaggering and sunken theatrical career at either the doorstep of Nana Akufo-Addo, her proverbial clansman, or that of the entire constabulary of the New Patriotic Party.
What may well be responsible for her fast-fading epochal career, and one that she may be too self-smitten to boldly confront, is the fact that thirty-odd years ago there wasn't that much intense level of compettion in Ghana's theatrical arena the way it is today. However, just as even the theater scene of the 1980s appeared to have well shot past its predecessor heydays of the 1960s and 70s, Ghanaian theater today, while not quite on the same qualitative level with its Nigerian counterpart is, nevertheless, fraught with a cutthroat level of competition. On both sides of the tradtional gender divide, the performers/actors are better trained, more globally exposed, more cosmopolitan in their outlook and far more professionally sophisticated than their predecessors.
The second salient factor is age, which Maame Dokono thinks ought not to significantly impact her fortunes, since Nigerian Theater appears to be remarkably full of performers her age, that is, between the late 50s and 60s range. She attributes the difference to some sort of age discrimination. And she may well be fairly accurate in her assessment, especially her claim that in Nigeria elderly actors/actresses are generously afforded the opportunity to play themselves in real life on both screen and stage, whereas in Ghana such roles are routinely fielded by make-believe young adults.
At any rate, Ms. Omaboe sounds surprisingly desperate when she observes as follows: "In Nigeria, old men and women are given roles as old people, but in Ghana we have young people playing such roles. We [old people] are all around, and we don't charge too much; so they [producers and directors] can come for our assistance." One wonders why she never mustered either the resources or the creative imagination and initiative to establish her own theatrical company or school for the training of promising young artists. My own experience trucking with Nigerians is that Nigerians tend to be stereotypically more ambitious and self-motivated than nearly every group of continental African nationals. You may choose to call them any bad name in the book, as it were, but lethargic and lazy are the least accurate among such nominal descriptives.
By Kwame Okoampa-Ahoofe, Jr., Ph.D.
Garden City, New York
April 12, 2015
E-mail: [email protected]