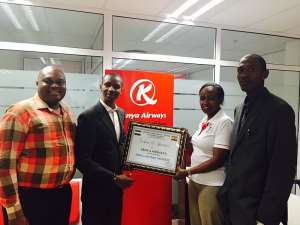 One of the worst hit sectors in Ebola-affected West Africa has been the area of Education. Nearly 5 million children have been forced out of school in Guinea, Liberia and Sierra Leone. Unless deliberate action is taken to minimize its effects, Ebola has the potential of drastically reversing years of educational progress in West Africa where literacy rates are already low and school systems are only now recovering from years of civil war.
As part of its Corporate Social Responsibility and as a major stakeholder, Kenya Airways has continued with its contribution to fighting the Ebola disease and its consequences by donating learning material to basic schools in Sierra Leone.
The airline did this by supporting the Ebola Action Project initiated by the Sierra Leone Group - Ghana (Students' Union) with the donation of exercise books for basic school pupils in deprived communities.
The fight against Ebola is not over until the disease if completely eradicated; and Kenya Airways is fully committed to playing a key role in that campaign.
Kenya Airways, the Pride of Africa, will continue to blaze the trail in efforts to promote intra-African cooperation and trade.