Hon. Hajia Alima Mahama--The Best Choice For Nalerigu-Gambaga Constituency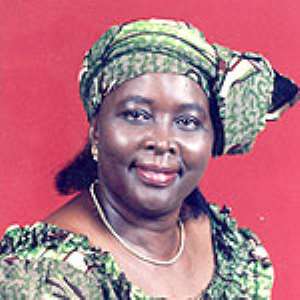 The battle lines have been drawn between various aspirants jostling to represent their constituents on the ticket of the New Patriotic Party in the 2016 Presidential and Parliamentary elections. The interests people of different socio-economic and professional backgrounds have shown is worth mentioning. The face of radio in the not too distant past in the person of Mr. Kojo Oppong Nkrumah is one such example.
I relish that day when his stentorian voice albeit captivating will be heard in the chamber of parliament cogently advancing points to support his arguments on behalf of his constituents and the generality of Ghanaians.
One such individual who has had the opportunity to represent her constituents selflessly is Hon. Hajia Alima Mahama who after deciding not to contest the 2012 elections is staging a comeback in the 2016 general elections.
Hajia Alima's name already rings a bell in that her stewardship as an MP is now the benchmark people of Mamprugu now use to measure their representatives in the august house. She is learned, assertively vocal, affable, humble, people-centered and above all, development oriented. A constellation of factors worked against her retention in the 2008 elections.
Paramount among these factors was the betrayal by some of her own party bigwigs who covertly campaigned against her with resources provided by her and the party. Definitely, a house that is divided cannot stand and Hajia's case was not an exception.
The 2016 elections is no child's play. The NPP therefore has to put the right people in the right places to bolster our chances of winning not only the Presidential elections, but also a workable majority in parliament. This is why it is soothing to the heart to hear that the George Andah's, the Kojo Oppong Nkrumah's, the Amin Anta's and the Hajia Alima's are showing interest in the race. These are people whose competences are never in doubt by the constituents and the Ghanaian populace at large.
As a key player in the politics of Nalerigu-Gambaga constituency, I must say without any equivocation that if delegates off NPP vote for Hon. Hajia Alima Mahama as our Parliamentary candidate, then our long-cherished desire of reclaiming the seat from the incompetent NDC will be realized. Below are some few reasons:
1. Hon. Hajia Alima Mahama is not only highly educated but also boast of wealth of experience no other candidate in NDC can match. She is a lawyer, international social worker, gender activists, a former Member of Parliament and a former Cabinet Minister among others.
2. Her track record as the MP for only a four-year term is unrivalled by no other past or present MP of the Nalerigu-Gambaga constituency in recent times.
3. She is a crowd puller and very charismatic. She established a bond with most of the communities and they are now yearning for her return to salvage us from the clutches of the incompetent incumbent MP, Hon. Dr Tia Sugri.
4. Hon.Hajia Alima is the Buhari of the Nalerigu-Gambaga constituency in that when it comes to corruption, everybody knows her abhorrence of it and how clean she left office without any associated act of corruption or any financial malfeasance. This is the woman who single-handedly established a girls Senior High School in Gambaga which is now blossoming into one of the finest Senior High Schools in Mamprugu.
5. Her humility and approachability is legendary. Unlike some of her competitors in both the NDC and NPP, Hon. Hajia Alima is the only person the people do not associate with arrogance and profligacy. She accepts the views of everybody without making a fuss out of them even if she does not agree with them. It could be said that were the NPP'S 2012 candidate to exhibit such qualities, the seat could have been as good as won.
6. I am yet to see a constituent who blames Hajia for not doing her best in terms of developing the constituency. Nalerigu is one of the fastest growing towns in the northern region because of Hajia's knack for developing her constituency. She brought a Nurses Training College, a Youth Leadership and Skills Training Center and Gambaga Girls Senior High School all within her short stay in parliament. The Walewale-Nalerigu road saw a major facelift during her tenure as MP. For the first time in history, people of her constituency could travel at least half of the 56km stretch of the Walewale-Gambaga road in comfort after she made sure that it was tarred. Several other feeder roads were done during her tenure. Development-wise, nobody from within NPP and the NDC can come close to her. If this is not a major advantage to NPP, I wonder what else will be.
7. As a former Minister of Women and Children Affairs, no one can discount her affinity with women voters who see her as their source of hope and inspiration (and rightly so). See helped many women groups with soft loans, tailoring machines, grinding mills, tractors etc to empower them economically. These women talk of her with nostalgia and passion. They wish that NPP delegates present them with the opportunity to vote for their 'savior' to once again come to their aid.
8. There are certain communities that were hitherto avowed loyalists of the NPP but have sworn never to vote for NPP if they present a certain candidate. Infact, the community of Gambaga actually carried out their threat and voted against the NPP in the 2012 elections when Hon. Peter Baaga represented NPP as parliamentary candidate. It is no secret that the whole Gambaga and its surrounding villages are ardent followers of Hon. Hajia Alima Mahama. This will be a plus to NPP in the 2016 elections should she become parliamentary candidate. For sure, Gambaga will be back to the fold of the NPP.
9. Hajia's ability to mend fences more than her internal competitors who thought they needed not everybody's support to be MPs in 2012 could prove the deciding factor for and NPP's 2016 victory in Nalerigu-Gambaga constituency. She acknowledges that there are internal issues to deal with after the primaries and that she will do everything humanly possible to mend the frosty relationship between she and Hon. Peter Baaga. This act or intention as it is now was missing in 2012 when the candidate thought he could go solo and win.
10. Financially, Hon. Hajia Alima is better placed to resource her campaign than any other NPP candidate. She attracts a lot of interest both locally and internationally because of which people are willing to support her campaign. With all the ills of the NPP's 2012 candidate, he could have won if he had more resources than he had. It is therefore prudent to elect a person who can attract funding for his or her campaign. There is no better person than Hon. Hajia Alima Mahama currently in Nalerigu-Gambaga constituency.
Our party's victory in 2016 MUST supersede all other interests. I shared this opinion not as a fanatic of Hon. Hajia Alima but as somebody who has researched about NPP's chances vis a vis all those who have declared their intentions to run on NPP's ticket. My research findings showed that no new face can make an impact in the general elections. Also, one of my findings was that if Hajia Alima were to be elected as NPP parliamentary candidate, the Nalerigu constituency will be as good as won for the NPP in 2016. She has done it before and she will do it again. I trust in the ability of our party delegates to make right decisions and I am confident that Hon. Hajia Alima Mahama will represent as in parliament (and possibly Cabinet) after 2016 elections.
I appeal to all the aspirants to campaign with decorous language and avoid casting insinuations, mindful that whoever wins ultimately will need the support of the other losers to ensure a resounding victory for NPP in 2016.
LONG LIVE NPP, LONG LIVE NANA ADDO AND LONG LIVE DR BAWUMIA.