Beware Of So-Called Middle-Men At Nursing Training Schools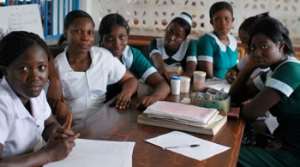 The principal of the Korle-Bu Nursing and Midwifery Training College (NMTC), Mrs Theresa Sagbefia, has cautioned the general public against so-called middle-men who pose to help prospective would-be nurses in the name of getting admissions at nursing training schools.
In an interview with Nana Akwasi Agyei-Tripple, she pleaded with applicants to go in for the nursing forms personally and not pay any dime to anybody who claims to be working with them or knows them.
''Some medical officers and people from my own office are taking money from innocent people who have the knowledge, skills and desire to become a nurse'' – she added.
Continuing, she entreated the general public specifically those applying for nursing to go to the various institutions and get the application forms right from there without passing through any third parties who would demand monies.
"Additionally, take receipts of every payment you make and do not buy the forms for anybody. Same way, do not ask anyone to fill the forms for you," she further warned.
Parents are not allowed to buy the forms for their wards, they should allow them to buy themselves, fill and submit it themselves.
She also appealed to the general public to expose officials who demand monies.