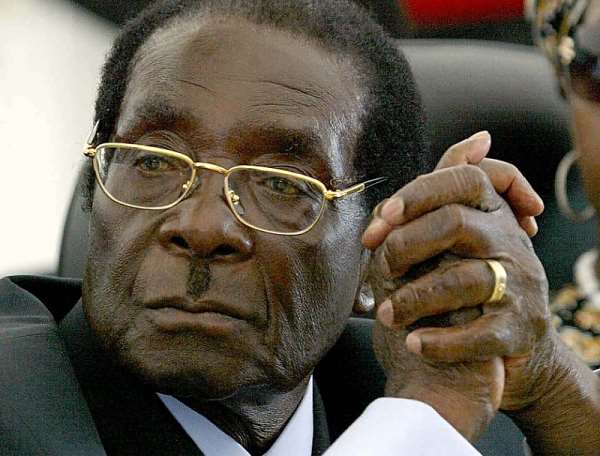 I may be wrong or someone else is wrong but for sure, there is something wrong. Where are the big voices of the black continent? Where are the pro-democracy and anti-corruption campaigners? And where are the men and women of the media with much more louder voices in Africa?
The silence this time is too distinct to be ignored; why is no one questioning the reason for the choice of Robert Mugabe as AU chairman at this time of fostering Africa's democracy? What are the implications and the potential consequences of this disparaging act of AU on our continent's efforts at fighting oppressive, repressive and dictatorial leadership?
If I had any confidence in the quality of AU leadership, this singular action of theirs is enough to prove me wrong. What is the essence of leadership if it doesn't benefit its subjects? What has been the outstanding accomplishment of AU since its formation in 1963? How many of the AU members states have been transformed into first or even second world countries after over fifty years of existence? Is Africa ever been significantly better after AU's formation? What is happening to conflicts on the African continent today? What is happening to poverty? What is happening to corruption and mismanagement in AU member states? What is happening to Democracy and good Governance in Africa? What credibility has Mugabe to address any of these issues on any platform in Africa or the Diaspora? Is the AU telling the black world that Mugabe is our representative and ambassador to the rest of the world for the year 2015? Is this pretense or a joke? Isn't this a green light to other dictators like Yayah Jameh of Gambia, Teodoro Obiang Nguema Mbasogo of Equatorial Guinea, Paul Biya of Cameroon and the likes? Is Africa that cheep, indecisive and less focused to accommodate just anybody at all for a leader? Where is AU taking the black world to?
For over fifty years the doom and misfortunes of Africa is blamed on the west. African leaders with loudmouths on this blame game are hailed heroes, probably that accounts for the reason Mugabe is awarded this mantle. Sarcastically, after preaching that unjustifiably flimsy rhetoric's about the west, this same leaders turn around and parade themselves before the same west for all sorts of supports, donations and budgetary assistance. They use proceeds from their huge and self rewarded gratuities in purchasing huge edifices and other assets in this same western countries they pretend to criticize.
The average young person in the black continent has no confidence in their home countries and economies. It's easy to be criminal than to be conformist in most African countries today; laws just don't work. Criminality is rewarded and conformity is ignored and ridiculed. If not for this, how can Mugabe ever become the chairman of African Union after perpetrating viciousness, oppressiveness and despotic reign on Zimbabwe for over three decades? If Mugabe will be rewarded with AU chairmanship regardless of the mess that he is created in his country Zimbabwe, then I shudder to ask what Africa will ever reject. What will Mugabe bring on board? If Mugabe were a brand, who would want to be associated with it? Does Africa have virtues and vices it identifies itself with? What standards and precedence is the AU setting for the current generation of African youth and the posterity?
"He missed a step as he walked down from the podium and immediately fell down" said an eyewitness from the Zimbabwean capital Harare. This incident we are told occurred after the nonagenarian ended addressing his supporters upon his return from Addis Ababa where AU General Assembly bestowed on him the AU chairmanship. The Zimbabwean leader is reported to repeatedly insist that he is fit as two fiddles.
According to this eye witness who insist on remaining anonymous for security reasons, press photographers who allegedly captured the old man's fall were forced to delete it by the security personnel around the current AU chairman; freedom of expression at large.
Mugabe celebrates his 91st birthday on February 21. This is the man who assumed power since 1980 and is notoriously accused by many Human Right groups as perpetrating violence and human right abuses on his opponents. Amnesty international and Human Rights Watch currently accuse the Mugabe administration and his ZANU-PF party of several human rights abuses including assaults on media, the political opposition, civil society activists and several others.
This is the man who is widely accused of using widespread violence to win several disputed elections. A once prosperous southern African nation, Zimbabwe has struggled since Mugabe's government began seizing the white-owned farms in 2000. Reports by Freedom House classify Zimbabwe as a non free country since 1972. Mugabe is presently allegedly grooming his wife to hand over presidency of Zimbabwe to. This is the kind of leader who leads AU now.
I am not the spokes person for the west and I can't even be. All I'm saying is that, Africa is the cause of its own quandary. Neither the current president of Zimbabwe is Caucasian nor the wickedness and illegalities in Zimbabwe is perpetrated by a leader of European descent. No one is responsible for the poverty, diseases, corruption and the leadership deficits we suffer in Africa but Africa, and no one can take Africa out of this doldrums but Africans. I repeat this statement from my favorite leadership coach Dr John C. Maxwell; "Everything rises and falls on leadership" what stands between people and their dreams is leadership. When leadership fails everything else fail. Africans deserve better than Mugabe's leadership.
Send comments and critiques via:
[email protected], tweet;
@suakapeter. 0200922728.