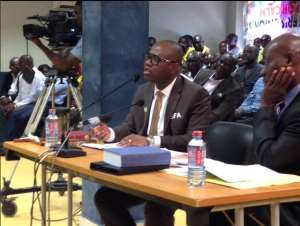 Demonstrations and strikes were all over the news in July. Doubtless, most of these strikes were fueled by genuine economic sentiments but certainly laced with political interests. And these demonstrations were not going to end so far as Terkper remained the captain of taxes, and Akufo-Addo the flag-bearer of a high "demonstrations pedigree".
July slowly ended with the Sanitary Pad Loan, which sought to say that the problems plaguing our country are bleeding problems. Thus, all we need in the near future is Mahama-branded heavy flow sanitary pads!
But how do sanitary pads "clot" bleeding hands which are tired of working for taxes, and bleeding minds weary of pondering over mysterious political happenings? Wonders, they say, shall never end! Maybe we should forget the IMF and go for some blood money in Benin.
In August, Government and the opposition abandoned ideas to debate words: while the opposition thinks we are in CRISES, Government, on the other hand, thinks we are only facing passing CHALLENGES. The NDC is being accused of failing to plan, and is now trying to manage crises.
In response, the NDC thinks the main causes of the challenges are the "Kwashiorkor" wage bill and the economic dormancy induced by the eight-month-long election dispute in 2013. It is interesting to know that government is slow to admit we are at a turning point despite overwhelming evidence. That might be a politically-expedient position to take, knowing the economy is going to be a thorny political issue come December 2016. Let us see how General Mosquito spins that.
There is this "atongo and hotman's" advert for interplast that gets my rib breaking, and it reminds us of tear drops on Justice Dzamefe's "lap". The world cup commission was set up to unravel the truth surrounding the Stars performance in Brazil. However, rather than going straight to the point, some witnesses were prevaricating on issues, and punctuating their answers with tears.
Then came Nyantekyi's raw bravado at the commission. After expending so much money to only lead us to disgrace, people expect to be treated fairly. He also surprised us with his sudden change of name at the Commission. But Nyantekyi didn't change his name; money did! In Ghana, money doesn't only transform sexy bellies to pot bellies but also Yaw automatically becomes Wofa Yaw and gradually to "Wofa nunu" supposing Yaw is a kind man. So money did not only change Nyantekyi's name but his religion also.
September would never end without Daniel Kenu's revelations. From Kenu's withdrawal of his assault case, we learnt that journalists must not be idolized; they can be beaten like babies with okro mouths; most journalists are just as corrupt and bias as the average politician and should not be seen as occupying the moral high ground…aloo?
There were two big issues in October: first was the NPP's flag-bearer race which saw alleged Akuffo Addo's supporters in a Taliban-style protest after accusing their now party chairman of being a "cocain man". It's interesting to know that these guys don't see that Ghanaians will prefer peace without money to any other thing. The race ended with Nana demonstrating an overwhelming command, as we all expected. The second big thing was the National Service Scheme's(NSS) 7.9million theft. And that emphasized the truth that corruption is not friends with politicians and the police only; it is more coordinated and endemic than we can ever imagine.
Early November, the whole of Ghana travelled to China, not to review the much-touted 3billion Chinese loan, but to buy chairs and chandeliers. Doe Adjaho, the "Chinese President" who also refused to be sworn-in, and Osei Kyei Mensah (the speaker of the Chinese parliament) led Ghanaians to China to buy what we could have produced here to give energy to JM's made-in-Ghana campaign.
From China we all travelled to the luxurious rooms of Nayele Ametefe ( the cocain mule), and after a few doses of bad reportage the debate became pedestrian. This case peddled viral words such as VIP,VVIP, and diplomatic passport. So Dominic Nitiwul carried rice, an equivalent of the 12.5 kg of the seized cocain to parliament only to sensationalize the acronym VVIP. You see, he forgot that Sam George is always on the prowl .Yes, forgetfulness has become a serious problem affecting children hence, let NPP and NDC readers assume that Dominic forgot that such acts will only open the Pandora's box of drugs, which is an albatross on the neck of his presidential candidate. Perhaps he also forgot that Sam George would remind us of Le Baron and Amoateng.
Granted that your promiscuous son used your bedroom for his vicious acts, does it mean you approve of that very act? No, I think your son only knows where the key to your bedroom is, and opened it to girls (mules) like Ruby.
The NDC congress ended successfully in December . But it turned out that Oratory skills and Psychology couldn't save Kwabena Adjei. Maybe he didn't know "what time it is". Or, did the delegates listen to Greenstreet's sermon? Akua Donkor was the toast of many NDC sympathisers . She said that problems facing Ghana started from the days of Kwame Nkrumah. How true?
2014 has been quite a trip, it was a mix of good and bad news. We lost many people including Komla Dumor, PV Obeng , and Underfire Castro (now underwater). Our lights(electric power) kept blinking like a thief under the nozzle of a gun. We cannot forget about the proverbs of Bukom Banku and Ayittey power(less). In all , the government kept faith with neither friends nor enemies. The many corruption cases and the "Kakpakpa" pension issues cannot be said to have earned the applause of voters.
Nevertheless, we are prepared for 2015 and "what can come can come".
Merry Christmas and a Happy New year.
Frederick K. Kofi Tse ([email protected])