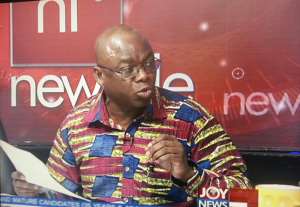 Presidential Adviser on Governance, Daniel Batidam, has said that the Ghs14.5 million retrieved from Ghana Youth Employment and Entrepreneurial Development Agency (GYEEDA) offenders so far is unsatisfactory. 
Government was supposed to recover over Ghȼ200 million from defaulting service providers of the state agency by December 2013. 
But, at the National Anti-Corruption Action Plan conference this week, Deputy Attorney-General, Dominic Ayine announced the retrieval of only Ghs14.5 million. 
Speaking on Joy FM and Joy News TV's weekly news analysis programme Newsfile on Saturday, December 13, 2014, Daniel Batidam said the money retrieved so far is not enough.
"It is not enough…If out of Two Hundred Million [cedis] and only Fourteen [million] has been retrieved, it cannot be enough. And I'm not going to sit anywhere and say that because I am working in the President's Office I will now say 'doesn't matter'. It does matter and we need to do more; Government must do more."
In a related development, the Executive Secretary of the Ghana Anti-corruption Coalition, Linda Ofori Kwafo described the government's recent information on corruption as misleading.
"That money was paid way back in July [2014]. If you present it in December it makes it seem as if it is a current that is coming up. It is a bit misleading and we are not happy about that," she stated.