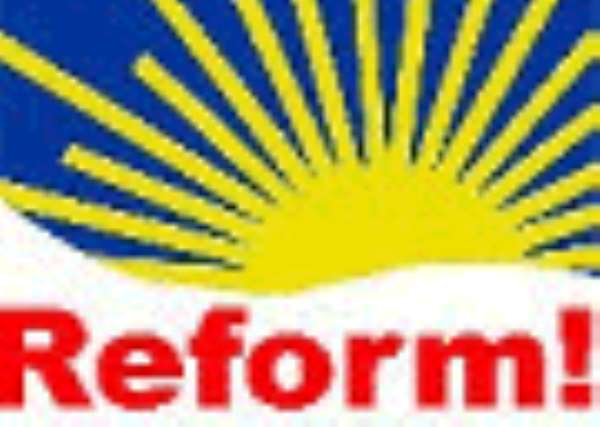 ...policies of NDC and the NPP were almost the same Shama (W/R), July 11, GNA - Mr Kyeretwie Opoku, General Secretary of the National Reform Party (NRP), on Saturday said the Party would consider whether to put up a presidential candidate for this year's elections at its national Congress in August this year. He was speaking to the press at a one-day Congress of the Shama Constituency of the Party at Shama. Mr Opoku said the NRP leadership would not take any hasty decision until the matter was considered at the congress. "Presently, we are focussing our attention on the election of parliamentary candidates," Mr Opoku said adding, that the Party would present "quality" candidates who would represent its views in Parliament without bowing to pressure from other parties. He said the NRP would not form an electoral alliance with the New Patriotic Party (NPP) in the December elections, but in the event of a run-off, it would support either the National Democratic congress (NDC) or the Convention People's Party (CPP). Mr Opoku said the policies of the NDC and the NPP were almost the same, "so the difference between the two boils down to who is the better administrator". He said NRP's greatest concern at the moment was the security of the electoral process.
"Another concern of the party is the government's attempt to control editorial policies of the media houses and a section of the media," he said, alleging that "information carried by the media is not open and the media is all about Kufuor and NDC".
Miss Emelia Arthur, a rural community development officer, was unanimously elected as the NRP's parliamentary candidate for Shama in the December election.
In her acceptance speech, she said, "Shama had declined since post-Nkrumah governments abandoned the path of integration and self-reliance and returned to the colonial vision of Ghana as a specialised producer of cocoa, minerals and timber."
Miss Arthur, who was sole candidate, said Shama must pursue economic integration and self-reliance by relating the needs of the people to its natural and human resources endowment, employing the youth, generating wealth and "returning dignity to communities".
Mr Samuel Owusu was elected the Party's Constituency Chairman, while Mr Vincent Gafa won the position of Treasurer and Mr C. K. Eben as secretary. Mr Ransford Acheampong and Miss Theodora Hannah Bassaw, were elected as Organiser and deputy Organiser, respectively.