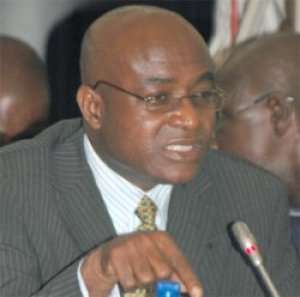 Hmmm! It seems the minority in parliament has shrink it duties to civil society groups. As an opposition seeking to gain power, I don't think this is the way to go. This is unlike NPP. We missed the minority that had Nana Addo, Dr. Apraku, J. H Mensah etc.
Hon. Nitiwul should give us a break. We are sick and tired of them. What is he talking about? Does he think we are happy about their attitude? Where was he when IMANI started talking about this pension issue? For over two weeks now labour unions have been on the neck of government demanding their tier two pension funds and not a single word has been heard from the minority. What is he saying? They are mapping a strategy?
Hahahaha!! For how long will they be mapping that strategy he is talking about? Instead of the minority leader busily defending the purchase of China chairs, they should get serious and act as a responsible opposition and put this incompetent government on it toes.
GHANA LEAGUE
We were told the league would commence in September and we in November still no show. This football people, hmmmm. Anyway I'm impressed with the kind of preparation my team Kotoko has had. I'm also impressed with the recruitment. I heard we scored 14 goals in one of our friendly matches. Kotoko is the team to beat when league commences.
PREMIER LEAGUE
Some where in England too, the abonkele chaps are disturbing our ears. I bet they can't match our invincible records. My friend Osabutey says he has painfully joined the Wenger out campaign. As for me I joined long time ago. Wenger has succeeded in making us a laughing stock. How on earth can you drop points at the Emirates against Hull City ? For Liverpool, na wahalaoo. I hope Arsenal will make some quality additions to the team in the about to open transfer market.
Gunners for life!!
Still I'm for Nana!!
NPP beku Me!!!