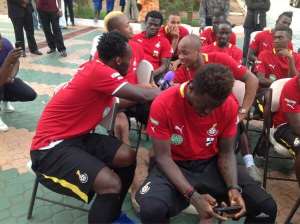 Only a few days ago the Governor of the Bank of Ghana, Dr. Kofi Wampah, was quoted as saying that Ghana is 'a victim of its own success' with the argument that the economic problems the country is experiencing can be attributed to the fact that as a result of our new middle-income tag the country is now less able to borrow on concessional terms. By inference therefore, maybe it would have been better for us if we had remained under our earlier HIPPIC status so that we could have continued to borrow left and right, for ever and ever, Amen.
But please, don't get me wrong. This piece has nothing to do with the Ghanaian economic situationsince I'm neither an Economist nor a Politician to dispute the view of no less a personality than the Governor of our Central Bank. It's rather about Ghana and our football, with special reference to our participation in the on-going Brasil 2014 FIFA World Cup. And even here, let me say that I've always made a conscious effort not to count myself among our world famous 24 million coaches and will therefore restrict myself to common sense arguments only.
So by borrowing the theory of our Central Bank Governor for the purpose of this articleI'm inclined to believe that perhaps if Ghana had never won four Africa Cup tournaments, a couple of FIFA youth tournaments as well as performed creditably in several continental and world tournaments for both sexes in all age groups perhaps our reaction to our 2-1 loss to the U.S.A. might have been different. What I mean is that I'm not sure if it had been Benin or Liberia who lost 1-2 in a World Cup match they would have reacted as if they had been through a nationwide power failure. In short, therefore, all the bitter pain of having lost by a 2-1 margin to the U.S. - our 'co-equal' in football by all standards- and a country we have beaten on two previous occasions on the same stage - can only be attributed to the fact that we see ourselves as some top football nation that cannot lose to the U.S. Meanwhilein the same tournament, and at the same stage nations with much higher pedigree in football, like reigning World and European Champions, Spain, former Champions England, Italy and Uruguay, and current world best player-led, Portugal,have lost to clear underdogs, and in some cases, by hard to believe margins. It just makes me wonder where we are coming from, considering that most Ghanaian football fans would prefer to watch Spanish and English league matches on TV than live Ghanaian league matches while many of our sports presenters, both in the electronic and print media, appear to know more about the private lives of European footballers than the career performances of our national players.
Player Turnover - Ghana Versus The Rest of the World
Did you know that Ghana's most capped player to date has been Goalkeeper Richard Kingson with 90 caps? Next in line are SulleyMuntari and AsamoahGyan with 81 and 78 respectively. Compare that with the all-time record of 184 caps by Egypt's Ahmed Hassan spanning a period of more than 16 years or even the 169 and 150 caps respectively for (again) Egypt's Hossam Hassan and Germany'sLotharMatthäus spanning a period of more than 20 years each. Among the current active international players GianluigiBuffon of Italy has been capped 140 times,MiroslavKlose of Germany132, Didier Zokora of Cote d'Ivoire120, Cameroon's Samuel Eto'o 118, and many other players with more than 100 caps for their countries. But when is a Ghanaian player ever going to be capped more than 100 times spanning over a 15-year period when after every tournament in which they are perceived to have performed poorlythere are calls for them to be sacked? After representing Ghana for 59 times Sammy Kufuor,our most experienced player at the time,was forcedinto premature retirement from international assignmentbecause he made one faulty pass in Ghana's first World Cup match against Italy in 2006which resulted in a goal. I can bet that unless we win this World Cup Ghanaians are going to call for a 'total overhaul' of the whole teamso that we come back to square one.
Coaches Turnover - Ghana Versus The Rest of the World
So far, with four years between 2006 and 2010, MilovanRajevic is the coach who has handled our national team for the longest period. For the 12-year period between 2000 and 2012 before KwasiAppiahwe had 11 different coaches. So after almost three years as coach, KwasiAppiah is already one of our longest serving coaches.And already just because he has lost his first World Cup match people are calling for his sacking, and already some interesting names are being mentioned as his possible replacement. But perhaps you'll have a better appreciation of how interesting such calls are when you balance themwith complaints from some quarters that Appiah's salary of US$251,770per annum is too much in spite of the fact thatamong the 32 coaches paraded in Brasil for the World Cup only Coach Miguel Herrera of Mexico, with $209,810, earns lower than him. While Russia's coach Fabio Capello is receiving an annual salary of $11,235,210,JurgenKlinsmannof the United States coach who won over KwasiAppiah is earning$2,621,740. And even closer home on our western border, SabriLamouchi of Ivory Coast earns $1,037,450per annum. So I don't know whether those who are calling for a replacement for KwasiAppiah seriously believe that we are ready to pay a million dollars for a coach with the current state of the economy.
How Unpatriotic Can a Citizen Be?
Listening to a Sunyani-based radio station last Thursday, the 19th June, I couldn't believe my ears when an avowed die-hard anti-Ghana radio presenter was live on air shouting how happy he was because Ghana had lost against the U.S.And come to think of it, he sought to justify this shameful public display of unpatriotic behaviour with the explanation that the coach didn't listen to HIS advice. Oh, how I wish he had first used his expertise in coaching to ensure the early return of Sunyani-based Mighty B.A. United and Kwasi/Dan Owusu'sTanoBofoakwa to the Ghana Premier League rather than expecting that the technical handlers of the Black Stars would pick out his voice over all the other 24 million Ghanaian coaches.And to be fair to him, of course he wasn't the only Ghanaian I heard jubilating over Ghana's loss. For some others, it is simply out of envy that in their own estimation, too much money is being spent on our national football team. Again, as strange as it may seem, for political reasons some would be happy to see that Ghana would be the first country to be sent packing for home. Of course, as much as public display of unpatriotic behaviour is not a crime it is shameful and must be condemned.
Everybody Has a Right to be Disappointed
It is quite normal for anyone to be disappointed when you fail to achieve what you want but unless you're jealous that you weren't selected among your school team do you support and encourage them to victory or you boo them?In the first place, which Ghanaian institution, public or private, or group of workers can claim that their performance can be rated higher than that of the Black Stars? Is it the performance of the Executive, Legislative or Judicial arms of government, or the so-called 4th estate, the Press, or the general public that is better than that of the Black Stars or to a lesser extent our other national teams?
In a country where nothing else is working to the optimum and many basic necessities of life cannot be taken for granted why do we expect that when it comes to football we should outperform all others? That is certainly not fair. But I think the answer is not difficult to find. It is plain envy. Some Ghanaians believe and complain on public platforms that we are spending too much on our players and technical staff and as such are praying hard that they don't succeed so that they can say 'didn't I tell you so?'Such peoplewill dispute any positive point in favour of Ghana. If we win, it would be rather because our opponents were not good enough but not that we played well. For example when after the first round of matches John Boye was selected among the 10 best players based on FIFA's own criterion some Ghanaians wouldn't want to hear of it.Again when a private commercial company (not in Ghana) ranked Ghana's jersey for the 2014 World Cup as the best among the 32 some people wouldn't want to hear of it.
Perceived Africa's Poor Performance Compared to Europe
I've heard the anti-Ghana, and by extension anti-Africa gang saying that even when FIFA eventually decides to raise the number of World Cup participating countries in future Africa does not deserve to have their participating teams increased because we have not been performing well in previous competitions. To them since only European and South American countries have won all previous 19 tournaments if anything at all it should be their slots that should be increased and not ours. What funny argument. They forget that of the 19 previous tournaments Africa has participated in only 11, and out of this it's only since the last four that our representation has been five as compared to 13 from Europe.
It is worthy of note that among all previous world champions the least that any of them has participated is 12 times. Again so far it is only four European and three South American countries that have been winners. As we all know, there aren't only four and three countries in Europe and South America respectively. So why aren't these people advocating that only previous winners should be made to compete?
At the time of writing this piece, an otherwise unknown Costa Rica has whipped former four-time champion, Italy and in the process contributed to the elimination of English Premier League star-studded and one of the self-acclaimed tournament favourites, England after only two matches. I pray that we get a good result in our next match against Germany to give us hope to qualify for the next stage. But if that doesn't happen and we lose I would still wish our boys and technical staff 'better luck next time' and expect that they maintain and fine-tune the team so as to ensure that we see them again in Russia in 2018.
But for those who are praying that we lose for them to claim they've succeededI hope they have a change of heart and understand that they will never gain anything if the only country they have perform poorly on the biggest international platform.
And for God's sake, even in the worst case scenario, any talk of dissolving the team and or engaging another coach to replace KwasiAppiah is a non-starter. Let the man keep his job so that he can use the experience he's gathering now to help us in future tournaments. In the meantime, Go Ghana, Go!

Kwame Twumasi-Fofie
[email protected]