UGANDA ISLAMIC MUSEUM THE FIRST IN EAST AFRICA IN THE OFFING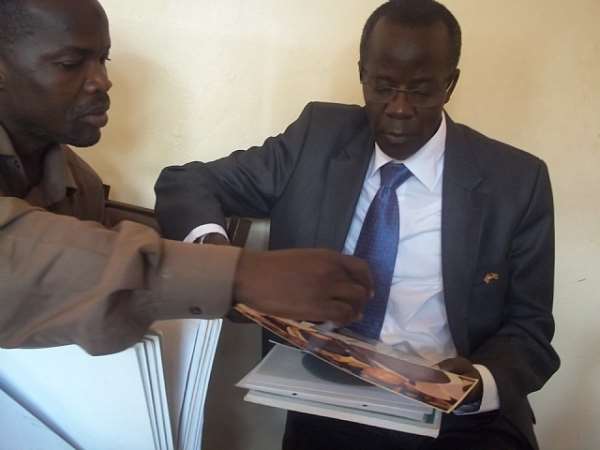 Member of Parliament, Uganda, Alhaj Hussein Kyanjo, reading through Islamic Museum files
This is the time to establish a place to showcase the rich heritage and historical contribution of Islam and East African Muslims in general.
Sheikh Jawadu Mbogo is the brain behind the planned Islamic Museum and Research Center in Uganda.
Islam has been in existence in Uganda for nearly 170 years. In the course of its operation the monotheistic religion has left behind relics, antiquities and artifacts, most of which are scattered in various parts of the country. There is need to collect these valuables and keep them in a safe place as away of preserving the history of Islam.
It is only in the establishment of a museum and research center that the Islamic heritage can be preserved and further studied.
Mbogo further said that, this establishment shall also keep accurate information on the Muslim population, facilities, professionals and other aspects of Islamic nature, not only in Uganda but also in East African and the entire world.
The Islamic Museum and Research Center, as it has been dubbed, shall provide cultural education programs, research and other museum services to the public.
Its mission is to preserve Uganda's Islamic legacy by collecting, archiving, and displaying artifacts and information about the country's rich Islamic history.
The prospective museum, besides carrying out educational programs, intends to organize cultural exhibitions at home and abroad.
The Islamic Museum and Research Center seeks to provide exhibits and programs for schools, Mosques, community centers, community groups, libraries, and Government departments.
This initiative will be an exciting and unique place to showcase the rich artistic heritage and historical contributions of Muslims in Uganda, East Africa and Africa at large.
Also Fascinating stories, interactive displays, and exquisite art exhibits will provide an insight and experience to the tourists, school groups and other visitors to the Museum.
According to Sheikh Mbogo, the museum shall have the following galleries for the beginning:
1. The Prophet Muhammad's gallery, comprising the photo of the house in which he was born, copies of the letters he wrote to different kings calling them to Islam, the holy 'Kaaba' in and its facelifts in over the centuries, among others.
2. Educational gallery comprising the names and photos of East African Muslim professors, PhD, Master's, degree and diplomas holders. The category will also contain Islamic universities and schools.
3. Political leadership galleries composed of Muslim leaders, including Kabaka (Kings) Saidi Muteesa I (1856 – 1884), Kabaka Rashid Kalema Muguluma (1888 – 1889) and Prince Nuhu Mbogo. This section will also feature first Muslim Presidents like Idi Amin (1971 – 1979), Amani Abeid Karume (2000- 2010), Muslim army commanders, ministers, members of parliament, etc.
4. Religious leader's gallery featuring all the previous Muftis and Amirs in East Africa, and individuals who have contributed to the development of the Muslim community.
5. Gallery for outstanding Uganda and East African Muslim sportsmen and women of all time such as Ali Kitonsa, Majid Musisi, Ayub Kalule, Kasim Ouma, Ali Kavuma and Ali Tomusange.
6. Business gallery involving outstanding Muslim businessmen and women and their businesses.
7. Islamic antiquities in the whole of East Africa such as Mende Kalema and u.m.s.c National Mosque in Kampala.
For inquiries, advice or any other in-kind support, you can contact Sheikh Jawadu Mbogo at
: +256701810210
E-mail:[email protected]