'Servitude In Tranquillity'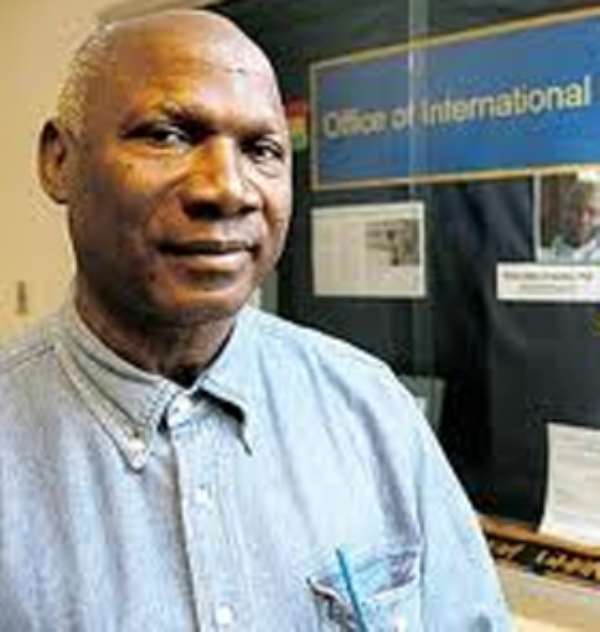 By Kwasi Ansu-Kyeremeh
To all the congress small figs, congress boys and girls, the words 'servitude in tranquillity' were spoken and written by ɔsagyefo. If you have never heard or seen them, visit the National Museum. There, you will, even touch the words if you like, because they are cast in stone; the stone that formed the base of an ɔsagyefo statue.
You will see a statue of a great man without a head; only the torso with legs and shoes. The head lies separate in some manner of beheading ritual of savagery. By today's hindsight set standards, the action which resulted in the destruction of that statue represents a senseless act of betrayal of the African cause: grow before you can eat, make before you can use.
A similar disgraceful adventurism was to recur on the last day of December in 1981. The motherland was returned to servitude, caged in poverty and deprivation of their basic God-given rights of existence labelled by the perpetrators as revolution tranquillity.
The statue stood in front of a Parliament House, one of the symbols of independence now desecrated by congress myopic, reactionary, rear guard banditry, they wanted seen as a revolution. As is their usual characteristic of turning everything good into all that is bad in their illogical destructive thinking when they think at all, 'revolution' is their language of thievery and disrespect for national symbols.
Those words of ɔsagyefo form the second part of a profound statement: 'We prefer self-government with danger to servitude in tranquillity.' It is all part of the African personality Afrocentric philosophy of 'Black Man is capable of handling his own affairs.'
Beijing, pre-and post-, has emphatically affirmed the Black Woman's capability to handle her own affairs, career plus everything else inclusive, probably even better than the man. The only little hitch there is when a certain moulder woman is put in charge of judgment debt determination and disbursement against public interest and draining of state coffers.
In many ways, congress rule replicates colonial rule. If that weren't so, we wouldn't be spending time, effort and money preaching peace when there is no war as if peace is an end in itself and not a condition for wellbeing and prosperity.
Look everywhere around you, it is the motherland in servitude. The majority of the population is suffering, suffering poverty and deprivation while a tiny congress minority swims in opulence.
Our dear motherland Republic is now a haven for corruption. We are the Republic of Corruption. The Executive's corruption is well known from head to tail. A renegade deputy minister has exposed nocturnal visits by a gender mantra speaker, who acts gender insensitively to bribe and secure a notorious election verdict. The latest is that 'MPs Take Bribes.'
In the case of the Fourth estate, I rest my case in a 'rented press.' One is unsure whether the black plastic bag regime is history or there are still remnants. Soli has been, is and will be soli forever.
So every way you turn, it is corruption which is undermining the development of the motherland. Every estate is corrupt. If you know any part of the motherland's governance that is not corrupted, I would be glad to know too.
The motherland is desperate for that pleasant surprise that would provide a glimmer of hope to a hopelessly corrupt situation.
Colonial servitude was anti-domestication. Congress servitude is anti-honesty, anti-promise fulfilling and kills creativity while suffocating initiative.
In our faces a congressperson is telling all my compatriots, minus the congress stealing machine, to domesticate in servitude. It is not leading by example of eating, sleeping, wearing and working domestication. We, the downtrodden of the motherland, need some time and space so we can take our destiny into our hands.
We want self-government of independent thinking and being spared corrupt platitudes whatever danger you think it would bring my compatriots and I. No one laying claim to succession to ɔsagyefo vicariously through some spurious progeny, cannot and is not capable of living and leading by his ideals of frugality in public spending, purposeful visionary leadership and committed sacrifice of person for the public good.
Take all the judgment debt money owed the motherland back. Let us have back the GYEEDA bundle of stolen cash. Let the nkɔnfℇm, which flew across international boundaries to Burkina fly back to base. Find some water to bring back to life the trees that died because they were planted in drought.
There is no peace when one cannot afford a meal of Tuozafe, Tuku Dansuomu, Wɔkple, ℇtsew, Komi or Lapeewa Deℇhuo. In that state of affairs, you can only have servitude in hunger and desperation. It's not tranquil condition. It is servitude in tranquillity.
 
By Kwasi Ansu-Kyeremeh