For the purpose of, or avoidance of doubt, it will be useful if readers know the historical background and facts about the establishment of the Gold Coast constabulary or the present day Police Service. For those who do not know but care to know, it was during the governorship of Sir Gordon Guggisberg whose visionary and foresight led to the establishment of the force.

Some of the main reasons that led to this institution by the Guggisberg Administration was the enormous and periodic crime wave prevailing and also to put some little fear in our traditional leaders who used their palaces as courtyards to try cases of all abuses and crime; with the resultant punishment very many oftentimes, ending some indigenous people losing their lives instead of being incarcerated in prison custody by the colonial masters or life sentences where murders were committed. Meanwhile, the following is the list of the Ghana Police Service hierarchy hitherto known and called Police Force since 1924.
1992 CONSTITUTION - CHAPTER FIFTEEN ( pages 133-135 – the small booklet).
THE POLICE SERVICE
The Police Service
200. (1) There shall be a Police Service of Ghana.
(2) No person or authority shall raise any police service except by or under the authority of an Act of Parliament.
(3) The Police Service shall be equipped and maintained to perform its functional role of maintaining law and order.
The Police Council
201. There shall be established a Police Council which shall consist of -
(a) the Vice-President, who shall be chairman; (f) a representative of the Retired Senior Police Officers
(b) the Minister responsible for internal affairs; Association;
(c) the Inspector-General of Police; (g) two members of the Police Service, appointed by the
(d) the Attorney-General or his representative; President, acting in consultation with the Council
(e) a lawyer nominated by the Ghana Bar Association; State, one of whom shall be of a junior rank; and
(h) two other members appointed by the President.
Inspector-General of Police and Appointment of Members of Police Council
202. (1) The Inspector-General of Police shall be appointed by the President acting in consultation with the Council of State.
(2) The Inspector-General of Police shall be head of the Police Service and shall, subject to the provisions of this article and to the control and direction of the Police Council, be responsible for the operational control and the administration of the Police Service.
(3) Subject to the provisions of this Constitution, the power to appoint persons to hold or to act in an office in the Police Service shall vest in the President, acting in accordance with the advice of the Police Council.
(4) The President may, subject to such conditions as he thinks fit, delegate some of his functions under this article by directions in writing to the Police Council or to a committee or to a member of the Council.
Functions of the Police Council
203. (1) The Police Council shall advise the President on matters of policy relating to internal security, including the role of the Police Service, budgeting and finance, administration and the promotion of officers above the rank of Assistant Commis –sioner of Police.
(2) The Police Council may, with the prior approval of the President, by constitutional instrument, make regulations for the performance of its functions under this Constitution or any other law and for the effective and efficient administration of the Police Service.
(3) Regulations made under clause (2) of this article shall include regulations in respect of –
(a) the control and administration of the Police Service;
(b) the ranks of officers and men of each unit of the Police Service; the members of each rank and the use of uniforms
by the members;
(c) the conditions of service including those relating to the enrolment, salaries, pensions, gratuities and other
allowances of officers and men;
(d) the authority and powers of command of officers and men of the Police Service; and
(e) the delegation to other persons of powers to discipline persons and the conditions subject to which delegations
may be made.
Regional Police Committee
204. (1) There shall be established for each region a Regional Police Committee which shall consist of –
(a) the Minister of State appointed for the region, who shall be chairman;
(b) the two most senior members of the Police Service in the region;
(c) a representative of each district in the region appointed by the District Assembly in the district.
(d) a lawyer practicing in the region nominated by the Ghana Bar Association;
(e) a representative of the Attorney-General; and
(f) a representative of the Regional House of Chiefs.
(2) A Regional Police Committee shall advise the Police Council on any matter relating to the administration of the Police Service in the region.
DEVIATION

For the purposes of readers and those who do not have access to Ghana's 1992 Constitution, the following is the brief repro -duction of the Ghana Police Service bit captured therein. Subsequent pages however elaborate similar versions for the Prisons Service and the Armed Forces of Ghana. Unless of course, a constitutional expert gave us tuition, one could be at a variance as to where to locate the article, clause or sub-section that gives the president the special mandate i.e. "the constitutional instrument" to contract the IG for another 2-year bite of the cheese.
If there is neither a provision nor a constitutional instrument after a thorough reading of above; then, one will ask why this blatant obstinacy, Mr. Mahama? Was it also a manifesto jargon or promise that if he ever became a head of state, his IG should also be someone from his own backyard to ensure he had maximum protection and security from the support of the 30,000 police force his man commands?
Mohammed was to have proceeded on terminal leave as the 26th IG, prior to retirement, but due to some strange circumstances above the Ghanaians imagination, as alleged, a "cooked or make-shift" letter from the Ministry, in consultation with the PC that has the Vice President as its chairperson, unanimously endorsed Mohammed to be retained for a contract of convenience as IG with all his fringe benefits and to be in uniform as well. Since Mr. Madjitey's exit, all IGs have been Ghanaians and none, repeat none, had to stay after attaining age 60.
The CDS/IGPs who have not been of political threat to the stability of government in power, somehow, were allowed to stay on till the government found its feet after a change of power before being flushed out. After all, how many past Ghanaian CDS have had the chance to remain in office with the change of governments in Ghana? Ghanaians should not tolerate this illegality. After all, Ghanaians who followed the EPH know how the corrupted verdict re-instated the presidency on August 29, 2013.
JUSTIFICATION

As time went on, the prevailing culture and traditional practices in the country at that time precipitated the setting up of that security institution because the constant and rampant occurrences of crime and brutish behaviour of our people led by some traditional leaders were quite different and appalling from their European counterparts, so it became imperative that the governor and his cream of experts never hesitated to set up a prudent police constabulary; this force was to combat the crime wave and maintain law and order and become the watchdog to curb all the crude prevailing conditions. The British created some special force called the "Ahenfie Police" solely for the palaces of some leading traditional leaders to deal with trivial offences.
With the establishment of the Gold Coast Police Force in 1924, life however, became a bit pleasant and normal for the expatriates because they were very fearsome. Because of the discipline instilled in them through their training, you dare not make a mistake. Bribery and corruption, that have now become associated and characteristic bedfellows of the present day police, was nowhere in their vocabulary. Even though their salaries were meager and not comparable to these days, where a constable takes not less than Gh¢800.00 as salary, none showed interest in bribe collection in those colonial days let alone being corrupted.
History has it that, that was the era when indigenous local "akpeteshi" gin distillers feared the police for being involved in that illicit business until the mid-60s even after the expatriates had left our shores and gone back home. So in a nutshell, the colonial masters were justified in establishing that security service to ensure discipline was strictly adhered to by all. The common presence of the police also reduced the otherwise unnecessary brawl, petty squabbles, rampant theft and bestial murders that were a common sight.
CREDENTIALS
The author was yet to know the full credentials of Mohammed Ahmed Alhassan, Esquire, the current IG; but suffice it to say that if anything at all, his immediate predecessor, Paul Tawia Quaye, the holder of an Executive Master's degree in Business Administration, should not, repeat not, have been flushed out or thrown overboard from the Service as if he were just a nobody or except that the former held the doctorate degree like Dr. K.K. Marfo. Whilst it takes a politician just one day to mount the campaign platform to canvass for votes to be lucky to become successful as an MP/Minister, it may have taken Paul some amount of time and years flicking through his notes day and night, occasionally inflicting sleepless nights on his person to secure that enviable degree. But try as he did, nobody saw the need for a further contract as his case was not given any serious thought.
Is someone trying to tell the whole world that Paul was so immature that he did not even know how to wash his hands to be able to dine and wine with the elders (the Police Council membership) or ethnicity/ tribalism/nepotism played a significant or major role? By the way, apart from the vice president, who doubles as the chairman of the PC; who were those other members who constitute that yea, yea, yea, yea body? When did they (the PC & the ministry) ever meet and what date did the Ministry receive their unanimous acclamation that as a result of Mohammed's innovation, initiative, international professional policing duties, he should be given the nod for another 2-year stint to compel the ripe officers for the job; who were already in the queue to replace him, to continue to mark time. The statutory retiring age for both civil/public servants in Ghana is pegged at 60 years.
The constitutional framers were not insane to do so. As soon as his retirement i.e. 60 years elapsed, he was supposed to proceed on leave. When Paul Tawia Quaye turned 60, he was given the "marching orders". When Mohammed attained the same 60, strangely and surreptitiously, he has been allowed to stay put for another 2-year period for more innovations for the Police Service. Was Paul so daft and block-headed that he was unable to devise new technologies and initiatives to re-invigorate the Service? Where was the Ministry of Interior then? Had the headquarters of the Interior Ministry been relocated to Kumasi with its sector minister, Kwesi Ahwoi too, been re-shuffled to another ministry?
Did he and his ministry's technocrats not see anything good in Paul but later realized that Mohammed was more of a superstar than Paul, who should be considered for a 2-year retention? What about if he dropped dead today or tomorrow? Will the Service no longer function as a corporate entity? If the government was so magnanimous of retaining him for a job well done; why does he have to be uniformed and to retain same designation while on contract?
Someone should brace up and come to tell the whole Nation that a substantive civil/public officer on retirement who was considered for retention ever had the same designation and attendant fringe benefits since the days of Erasmus Ransford Teye Madjitey, the first Commissioner of Police - October 9, 1959 to January 8, 1964. Can Mohammed not be considered for an ambassadorial position or be gifted with the security attaché perk elsewhere?
Why does this government incorrigibly indulge in certain things that will always create tension, sensation, animosity and controversy for people to be branded "lazy" whenever they mounted the podium or came air? Is it because all his replacements have turned 60 (John Kudalor, Rose Bio Atenga, Patrick Timbilla, Robert Ayalingo and Atentanwe) and those in the queue who are not tribal favorites are but a bunch of useless 'idiots'? How many cocaine trips/business have travelled outside Ghana since Mohammed became acting IG and got the backing of the Ministry?
All that the Ministry was interested about Mohammed's consideration for the 2-year retention were his innovative creativity. But one would like to pose the question: "how many armed robberies have taken place since he was given the nod? Was it not recently that three under 24 year old armed robbers took hostage of Obuasi residents during which a police constable lost his life? How about the armed robbery at Dodowa when DSP Kwesi Ofori was spotted on our television screens to tell the whole world? Why is it that travelers to the North via Techiman have to be always escorted by the armed police in convoys to escape night robberies in our own country? Apart from the staff college that was to his credit anyway, can't any "idiot" police officer promoted to be IG ensure that a Police university for professorial degrees was established? We are tired of these gimmicks!

PROF. FRIMPONG-BOATENG VERSUS MOHAMMED ALHASSAN

The world's Ghanaian celebrated heart surgeon, Prof. Dr. Kwabena Frimpong-Boateng, who, single-handedly ensured his dream child, the Cardio-thoracic Centre in Ghana was established at Korle Bu Teaching Hospital circa 1989. The author stands for correction for the date of its inception. Through thick and thin and despite all odds, the Cardio Unit tried to propel the name of the hospital on the world map. Patients from far and near trooped to the centre for heart cure.
Patients from Ghana's immediate neighbours in the sub-region, have never reneged in their quest for heart treatment at this reputable heart centre. Information gathered by this junketing reporter indicates that because the charges/fees seem reasonable, even cardio-vascular patients travel from South Africa to come to Ghana for heart surgery because it is alleged that it costs $25,000 for a standard surgery there as compared to Ghana's $10,000 or €8,000.00.
As you continue to read this write-up, the UN peacekeepers and their ancillary personnel all over Africa needing heart-related ailments travelled to Accra for treatment. There were certain times that the Cardio Unit of Kortle Bu Teaching Hospital alone bagged fifteen million US Dollars ($15m.) annually while he was the CEO there before ill-fate struck him in 2010. In this maestro's case, it was pettiness and jealousy that culminated in his being retired by the Mills administration. The premise for this unfortunate incident was that he was a political opponent and that those at the helm of affairs thought he was a threat and since they were in government, and probably, as their campaign manifesto, Joseph Yieleh Chiereh, with instruction from above, sent him the undeserved letter to fire him when he was just 2 weeks after his 60 years retiring age. Wonders, they say, never end and will truly never end in Ghana.
Just as this celebrity had been presented with his disgraceful letter by the sector minister above named, lo and behold, unknown to the authorities, the wife of the then Chief of Staff, Mrs. Newman, who was by far 4 years in excess of her retiring age, was cooling off at the Ghana Medical School also at Korle Bu as a senior officer. Incensed by the sudden exit of this celebrated medical professor, the entire work-force of the hospital some of whom knew the records of this unfortunate lady, also, allegedly forced her out from office. Initially, she felt uneasy to budge because her husband wielded much power in government but to save herself from disgrace, she allegedly backed down and had to sneak to the office under cover of darkness to collect her bits and pieces.
The author leaves the destinies of these two personalities for Ghanaians to judge themselves. Until the professor was made the CEO, the hospital was virtually a cemetery and this is no secret to all. All the vast transformation and the Cardio Unit, the dialysis equipment, the MRI equipment, the Mammography machine, the CT scan, the Plastic surgery depart -ment and the overall transformation including the fence-walling of the premises to secure the public property from encroachers, were all his innovative ideas and above all, developed Korle Bu with his own initiative i.e. the hospital's own locally generated income.
There was never a pesewa or a dime from the Central Government treasury or any national budgetary allocation for Korle Bu Teaching Hospital to help with the face-lift of the place for several years and yet, Ghanaians are the best judges, mind you, not the "judges" you know of. How can such an asset and a worldwide gem and a genius be asked to leave office and curtail his professional career for service to humanity and the Nation without retention for some people to be trained to take over for our own good? Which of the two gentlemen – Prof. Kwabena Frimpong-Boateng or Mohammed Ahmed Alhassan - and their two ministries – Health and Interior with their respective Councils (Ghana Medical Authority and the Police Council) should be sacrificed on the altar of convenience if both of them attained age 60 and needed to be on contract – either to train more cardio surgeons for Ghana with a population of 24 million, has less than 8? He retrieved the site that was encroached upon by the Circle-Korle Bu Tro-tro drivers to build the new Administration Block. Who is more patriotic - one who leaves all the juicy perks in Europe as a qualified specialist doctor to come and save lives and families or an IG who, by statutory requirement, was due for retirement but retained to build staff colleges to train efficient police officers a greater percentage of which will not let go the "corruption tag" to disgrace all Ghanaians to place third in worldwide corruption?
Fellow Ghanaians and readers, through his innovation and creativity, he set up the Ghana Heart Foundation that solicits funds from far and near to support the needy patients if and when the need arises. For the information of readers, future historians and scientists, while it took the world's first heart surgeon and his team of doctors 6 hours to perform normal surgery, this genius of a maestro, Kwabena Frimpong-Boateng, the first African and Ghanaian heart surgeon, took only 3 hours to perform his first feat of heart transplant in far away Hannover, Germany in 1987.
As you read this piece today, that unfortunate German, who, until Kwabena's emergence, had been declared a-no-hope patient by the German doctors, because of the severity of his heart condition, came back to life thanks to Prof. Kwabena Frimpong-Boateng's God-given ingenuity. He was operated upon to have a new heart transplant to also prove to the world that, what the white man could do, the African was equally capable of doing and even do it much better. The man is still alive and kicking without any problems with his heart. How will you as a reader cast your vote if this was for a national debate? But the doctor was not spared let alone be considered for contract. Why this crab stupidity and mediocrity? Do we realize the shallow minds and crude mindset that some Africans possess?

FORENSIC EXAMINATION

For the sake of those who do not know but will like to know, when Prof. Frimpong-Boateng mentioned to his employers i.e. the Hannover Teaching Hospital that he had decided to return home to serve his people with his new achievement just as biblical Moses had graduated and was determined to leave Egypt with his suffering people under bondage, the authorities initially thought the young doctor was day-dreaming. That was not enough; when he pressed on again that time was ripe for him to return, the authorities again, according to sources chanced upon by the author from confidantes very close to him; set up a committee of enquiry (not the Ghana's type of committee that wastes the tax-payer's meager resources for tea-parties costing Gh¢160,000.00) made up of three (3) professors of neurology, one professor of psychology, one professor of psychiatry and one senior counselor to critically examine/diagnose every bit of his person to see why he will not stay but to leave them to come back home. And you know the kind of work or task assigned them?
They were to sit this newly qualified heart surgeon down and find out exactly what was wrong or probably had gone wrong with his brain and whether or not he was not getting insane and to submit their proper findings within 10 days. In addition, if anything had not gone wrong but needed more pay like being paid triple the salary he was taking at that time, they were very prepared to offer him such. Their findings included inducing him with the perks of a senior German Medical Officer's fringe benefits and even train all his children at the hospital to become doctors. Mind you, as you read this piece now, the firstborn daughter, Adwoa, has since completed medical school and is a senior medical officer and 2/I.C. with the Ophthalmology Department at the Hannover Hospital.
Yaw, presumably, the youngest, also started his training there and came to the UG Medical School in Accra to complete. He too is a young medical officer after his houseman-ship at the Tema General Hospital. Patriotic as he is, when the time dawned on him to return to come and help his Ghanaian compatriots, he let go all the freebies. While the German authorities did everything to entice him to remain, he did not budge. All sorts of discouraging comments including – the time is not ripe for you to go; remember that the economy of your country cannot pay you the requisite salary to sustain you like you are enjoying here in Germany. Remember also the political instability and generally the "dirty" African politics; formed part of series of advice to coerce/ discourage him from coming, but he defied all odds to come.
Have the German Authorities now been vindicated or scandalized? How was this international celebrity removed from office? To quote, Justice William Atuguba, "A mere letter" signed by the sector minister, Mr. Yieleh Chireh, from the Health Ministry, obviously, with the knowledge of the Cabinet with Excellency John Dramani Mahama, who played a leading role as vice president, did the damage. And the reason: because Prof. Kwabena Frimpong-Boateng is a staunch member of the largest opposition New Patriotic Party. Is that all?
According to wild and unsubstantiated rumour doing the rounds in town at the time; he could kill members of government at any time if they needed heart surgery and other medical related services while he remained as the CEO at Korle Bu Hospital. One wonders whether medical doctors who swear the oath of office before they were assigned their duty posts could administer poisonous medicines to in/outpatients or even to their bitterest enemies could only be the mindset of the NDC. Could this childish assertion be true? Do we know how silly some African politicians behave? A politician gets up the next morning and says, because of a party manifesto, this, or that ought to be done and must be done at all cost, no matter the harm it does to his country. Do we realize how bad our educational standard and development are faring? Silly, isn't it?
The author has deliberately revealed this secret about this medical maestro to find out whether somebody sensible or brave at the Health Ministry saw the urgent need or usefulness/resourcefulness in this giant after his retiring age of 60 had just elapsed two weeks and to recommend to government for his retention. Any tribal undertone here, Adanko wants to dig to find out? It is very nauseating that to date, some African leaders and their government machinery behave as if the world was coming to an end tomorrow. Corruption and daylight thievery of the national purse have inundated and galvanized the whole continent. All and sundry have been blindfolded to grope as if it was in the Dark Age era.
CAUTION
How come that government uses 70% of the national income to service the salaries and other benefits for just 600,000 civil and public servants for a country with a population of 24 million? Is something wrong with our brains that we should urgently seek for the advice of a Neurologist? Is that the best sensible option? Do African leaders read political science? Why do we not behave as normal human beings? Is it because of much ado about nothing? Why do we behave sometimes like animals? Why can we not do the fundamental things first and ensure that it was done right?
Do we not need to develop the system very well? Why can we not build very sustainable structures for posterity to enjoy? The government should create enough safety nets to forestall sanity. Why does someone steal a fowl and gets a jail term of 5 years and a politician outwits the system to steal public purse of Gh¢58bn, and walks about as a free person? Why does a judge sentence someone who, presumably, due to poverty, forges the signature of a superior officer to steal Gh¢800.00 gets jailed 10 years for the first offence of forgery; and second count of offence of stealing, according to the Ghana Criminal Code (Act 29 section 124 of 1960), gets another 10 years – with the two sentences totaling 20 years to run concurrently in hard labour), but government officials/politicians form syndicates ("How dare you & Co.) to steal public money via judgment debt conduit pipe (Alfred Agbesi Woyome's Gh¢58bn, CP's €94m, GYEDA, ISOFOTON, Waterville, African Automobile, you name them) and such people walk about untouched/unharmed? It is only in Ghana that some judges "corrupt" their judgment and are unashamed the least to walk about as free people.
Are we really serious-minded corruption fighting country heading for progress and prosperity in everything? A day is coming and very soon, the Son of Man shall wink at such judges and say, "Mere You Judges" clear off, you judges thought you had so much power over your people and could do whatever you like. Now you see yourselves, as "Mere You". Where is your power now? Now talk! Now, You See, who has Power! You corrupted your ruling and made your compatriots suffer while on earth. Did you notice that as a result of your corrupted verdict (Thursday, August 29, 2013 – 13.08 hours), some people caused suicide by hanging or drinking poison; others got maimed, while the majority continued to live in abject and perpetual poverty despite the abundance of human/natural resources My Father had endowed your country?
Did you notice that only a few people were enjoying the fruits and honey of your land while the majority became the hewers of wood and drawers of water? On that day, one's wealth or academic pedigree/laurels cannot absolve one to escape from that impartial Judgment Throne nor extricate the one from blame as all such persons shall be cast into the perpetual fire furnace. And certainly, that day is nigh. It is only Ghana that in the case of two foreign investors in competition for purchase of a State asset (a bank and its assets and liabilities); where the first investor (the First Rand Bank of South Africa) bids for U.S.$193m with additional responsibility of absorbing 70% of the bank's assets and liability i.e. debt owed the bank.
The second investor (the Fortis) from nowhere, who, insiders say, have not even done a "susu collection, savings and loans" business before and established only in June, 2013), also jumps into the fray, allegedly, with their apron strings tied to some people in government; unashamedly, propose U.S.$90m with responsibility of 30% absorption of the bank's assets and liabilities to secure it on a silver platter at the peril of Ghanaians. Luckily, they secure this lucrative business at the instance of all Ghanaian retired/pensioned workers some of which do not even take Gh¢80.00 (¢80,000.00) home monthly as the "pension pay" after over 30 years hard work in the civil/public service. By Dr. Wampah's childish explanation, one will want to ask whether, he was indeed, in his right frame of mind and had his 'thinking cap' on before coming public. Why will many intellectual people who, otherwise, should be sensible to humanity be so sadly consumed by the creating, looting and sharing attitude?
EMINENT

Ghana can boast of countless number of world leaders: HE Busumuru Kofi Annan, HE J.J. Rawlings and HE J.A. Kufuor; other international dignitaries and eminent personalities such as Prof. Justice Akua Kuenyehia, 2/I.C., International Criminal Court, The Hague, Justice V.C.R.A.C. Crabbe, Prof. Allotey, of N.A.S.A. fame, Prof. George Ayittey, Lt.-Gen. (Rtd.) E.A. Erskine, former UNIFIL 2/I.C., renowned clergy of international repute such as Cardinal Peter Appiah-Turkson, Archbishops Peter Akwasi Sarpong, Gabriel Palmer-Buckle, academicians, traditional rulers of international class and stature, Association of Recognized Professional Bodies - the Ghana Bar Association, the T.U.C., I.C.A.G., G.M.A., the G.R.N. & Midwives Association, the Ghana Medical and Dental Association, GNAT, NAGRAT, NUGS, PRINPAG, GPRTU/Co-operatives, GUTA, National Association of Garages and PROTOA; but all have jointly and severally decided to remain aloof as if nothing was at stake and to behave as gaping sycophants and boot-lickers for this daylight "fountain pen" robbery of the State to go on unchecked.
What will posterity say about our generation? Shall all of us be found guilty of criminal intent of sabotaging the economy of Ghana if we ever appeared before all of them as a competent panel of "unbiased judges" one day? Has the president plenary power to unilaterally legalize an illegality by prolonging the term of a senior police officer who attains the age of 60 like Mohammed Ahmed Alhassan without any voices raised? When did Parliament resume to deliberate on that instrument? Hmmm! The author needs clarification from a constitutional expert like Justice V.C.R.A.C. Crabbe to explain this glaring contravention of this constitutional mandate that probably has no place in the 1992 Constitution.
Ghanaians should wake up and call the bluff of the president to behave constitutionally unless, of course, every discerning male Ghanaian has no two balls in-between his thighs. The writer does not want to be a prophet of doom; but if we failed to react now or never because of cowardice and timidity; well, if any miscreant person got up one day, all of us without any exception, will be mistakenly taken for cows, fowls, horses, and sheep and marched to the slaughter and have our throats slashed. The favorites amongst us will be sent to the gallows to suffer the penalty by hanging for their negligence, lackadaisical attitude, cowardice, anything goes and laissez-faire stance.
CONFESSION

Mr. Mahama, undoubtedly, is a devout member of the Assemblies of God Church. As a Christian, he should be honest with himself and confess to Ghanaians the following: Will the president have openly or clandestinely; deliberately or inadvertently, collaborated with the PC and the Ministry to re-engage either John Kudalor or Adu Poku for another two-year contract if any of them had turned 60; knowing very well that Mohammed was ready in the queue for grabs?
Has Moham- med tried to remove all the "rotten apples" and recalcitrant bribe-collecting officers who keep disgracing everybody in broad daylight with their perennial bribe bargaining posture that has been an eyesore to Ghanaians and expatriates from the system? In the final analysis and classical context, which of the two personalities (Prof. Kwabena Frimpong-Boateng and Mohammed Ahmed Alhassan) and their chosen professions, do you think, in your opinion, should qualify for retention by any serious-minded government?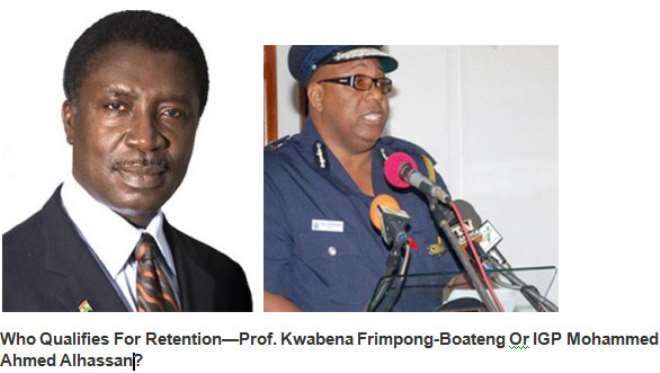 Prof. Kwabena Frimpong-Boateng Or IGP Mohammed Ahmed Alhassan?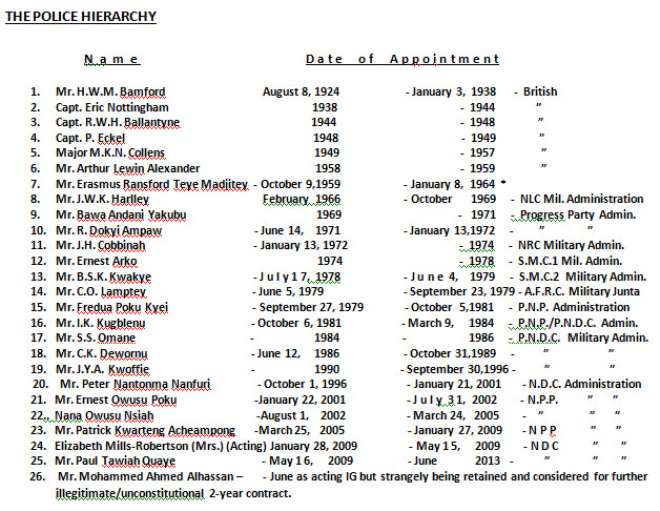 2013-11-30 063810