Vikileaks Saga: Driver Speaks On $2,000, US Visa Promise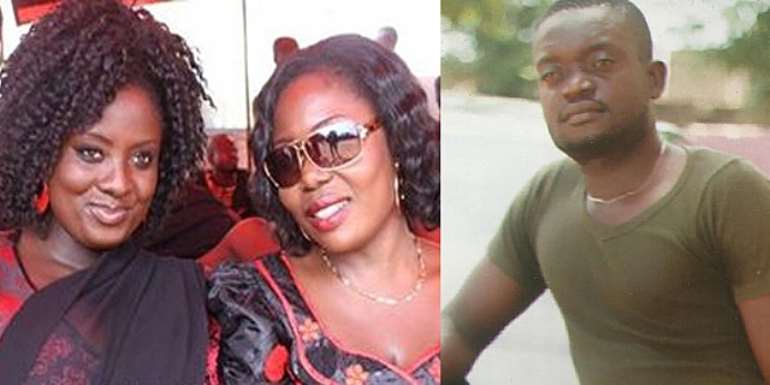 The Victoria Hammah exposé, otherwise dubbed Vikileaks, has taken an interesting twist, with the driver of the dismissed former deputy Communications Minister claiming that he was engaged by a Deputy Minister for Gender, Children and Social Protection, Rachel Florence Appoh, to record the private conversations of his boss.
For his reward, Ms. Appoh, who is having a running battle with her boss Nana Oye Lithur, was said to have promised Lawrence Kwadwo Quayeson, the driver, an amount of $2000 and a US visa.
Spilling the beans on Radio XYZ on Saturday, the driver said Florence Appoh contacted him through Victoria Hammah's former aide, a certain Ayittey Basty.
Lawrence Quayeson, a cousin of Victoria Hammah, told the Accra-based radio station that 'it's Ayittey Basty who came to me and told me that I should call Rachel Appoh, yeah, Rachel Appoh, and she'll tell me whatever I want to do. So she called me and said 'have you seen Ayittey Basty?' And I said 'no' and she said she'll call him and talk to him…and see him to come and see me,' he was quoted as saying.
He expressed regrets that things had gone to the extent of his cousin losing her job and that it was the devil who caused it all.
DAILY GUIDE sources said the driver, until his arrest, lived with the Deputy Minister in her two-bedroom house at Dansoman.
Victoria Hammah with Rachel Appoh and Driver, Lawrence Quayeson
It was earlier alleged that a certain Ayitey Basty, known in private life as Theophilus Ayitey Solomon, contracted Vicky's driver to record his boss after a misunderstanding ensued between the two.
However, Ayittey had denied the allegation of engaging the driver to record the conversations of his boss, claiming that he did not engage anybody to record the private conversations of the dismissed deputy minister.
Appoh Declines Comment
Ms. Rachel Apoh, on the other hand, declined to comment on the allegation, preferring a 'no comment' response when she was reached on phone last night.
She said she was driving and was not ready to talk.
The case, which has reached this nasty level, emanated from a private conversation between then Deputy Communications Minister and her aunt Adwoa Agyepong, in which Rachel Appoh was described as somebody who was fighting a losing battle with her boss, Nana Oye Lithur, wife of Mahama's lawyer, Tony Lithur.
Perhaps the most disturbing revelation from the conversation was the allegation Victoria Hammah made to the effect that Nana Oye met some judges on the election petition panel to change the verdict to favour President John Mahama: And that President Mahama would never sacrifice such a person for Rachel, just because the deputy minister comes from the Gomoa area.
Shortly after the story was carried by the media, the lady was sacked; the first dismissal by President Mahama, of a minister.
Victoria Hammah said a lot of disparaging things about Rachel Appoh; something which made it palpable that the relationship between the two had frosted.
DAILY GUIDE learnt that Ayittey Basty was managing Victoria Hammah's facebook account for a monthly salary of GH¢400 before his relationship with her went sour.
House Arrest
After granting the interview to Radio XYZ on Saturday, Lawrence Quayeson recanted the confession, saying that he made the said confession under duress.
According to him, he was put under 'house arrest' and forced to grant the interview to the radio station, claiming that his life was in danger.
He told Joy FM that he had to run away to a hideout Sunday morning to escape house arrest by family members.
Lawrence was arrested by the police on Thursday evening following an official complaint lodged by Victoria Hammah, accusing him of secretly recording her private conversation.
He was however bailed by his father on Friday evening without any charge.
Lawrence told Joy FM yesterday that he was put under duress to frame up Rachel Appoh. He accused the family members of forcing him to lie in that interview with Radio XYZ.
He however conceded that he recorded the conversation.
Fresh Tape
Victoria Hammah, in the latest tape to hit town, was heard expressing frustration in dealing with her facebook minder. 'Ayi(ttey Basty) is somebody who can betray me. I have seen his betrayal tactics already but you cannot betray me because you will betray yourself, the stakes are higher,' she was quoted as telling someone believed to be her brother, Lord Koranteng Hammah in the latest recording.
She rather wanted Lord to take up that job.
It was not clear who released the latest tape but DAILY GUIDE learnt not less than five tapes were in the system, recorded at various times – all with Victoria Hammah's voice.
NPP Writes CJ
The opposition New Patriotic Party (NPP) had since called for investigations into the aspect of the tape that talked about the verdict of the 2012 election petition having been influenced by government.
In a statement issued by party General Secretary, lawyer Kwadwo Owusu Afriyie on Friday, he asked: 'The question is, what role did a Minister of State in the Mahama government have to play to secure victory for her boss, if indeed the respondents knew the petitioners had no case? Were the true issues of the petition even considered by the judges or was it a case of maintaining the status quo at all cost, so as to keep President Mahama as president of Ghana regardless of the overwhelming evidence presented by the petitioners?'
Per Victoria Hammah's revelations, Sir John, as he is affectionately called, said 'it is not surprising that television cameras showed President Mahama wearing an all-white apparel, with his Vice President and other appointees clad in white and waving white handkerchiefs even before the verdict was delivered. Certainly, they were all aware of the work Nana Oye Lithur had done in meeting the judges.'
The NPP therefore asked the Chief Justice to 'as a matter of urgency, institute a commission to probe the judgment of the 9 Supreme Court justices in the wake of these revelations by Victoria Hammah' since 'the independence of the Judiciary has been called into question by these revelations.'
Oye Denies Meeting Judges
Meanwhile, Mrs. Oye Lithur categorically denied that she influenced the outcome of the election petition.
In a statement, she recalled the DAILY GUIDE story emanating from the Victoria Hammah revelation headlined, 'Victoria Hammah Drops Bomb; Oye Lithur Saw Judges Before Verdict', which was repeated by other papers subsequently, and stated that 'the allegation is untrue and preposterous. For the record, I do not have any sort of relationship with any of the judges who sat on the petition, which would form the basis of any discussion or meeting with any of them in relation to it.'
She claimed, 'I have never met, communicated or had any discussion with any judge with a view to influencing the outcome of the presidential election petition' and that anybody with the slightest acquaintance with her would be astonished by the suggestion that she would attempt subverting the course of justice with such interference as being alluded to.
Continuing, she stated that 'my professional life as a human rights lawyer and activist has been built around due process and insistence on the integrity of the Judiciary. I believe that is the surest way of protecting the rights I have fought for most of my working life.'
By A.R. Gomda & Charles Takyi-Boadu