Kasapreko Is Ghana's 6th Best Company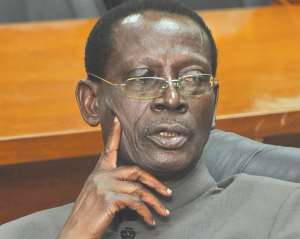 Dr. Kwabena Adjei
Kasapreko Company Limited (KCL) clinched the sixth position on the list of Ghana Club 100 rankings.
The company, which was also adjudged the most Innovative Company and the Manufacturing Company of the year in 2012 by Ghana Investment Promotion Council (GIPC), presently has 14 brands, with Alomo Bitters being its flagship brand.
Founded by Dr. Kwabena Adjei in 1989 at Nungua in the Greater Accra region, Kasapreko Company has grown to become one of the leading and successful alcoholic and non-alcoholic beverage producers in Ghana.
Presently located off the Spintex Road, Kasapreko started in the garage of the owner.
That notwithstanding, it has grown into a multi-national company with state-of-the-art automated factory.
Since its inception, Kasaprek, one of Ghana's leading exporters of manufactured goods, has focused on developing products derived from Africa's herbs by using modern research and development methods to transform traditional recipes into desirable consumer brands.
'Quality is of utmost importance to the company and never compromised in our processes at any stage. Our Quality Control Department ensures that products put on the market are wholesome and acceptable to the customers,' he added.
The General Manager, Marketing & Business Development, Gil Real, also thanked the company's distributors and consumers for their continuous patronage that has made the company the first in the industry.
Deputy Managing Director of Kasapreko, Richard Adjei, commenting on the achievement, said the company will continue to produce quality drinks.
In an interview with the paper recently when some 25 MBA students from Bentley University USA visited the company to familiarize themselves with the operations of the company, he urged the youth to adopt an entrepreneurial mindset and stop depending on government for employment.
According to him, entrepreneurial skills formed the basis for national development and the growth of the economy.
He said looking up to government alone for employment would not solve the unemployment situation in the country.
'The youth must rethink how to sharpen their lives without looking at anybody and this could be done through entrepreneurship.'
Mr. Adjei noted that the public private partnership (PPP) approach was appropriate, adding that it would empower private firms to contribute their quota to national development.
He said Kasapreko, over the years, has been successful because management believed in the ability of the company to grow.
He therefore advised the youth to believe in themselves and do whatever they desire in life.
According to him, Kasapreko would continue to project Ghana's image globally by transforming traditional recipes into desirable consumer brands.
Kwame Dickson, General Manager, Technical, also called on management of the University to boost the relations between the two organizations.
A business desk report