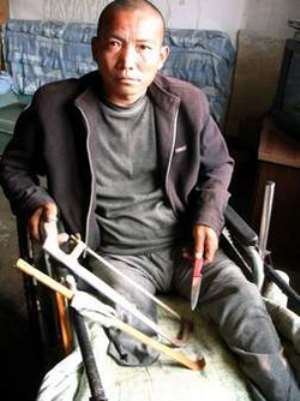 Mr Zheng lost three teeth from biting on a piece of wood to mask the pain
A Chinese man has sawn off his right leg because he could not pay for the procedure to be performed in hospital.
Zheng Yanliang, who is from Boading in Hefei Province, used a metal saw and a small knife to amputate his leg while biting on a piece of wood in an effort to mask the intense pain.
According to local media reports, Mr Zheng, a farmer and factory worker from the village of Dongzang, first began to experience pain in his leg in January 2012.
After several visits to a local hospital, he was diagnosed with an arterial embolism. With no cure available, amputation was the only answer.
However, numerous hospital visits left his family with no money to pay for the operation.
Mr Zheng, 47, was sent home and given three months to live.
During that time, Mr Zheng was in agony. Neighbours reported hearing his screams at night, according to local media interviews with his wife.
http://www.dailyguideghana.com/wp-content/uploads/2013/10/man2.jpg She claimed that three doses of the prescribed painkillers did nothing to relieve his pain.
A local doctor refused to carry out the procedure and the family did not have the funds to visit the hospital.
The agony eventually prompted the extreme decision to embark on self-amputation in April last year.
Mr Zheng wrapped a piece of wood with a cloth and placed it in his mouth to bite on.
He then began to cut his leg using the saw and the knife.
His wife said that when she found him, his leg had been removed and the pain had resulted in three of Mr Zheng's teeth being forced out from his biting on the wood.
The wound on his leg has now healed, but his other leg is now infected with the same disease.
Mr Zheng's appeal for funds to allow him to have his remaining leg amputated in the safety of a hospital appear to have yielded results.
The coverage of the story, which has only recently emerged in the Chinese media, prompted a doctor in Shanghai to offer his services for free.
Zhang Qiang, from the Shanghai Wode Medical Centre, said he was prepared to cover all the costs for further treatment.
"My medical colleagues and I will provide him with free medical services," Dr Zhang said on his microblog.
Skynews