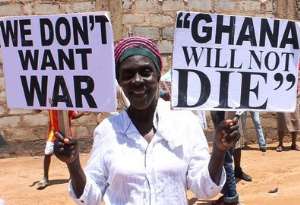 Just like the boomerang what goes around indeed comes around, after dividing the country with their tribal utterances they are now moving around disturbing us with their vague peace calls and who told them we the citizens want to fight, indeed when I sit back to reminisce on how these politicians have used the tribal card to their advantage and to the detriment of the nation, I weep.
When NDC have created the notion that the party belongs to the ewes
When NPP have also created the notion that the party belongs to the ashantis so they can get votes from them.
When Asiedu Nketia said the choice of President John Mahama as a leader of the NDC is a God ordained one as it is an opportunity for the people of the northern region to have one of their own as president of Ghana. .
When mills said ade wo fie oye.
You see in times like this people like to sweep the truth under the carpet and pretend as if all is well but trust me if your child misbehaves and you refuse to point it out to him he will never learn from it lets not treat this issue like bullshit. You guys have polarised the country to your advantage without thinking that a day like this will come when you will need the country as one unit.
The most shocking utterances are when nana addo and john mahama joined the wagon. Nana addo said and I quote 'we akans are not cowards' the Mahama also came in with 'the people of the three Northern Regions are tired of being second fiddle to the presidency' you see when you use dividing ultrances like this to gain political power and still expect the country to be united I wonder what goes into your thinking.
If I continue I might be held for contempt but before I end I will edge the politician to work harder than they are doing because they have caused more damage than they know.
I would also like to assure them that we Ghanaians are not ready to fight after all they have added nothing to our already miserable life.
All I pray for is that when we cross this bridge they the politician would change from their tribal politics and run issue based campaigns.
God be with us all.

Fire (de ordinary Ghanaian)