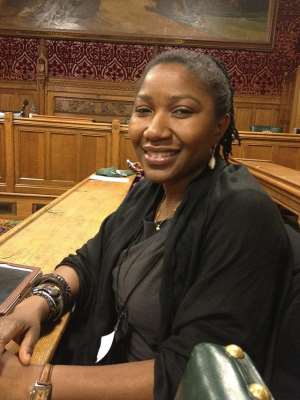 Chibwe Masabo Henry
Come Saturday 8 June, British Prime Minister, David Cameron will host a Hunger Summit in London. This is the start of 10 days of Summits that will culminate at the G8 Meeting in Enniskillen in Northern Ireland on 17 and 18 June. The ENOUGH FOOD FOR EVERYONE IF Campaign would like to ensure that David Cameron goes to Northern Ireland with the demands of the IF Campaign 'ringing in his ears'.
Two Zambian ladies, Justina Mutale, African Woman of the Year (2012) who is also Founder and CEO of POSITIVE RUNWAY: Global Catwalk to Stop the Spread and Diaspora Ambassador & Spokesperson of the ENOUGH FOOD FOR EVERYONE IF Campaign; and Chibwe Henry, Founder & CEO of the Diaspora for African Development (DfAD) organisation, who is also Vice-Chairperson of the Diaspora Working Group in the ENOUGH FOOD FOR EVERYONE IF Campaign will lead a delegation of African and Asian Diaspora organisations who will go to Number 10 Downing Street on Friday 7th June to hand in a letter to the UK Prime Minister, David Cameron. The letter outlines views of the Diaspora organisations on what Mr Cameron should focus on at the upcoming G8 summit in relation to the IF Campaign.
A number of initiatives will be taking place ahead of the G8. On the 8th June, thousands of people will attend the BIG IF rally at Hyde Park in London to demand concrete action on tax havens, unfair land deals and support for poor producers.
Everyone attending the BIG IF rally will be part of creating an iconic symbol of support for tackling hunger. This will be made out of spinning flowers, a powerful reminder of the 2 million children who die because of hunger every year.
'The Big IF London is a unique opportunity for us to make our voices heard. If we make enough noise G8 leaders will have to act to stop the scandal of hunger' say the organizers of the BIG IF LONDON Event.
There BIG IF rally will be attended by a host of inspiring speakers and artists from across the globe. The event will be hosted by Myleene Klass and Gethin Jones, and will feature appearances by Bill Gates, Graca Machel, Natasha Kaplinsky, Angelique Kidjo, Julie Siddiqi, Rabbi Laura Janner-Klausner, Rowan Williams, Alvin Mosioma, Satish Kumar, Charlie McDonnell, Daniel Roche, Lucy Rose, Beardyman, Urban Voices Collective, and other names still to be announced.
'We need you to help complete this symbol by adding your spinning flower on the day. From 8 to 17 June, the 10 days leading up to the G8 Summit, we need to make a big enough noise to get world leaders to tackle hunger. IF we act now, these 10 days could be the beginning of the end of hunger'. Say the organizers of the BIG IF LONDON Event
The ENOUGH FOOD FOR EVERYONE IF Campaign is a coalition of over 200 UK development organisations including POSITIVE RUNWAY and DfAD who have come together to tackle the causes of hunger.
Attendance at the BIG IF LONDON Event in Hyde Park is FREE for the whole family. Guests are required to download a FREE ticket from Eventbrite at: http://bigiflondon-es2.eventbrite.co.uk/?rank=3

CHIBWE MASABO HENRY

JUSTINA MUTALE IF CATWALK
Editor's Note:
For more information contact:
Email:[email protected]
https://www.youtube.com/watch?feature=player_embedded&v=UCxvu2R7NM0
http://www.youtube.com/watch?v=ZHFP6KaRAw4