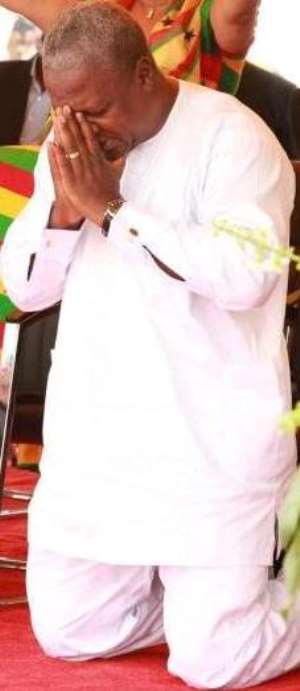 History was made today, Tuesday, April 16, 2013, in Ghana about democracy and this will perhaps be an unforgettable day in Ghana and probably find a place in the annals of the Guinness Book of Records as the first-ever case.
This involves three personalities with roots from the New Patriotic Party as Complainants or Plaintiffs with the Electoral Commission and its chairman, Dr. Kwadwo Afari Djan, as the 2nd Respondents and Candidate John Dramani Mahama, co-joined by his party, the National Democracy Congress as the 1st Respondents respectively.
Dr. Kwadwo Afari Gyan is the centre of controversy involving the electoral malpractices, malfeasance and fraud that nearly sparked off civil war, but thanks to God and his immense grace and mercy for Ghana, this country would have been in flames.
The country would have been set ablaze by now for some of us to become refugees in other lands. But thank God, the so-called mosquitoes, fleas and bed-bugs will have no grounds again to misinform the general public about the proceedings of the case at the Supreme Court because of the new technology proposed by in the form of a suggestion by Mr. Gabby Otchere Darko, Executive Director of the Danquah Institute and finally agreed upon by Her Ladyship.
LUCK
Mr. John Dramani Mahama is the 12th president of the Republic of Ghana. Starting from Dr. Kwame Nkrumah, who, until July 1, 1960, was the prime minister of Ghana from 1957, took charge of the presidency as an executive president until Thursday, February 24, 1966, when he was overthrown by the military.
Lt.-Gen. Joseph Arthur Ankrah, even though, was the Chairman of the National Liberation Council comprising the military and police, with the late J.W.K. Harlley, as police chief, kept the mantle of leadership of the country for close to two years.
However, some strange and humorous circumstances took place for the Army General to be quickly replaced by a Colonel Akwasi Amankwa Afrifa who, as part of the military that overthrew Dr. Nkrumah, moved into the captain's seat. Not quite long, the NLC ensured a smooth transition from the military to civilian rule. However, before then, Prof. Dr. Kofi Abrefa Busia, who was fortunate to be made the chairman of the National Civic Education i.e. the current replica of the National Council for Civic Education, had toured the country several times educating the citizenry on our civic rights.
And so, when the time came for democratic elections, his previous nationwide tour he had made, did quite a lot of good for him as against Mr. Komla Agbeli Gbedema of the National Alliance of Liberals, Joe Appiah of 'Abaa ba se' fame, and a couple of others who had to share the remaining seats . So when the elections took place in the latter part of the year in 1969, Dr. Busia's Progress Party took a commanding landslide victory by winning 105 out of the 140 seats in parliament.
SUCCESSIVE GOVERNMENTS
For the purposes of the younger generation and those who do not know, the old parliament house is the current CHRAJ offices near the Supreme Court, until it was relocated to the State House. His government lasted for only 27 months to be replaced through a bloodless coup d'etat with Col. Ignatius Kutu Acheampong's National Redemption Council on January 13, 1972. It was alleged that Acheampong's overthrow was grounded on the firm premise that it was the United Party that gave birth to the PP that probably masterminded the overthrow of Dr. Nkrumah so it was like cat and mouse affair or you do me I do you sort of.
After Acheampong was Gen. Fred Kwasi Akufo; and was thereafter followed by Jerry John Rawlings. Jerry Rawlings' Armed Forces Revolutionary Council also was brief.
The military junta of junior Army Officers lasted for some 3 months. They also handed over to Dr. Hilla Limann's govern -ment on September 23, 1979. Dr. Limann's People's National Party also lasted for 27 months to be replaced again by the same Jerry Rawlings' second coming on Thursday, December 31, 1981.
For pretty 11 years, his Provisional National Defence Council (PNDC) ruled with iron hands as the military-cum-civilian government because, presumably, his AFRC military junta of junior soldiers, did not rule with iron hands even though, as many as 8 Army Generals had lost their lives through firing squad.
Decrees upon decrees were made including the unforgettable and obnoxious night curfews that cost the lives of hundreds of countrymen/women to be lost mysteriously; and, sadly enough, it is something many discerning people would not like to refresh their memory any longer. That was the time and period many rich and very well respected persons in society were subjected to appear before Prof. Kwamena Ahwoi's 'almighty' Citizens' Vetting Committee' also at the same old parliament house with him as the man who could make and unmake fellow Ghanaians then. However, international community put harsh pressure on the PNDC including socio-economic and political sanctions and other severe measures until they flexed muscles to organize a referendum in April 1992 with a view to going the path of democracy.
DEMOCRACY
Democratic elections were reluctantly conducted later on December 7, the same year and Rawlings having removed his military garb and put on civilian clothes, metamorphosed to become a civilian head of state.
As stipulated by the national constitution, he had the chance for a two-term presidency. And that was the 19-year period when the P.V. Obengs, as de facto prime minister, the Dr. Obed Asamoahs as the Abba Ebbans, the Ahwois, (Ato, Kwesi and Kwamena), as Trade and Commerce umpires, the Tsikatas, (Kojo, Tsatsu and Fui), the Security AdviserI and legal/courier capitos, the Ebo Tawiahs, the Totobi Quakyis as the internal security experts, the Aanaa Ennins, the Dr. Mary Grants, the Armatey Kweis and what have you, had a field day as masters/mistresses whose tenure shook the foundation of Ghana. That was the 'honeymoon' for the political novices then in charge of governance but, even then, no doubt, some reasonable portion of wealth travelled beyond Ghana's borders into foreign accounts some of which could still be there without repatriation here.
Thereafter, try as Mr. Rawlings did, his party could not win the ensuing elections in December 2000 with Prof. John Mills as candidate because Ghanaians had become fed and infuriated during the traumatized period to the extent that even if a hunch-backed person stood against Prof. Mills, other than Mr. Kufuor, Ghanaians would have opted for the physically impaired instead of Mills. They were completely rejected because of the atrocities meted out to the citizenry by their party so there was no point that Mills could have won to enjoy the continuity dynasty.
Mr. John Agyekum Kufuor won and replaced him on January 7, 2001. His NPP too was fortunate for a two-term presidency and was also followed by Prof. John Evans Mills, who, also, after patience and five attempts at the elections, luckily took the reins of government from January 7, 2009. Unfortunately, he was unable to finish his first term as in the latter part of the fourth year, death laid its icy hands on him – precisely, on Tuesday, July 24, 2012. However, one man's meat is another man's poison. Soon after the demise of the late president, luck smiled at Mr. Mahama to be quickly sworn into office as a caretaker president to finish off the remaining five months i.e. July 24, 2012 - January 7, 2013, as enshrined in our constitution to end his predeces -sor's tenure pending fresh elections to choose a new leader.
CONSTITUTIONAL AUTHORITY
Meanwhile, Her Ladyship, Madam Justice Georgina Theodora Wood, by constitutional authority and requirement conferred on her, ensured that Mr. Mahama was sworn in as the 12th president in the full glare of the recent past Speaker, the Rt.-Hon. Joyce Madam Bamford Addo, the Executive, the Judiciary, the full House of Parliamentarians and the Diplomatic Corps, to take charge of the transitional period while the EC made frantic preparations for fresh elections.
Well, as if by fate, accident or design, Dr. Afari Djan had been captured on tape one time or another in Nigeria for showing some love for the departed president that no matter what, as a former colleague on the same university campus as lecturers, allegedly, ensured he fidgeted with election results to favour his party for him also to become president to bring him to fame and limelight.
So when he died, as far as his party was concerned and in contention for the diadem, he was bound to sacrifice the genuine winner on the altar to skew facts and figures to make his dream come true to cause this unprecedented task for him – sleepless nights and ceaseless gum chewing like Manchester United's Sir Alex Ferguson.
So ensuring that his dream-child was born alive instead of being a stillborn, he had to play a pivotal role to condone and connive with the masterminds and experts from the STL as the 'espirit de corps' to receive and collate all the constituency/regional results before finally transmitting same to the EC headquarters for announcement as if he knew nothing about the orchestrated plan.
So if you were at the EC's Operations Strong Room, unless you had fore-knowledge, you'd never know what was really happening. And one would like to know the whereabouts of Mr. Parry and Ms Sylvia Annor of the PR department of the EC. Have they gone to the underworld? They should come out now to give us their annoying explanations.
MYSTERIOUS CIRCUMSTANCES
Through mysterious circumstances, however, Mr. John Mahama from nowhere and out of the blues, and through no fault of his, was miraculously declared winner of the 2012 general elections. Judging from the work rate of his counter-part, he couldn't have been declared winner for just three months of electione -ering campaign but, for obvious reasons best known to 'Sir Alex Ferguson', was adjudged the overall best and declared winner no matter the cost to the ordinary man in the street.
This nearly sparked off some civil war when the results started trickling in to show that his counterpart was in the clear lead to finish and breast the tape but for the magnanimity of the opposition leadership, and the Lord's grace and mercy, Ghana would have been in flames now. But thank God, Dr. Afari Gyan, ironically and satanically pressed the trigger for an unexpected war, but the ready loaded weapon never fired for some of us to flee the country as refugees.
Incidentally, after the second official swearing in on Monday, January 7, 2013 as the 13th president of Ghana, many civil unrests and industrial actions have taken place to attest to the fact that, the elections were not properly conducted but the international community and observers, having come in to collect their usual freebies, passed on the results of the elections to their respective organizations as free and fair leaving us to our fate.
But, as fate would have it, this particular election has become a centre of controversy for purposes of electoral violations, irregularities, malpractices and others as a whole – courtesy, the STL organ set up at Dzorwulu, in Accra, to further compound matters to merit legal tussle.

EXPERIENCE/EXPERTISE
The president seems to be the only person who should have been endowed with political apprenticeship before ascending the throne to become the CEO of Ghana. But invariably, despite his volumes of experience and expertise gained from the parliamentary practice coupled with the tuition he had from the late president for four years as his vice from January 7, 2009 till July 24, 2012, when the unexpected ill-fate struck the presidency of Ghana.
His boss died miracu -lously and under some bizarre circumstances. In fact, little did many people think that he would not be able to perform because of his long-standing experience. But true to expectation, his abysmal performance has indeed shattered the hopes and aspirations of many Ghanaians.
He became a parliamentarian for the Bole-Bamboi constituency from 1992-2008. During the 16-year interval, he was an MP; also appointed as a deputy minister and a full-fledged sector minister for Communications. By his own admission, he became both deputy and full minister before at age 40 so he has no cause to be fumbling with governance. Later on, he was again gifted with the position of vice president when he ran through the electioneering campaign as running mate. Before then, his party colleagues, Mr. Martin A.B.K. Amidu and Alhaji Mohammed Mumuni had fallen by the wayside.
Luck however, eluded the previous running mates as the late Mills made as many as five frantic attempts /efforts to grab the golden fleece but not successful – December 7, 2000, then the re-run on December 28 same year; and again December 7, 2004, December 7, 2008 and the second re-run on 28, before finally being heard by the T.B. Joshua's holy spirit (not the biblical Holy Spirit we know of) courtesy, coming out as victor from the Tain elections that determined the results to have Prof. Mills declared as winner with Mr. John Mahama as his vice.
FROM GRACE TO GRASS
Whilst the late Margaret Thatcher, British Iron Lady Premier was to be laid to rest today, Wednesday, April 17, 2013, it is expected that as one time democrat and champion for democracy, many leaders from respective countries would troop to the UK for the high profile funeral. What specific landmark(s) would Mr. Mahama leave behind now if the Supreme Court appropriately found him unsuitable to still occupy the position of presidency of the Republic?
Certainly, nil! If anything at all, it would be the 'nkomfem' project that he would forever be fondly remembered with. All his best has been promises upon promises. The others have been "We will do this, we will do that" and that was the end of a long story.
We will get bla, bla, bla megawatts by the end of October; we will get bla, bla, bla megawatts to alleviate the suffering of all Ghanaians by the end of April and April is more than half way, and no sign was in sight. We will reform this, we will reform that, and that was what Ghanaians will fondly remember him as head of government and the 12th and 13th legal/illegal president of Ghana. No clear cut policy to redeem the enslaved majority.
As soon as he returned from Turkey, told the whole world and Ghanaians that the Accra Airport would be re-located to Prampram near Tema. Again, as if possessed, he recently mentioned the Eastern Region would be provided with a public university. Why the many unfulfilled promises? Who forces him to make such pronouncements? Is he under any obligation at all to make such promise(s)? Why does the president delight self-inflicting such tall orders to create problems and compound matters? His delight has been talking, talking, because he is an expert in communications but not an action-oriented politician. He does not walk his talk. Mr. Mahama's end was in sight and very imminent because one very interesting and characteristic feature of the president was his government's profligacy, political stalemate, ineptitude, incompetence, corruption of the highest order and many more. All that he has done with perfection was building castles in the air.
But Ghanaians, endowed with enormous wisdom as we are, would like to hold onto our horses and not to jeopardize any action of his or resort to any untoward means to cause any instability or destabilize his crawling government. What the UTAG/POTAG/ TEWU and the doctors have shown was sufficient that if he played the ostrich, his government could be brought down on its knees within seconds despite his support on his loyal forces.
By Counsel's (for EC) admission in the ongoing SC deliberations that there were so many administrative errors in his client's facts and figures, there was no justification whatsoever, for the declaration of the results by him for Candidate John Dramani Mahama to become winner. By that admission alone, especially, NVNV, it constitutes sufficient and fertile ground for the president, HE Mahama not to also become the CEO of Ghana by the same numerous administrative and unconstitutional errors committed by the EC.
And so, going by Article 2 sub-section (1), (2), (3), (4), (5) (a) & (b) of Chapter One of the very first page 1 of the 1992 Constitution, the same document will sweep him out of office. And it is simple as that, no further qualms about that.
Even though former U.N. Secretary-General, HE Busumuru Kofi Annan has come down to passionately try to mediate in the impasse between the government and the striking doctors, nurses and pharmacists etc., Mr. John Mahama's government should be seriously cautioned to halt their usual bluff to stop the rot in the system (over-expenditures, nkomfem project, tree planting in dry season) to appease the striking professionals.
The author entreats the doctors to politely decline his offer and ask the president to do what was expected of him because he and ministers/appointees would not stagger their per diems. Is the import of Cuban doctors the most sensible decision and the last resort than to have an amicable settlement with the local doctors?
INEVITABLE
It is evident that Mr. Mahama is on his way out because it is imminent that the international community that otherwise, thought Ghana was an investment centre and haven in the sub-region, no longer has that idea because if there were peace, the CEO would not be contested and challenged in the law court for electoral malpractices, violation and irregularities as ground rules set out for that election. However, the relative peace we enjoyed now was only temporary. The country could be in turmoil as turbulent times could be hanging up in the skies. Again, many discerning investors would not take Ghana for serious because of this electoral dispute.
Again, what Mr. Mahama must have done dangerously to break the camel's back was the alleged 'smuggling' into Ghana of the Iranian President, HE Mahmoud Ahmadinejad who was here for two days official visit – April 16-17. As a result of this visit, Ghana under John, the Revelator, might be black-listed by the U.S. and the other western countries for courting with an obstinate leader. Because he has gradually carved a name for himself as a known incorrigible and uncontrollable person who is said to spite his nose to spoil his face, he shouldn't have associated himself with him.
Some world leaders have been astonished by Mr. Mahama's behaviour and conduct but he doesn't mind. Someone like Mahmoud who has been ostracized for being recalcitrant and obstinate and bent on embarking on nuclear reactors and weaponry shouldn't be regarded as 'a prodigal son' or brother, but contrary to expectation, the more you talk about his shortcomings, the more he'll continue for general discussions.
The raising of red-flag and word of caution by HE the Israeli Ambassador to Ghana should be a source of worry to Ghana; but John, the Humble person that I know, would do nothing about that but to snub the world and go wining and dining with his new-found bosom friend at a specially organized banquet in his honour after showing him round his newly occupied place of abode – the Jubilee Flagstaff House (otherwise, Asiedu Nketiah's 'nkomfem' coop). Are we self-sufficient at all; militarily and economically, one would dare ask?
If the answer was no, then, we should better be careful with our ways and the path we tread else, a word to the wise is enough. Certainly, all odds have turned against him and that was an indication that his end was in sight because, as soon as, by his own admission in his book entitled, "My first coup d'etat" was launched in far away US, his own boss, the late president Mills, became a casualty and has been a topical issue for his family and well wishers in Ghana.
Meanwhile, the rumour mill allegedly doing the rounds in town was that HE Mahmoud Ahmadinejad came in briefly with tons of oil money for payment to selected politicians/judges/senior journalists etc. but was turned down.
SADA – As if Gh¢320bn wasted on guinea fowl project through the drain was the end of the matter. The revelations from the 2012 budget in connections with over expenditures further disclosed that Ghanaians lost yet Gh180bn from tree planting that was carried out in the North in dry season. Who was that sensible person behind that exercise? Were there any evil dwarfs with sharp teeth involved in this matter?
Couldn't any reasonable and/or sensitive person amongst the board/management think about the relatively impoverished 'kayayee' girls whose lifestyles in our cities have considered for decent accommodation while in the south? If a party such as the NDC that came to power through the backdoor, with blanket approval from the EC, was bound to be faced with uphill tasks as civil unrests, strikes, agitations and such others because, if JUSAG, the Prisons Officers of all securities, should join in the struggle and scramble for better service conditions, then you are in trouble.
Mr. Mahama 's end was really in sight because when he assumed the reins of power as a stop-gap president, he thought governance was indeed like teaching day-nursery infants the first five alphabets and figures such as A, B, C, D, E or 1, 2, 3, 4, 5.
WISDOM – Now that the Mahama government has allowed some Gh¢976m excluding the Gh¢360 bn. and Gh¢180bn. (the disappeared trees and strayed 'nkomfem' – guinea-fowls) to be wasted with reasonable portion of overspent monies finding comfortable and resting places and snoring in private pockets, they have come out with policy courtesy, Mahama Ayariga (trying to remove the peck from other people's eyes rather than his own eyes.
It is hoped readers will remember the purchase of the Atlas maps and the over-bloated expendi -tures for his 6-unit classroom block) that ministers and their deputies and other appointees should try to use their official vehicles wisely. Why fetch water from the riverside with baskets? Please leave us to our fate.
Mr. Mahama's end was in sight because majority of Ghanaians' votes have been subverted by the 2nd Respondent to favour the 1st Respondent. Finally, it is definite that the president was on his way out because as a social democrat, one would have thought that he would not have the guts and effrontery to caution Ghanaian workers about tax consciousness at a May Day rally in Sekondi, whilst his government had no sympathy for them.
HISTORY AS DEMOCRACY PROGRESSES
Kudos to Her Ladyship, Madam Georgina Theodora Wood for ordering the 9-member panel to have the use of live telecast of the epic and novelty case for the world to know the daily deliberations. The unprecedented and gargantuan case being determined by the SC would forever be the greatest landmark in the history of this country. Incidentally, Ghana has now joined Kenya in becoming the second country on the Continent to telecast the court proceedings live to the whole world via radio and television.
Another round of applause for Her Ladyship, Madam Georgina Theodora Wood, the Chief Justice of the Republic of Ghana for making sure that the Mother of all Cases, Case No. G1/2012 involving Nana Addo Dankwa Akufo Addo, Dr. Mahamadu Bawumia and Mr. Jake Otanka Obetsebi Lamptey as Petitioners or Plaintiffs versus Candidate John Dramani Mahama and Dr. Kwadwo Afari Djan, Electoral Commissioner i.e. Ghana's 'Sir Alex Ferguson' – courtesy, gum chewing at tough soccer matches, as the 2nd and 3rd Respondents respectively to be joined in the Battle Royale at the Supreme Court, Accra.
How many people noticed the unprecedented and bestial way Ghana's 'Alex Ferguson' chewed his gum? How many packets of Wrigley's PK chewing gum did Dr. Afari Djan help himself with at the courtroom? Sadly, the author's grandchild expressed dismay and shock at the sight of the uncivilized way and manner the embattled doctor chewed his gum. Auntie Georgie, please, for God's sake, do not consider and temper justice with mercy for this 'silly', 'idiot',' crazy' and diminutive Afari Djan - the author trying to re-echo his own words used on an Oman FM host supposedly for recording him during an interview on an issue as to whether he was in the country or not; for, if he was appropriately found guilty of perjury and falsification of figures as clearly elucidated in the recent past elections, should be jailed a minimum of 5 years with hard labour.
Again, if he was appropriately found on second count of causing fear and panic of war in Ghana, should not be spared at all but be jailed another term of 5 years and both to serve concurrently and preferably, all at the Nsawam Medium Security Prison to set as an example to deter future occupants of the chair.
This will help such persons to desist from their inordinate and diabolical ambition to avert imminent civil war that could engulf Ghana at the expense of all women, children and the aged. Meanwhile, little contacts made with some legal luminaries both at home and abroad suggest that his action of gum chewing in the full glare of viewers at the prestigious court like an infant, was tantamount to contempt of court for demeaning your august office. If you watch your television set again for repeat of the proceedings on Day 3, please do not hesitate, but consider the author's plea for the nuisance caused as his action was a disgrace to many a Ghanaian. And the way Dr. Bawumia thrilled the court and the spectators with brilliance compelled the infamous doctor to become impatient and to chew more gum than he could chew on Day 3 at the courtroom. Have Ghanaians and the world now realized as to why some unknown assassins wanted to annihilate Dr. Bawumia through motor accident?
What has become of the outcome of the police investigations re the clandestine attempt on his life? Did anybody notice the jittery posture of the 'chief Idiot' in his striped smock at the courtroom? Did you notice again that he just couldn't sit properly on his arse at the courtroom because of inferiority complex?
Mr. Mahama and his supporters might definitely and positively defy the SC ruling when the time comes forgetting that the Chapter 1, Article 2 sub-section 2 (1), (2), (3), (4) and (5) clauses (a) and (b) of pages 1 and 2 of the 1992 Constitution would then be applicable if he tried to become obstinate and refuse to leave office. But would he forget so soon pages 1 &2 of the same constitution he had previously sworn to defend and uphold on that fateful Monday, January 7, 2013 because power was sweet.
And that would be the day the author would consult with legal brains to swear an affidavit and file a writ of summons for his impeachment at the Courts. Ghanaians should thank the Almighty God for the victory won for democracy and the rule of law; victory for Ghana as a peaceful country and victory for the Continent of Africa learning the rudiments of democracy. Long live Ghana, Long live Democracy.
ADMONITION
The author would like to crown the article with a sagacious text from the Holy Book, Isaiah Chapter 14:24, 27 and it reads, "The Lord of hosts has sworn, saying, "Surely, as I have thought, so it shall come to pass, And as I have purposed, so it shall stand; 27 For the Lord of hosts has purposed, And who will annul it? His hand is stretched out, And who will turn it back?"
SPECIALLY FOR THE SUPREME COURT JUDGES – Job 38:17, 18 - NKJV
Have the gates of death been revealed to you? Or have you seen the doors of the shadow of death? 18 Have you comprehended the breadth of the earth? Tell Me, if you know all this", says the Lord.
Editor's Note:
By: [email protected] Tel: 0277 122 909