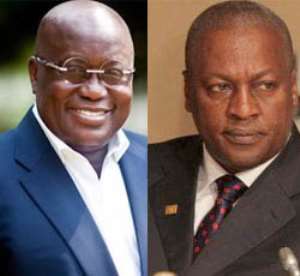 We keep saying that Ghanaians love themselves and will never fight, I guess we are losing touch with our history because Ghana is the first country to attain independence from its colonial masters and that was not done by eating banku and okro soup.
There is a saying that wupam ohu fuo a wutu ni b33ma meaning when u push a coward to the edge he will have no option than to defend himself and also when the fool becomes wise the cheating game stops. So the question is " ARE POLILTIANS PUSHING US TO THE BRINK?" If not why all these flamboyant display of wealth? why all these corruption with impunity.
When a society is silent trust me it means concern and I hope our greedy politicians would hear this loud silence.
God has given us everything and now OIL why then should the citizen suffer whiles these greedy politicians swim in the wealth that belongs to all of us, is it that some are more human than others, the animal farm syndrome 4legs good 2legs bad.
How can someone spend 150billion on akonfem and 300billion on tree planting and still walk around without feeling any guilt, I don't think Ghanaians are fools and its only a matter of time.
I was in ivory coast 2 weeks ago and trust me the monies they are spending on security is unbelievable. Citizens entering mobile phone companies premises are been searched as if they are going to board a flight and when the president convoy is passing its so scary that everyone gets confused.
Everyone seems to be scared cause you don't know what's gonna happen next since a lot of people still have weapons in their possession and that's the aftermath of conflicts.
Am citing this example because we have a similar situation. Gbagbo refused to step down even after the supreme court had pronounced Watara the winner of the presidential election so forced was applied in which thousands of citizens were killed.
Are we as a nation prepared to pay this price our greedy politicians want us to pay?
TIME WILL TELL
Fire([email protected])