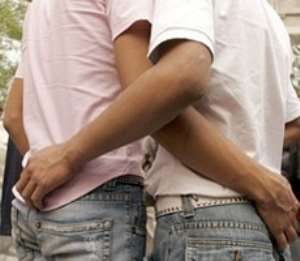 A 24 year old Ghanaian gay, Fetch Dickson says government should not legalize the practice of homosexuality in Ghana.
He is convinced, the practice if legalized, will only influence more people to do so.
Speaking on Asempa FM's mid-morning show dubbed Abrabo, Fetch said he believes he was born gay but the legalization of the act is likely to corrupt others into the practice.
He observed people could be lured into the practice through peer pressure and other unreasonable factors.
Fetch said even though the Ghanaian society frowns on the act, people who practice homosexuality, like him, are also normal human beings whose rights must be protected.
Sharing his experience on the show, Fetch Dickson disclosed that growing up as a child, he always felt good and sexually active around his colleague men.
According to him, his desire towards men kept him wondering whether it was a deformity till he finally had his first affair at the age of 20 years with a colleague gay.
He explained that he had never had an affair with a girl because he never felt for it.
According to him, he knows of top class rich responsible men who are into the act.
The 24 year old said his parents who were not aware about his practice got really angry at him when he broke the news to them on his wedding day to a 72 year old white German gay.
However Fetch said he managed to make them understand his feelings but unfortunately few years after his marriage, his German husband died of old age and left him single and searching again.
He said being a gay is the beauty of life and so Ghanaians should stop rejecting them but rather see them as members of the society.
A sister to Fetch who gave her name only as Queen believes that her brother was born a gay, explaining that his brother's behavior is not strange to her because he has been like that since childhood.