Mrs. Kufour Launches Mother & Child Foundation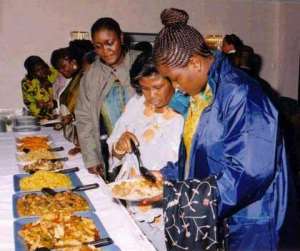 Toronto -- Ghana's First Lady Mrs. Theresa Kufour has launched the first overseas branch of her fledgling Mother & Child Community Development Foundation (MCCDF) in Toronto, Canada. The well-attended $60 a plate Fund-raising dinner event was held on Sunday October 19, at the Travel Lodge Hotel at Keele Street and Wilson Avenue.
In attendance was Hon. Jean Augustine, Canada's Secretary of State for Multiculturalism and Status of Women who brought fraternal greetings from the Canadian government. The event, which was partly sponsored by Western Union Money Transfers, was chaired by Dr. Yaw Twum Barimah assisted by former Toronto Consul General Dr. Martin La Kumi.
Since June 2001, MCCDF has engaged in social, cultural, educational and economic development of vulnerable and disadvantaged mothers and their children in Ghana. As the Chief Patron of MCCDF, Mrs. Kufuor is engaged in a process of determining the best ways to support children in their early years to ensure they reach their full potential. The ultimate goal of MCCDF is to ensure that there is a comprehensive, seamless system of early child development programs and services in all the regions of Ghana.
Earlier on Saturday the First Lady held series of meetings with various groups and organizations in the Ghanaian community including a late afternoon meeting with the Toronto Chapter of the New Patriotic Party (NPP). On Sunday she visited a number of Ghanaian Community Churches in Toronto including the All Nations Church and the Church of Pentecost.
The First Lady was accompanied to Toronto by Madam Cecilia Abena Dapaah Special Assistant to the President Director of MCCDF, Mrs. Rhoderline Baafour Gyimah Media Consultant to MCCDF and Ms. Nana Ama Kufour daughter of the First Lady and Director of MCCDF.