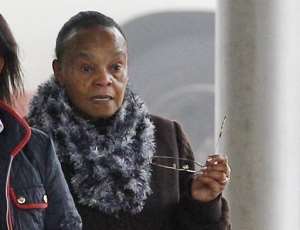 Yvonne Basebya, 65, arrives at the court house in The Hague, The Netherlands, on October 22. By Bas Czerwinski (AFP/ANP)
THE HAGUE (AFP) - A Rwandan woman turned Dutch national went on trial in a Hague court on Monday charged with genocide for her alleged role in the 1994 massacre of almost a million people in the central African nation.
Yvonne Basebya, 65, is accused of involvement with "killing and raping Tutsis with the aim of the extermination of the Tutsi population group," prosecutors told the court as the case opened.
Dressed in a cream jacket and black trousers, Basebya, 65, listened intently as prosecutors read out six charges for her alleged role in the killings, carried out by Hutu extremists against Tutsis and moderate Hutus.
The murders, carried out largely with just clubs and machetes, were sparked when then Rwandan Hutu president Juvenal Habyarimana's plane was shot down at Kigali airport on April 6, 1994.
His death was subsequently pinned on Rwanda's minority Tutsi population and over the next three months some 800,000 people according to UN figures, died in an orgy of violence.
Basebya, maiden name Ntacyobatabara, is accused of playing a central role in the genocide including at the Pallottines Church where she "intentionally had killed... members of the Tutsi population group," according to the charge sheet.
Around 110 Tutsis were slaughtered while hiding in the church just south of the capital Kigali, in what is widely regarded as the first proof that genocide was underway in Rwanda.
Basebya allegedly incited others, including members of the so-called Interahamwe Hutu militia group, to kill Tutsis through "gifts, promises, abuse of authority, violence or threat of violence."
She allegedly sang songs including "Tubatsembatsembe", which means "exterminate them (Tutsis)", kept death lists of Tutsis marked for death and kept track of their murders, prosecutors said.
Basebya, who was arrested on June 21, 2010, denies the charges against her "from the very beginning", her lawyer Victor Koppe told AFP ahead of the trial, blaming a "small group of witnesses conspiring against my client".
Basebya has been living the Netherlands since October 1998 and received Dutch citizenship in December 2004.